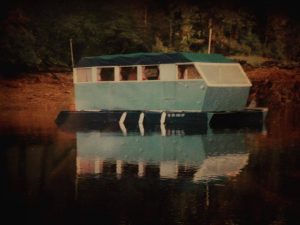 Before I was born, my grandpa built a houseboat with my grandma, mom, and uncles. This boat, named Puff, was the culmination of years of dreaming and led to years of happy memories. Decades before in the 1950s, Grandpa had been a commercial fisherman in the San Juan Islands and even ventured to Alaska once!f The boat remains in the family today and is a source of joy to the family and all who have gotten to ride aboard her in the San Juan Islands or even once on an adventure all the way up to Alaska!
While this dream of a family boat was coming together in Grandpa's mind, in Anacortes, Washington another dream was coming to life at about the same time. Thomas G. Thompson Jr., or Tommy, had a dream of his own. Just like my grandpa, he had attended the University of Washington.  For Tommy, the dream was born in 1965 he happened upon an article in a magazine about the Homestake Mining Company in Lead, South Dakota. After sending a letter to the company to see if there was equipment for sale, Tommy and his family found themselves diverting a vacation and in South Dakota looking at compressed air locomotive #22 which was then purchased.
As with most dreams, they don't come to life the moment they are born. It takes lots of work, dedication, heart, and a dream. In this case, it took five years to bring this dream of creating a railroad to life. This included over 1700 man-hours! Through all of this Tommy took the frame, running gear, and converted cylinders of #22 and built from scratch a 0-4-4 Forney steam locomotive. Just like my grandpa built the boat in his backyard, Tommy also built this steam locomotive from his home as well (thankfully, he had an oil-fired foundry in his backyard!). For over a year over Thompson built 40 patterns and core boxes necessary to cast the different parts of the locomotive. These were then used to cast different parts like the bell, whistle, domes, stack, rear truck, and brake valve. Tommy even went as far as to design the boiler to the code of the American Society of Mechanical Engineers before having Seattle Boiler Works build it!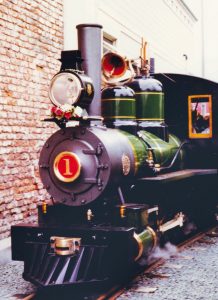 Years after this dream was born, the Anacortes Railway finally began to operate in Anacortes, Washington in 1979. This dream provided joy to people for many years until 1999 when Thomas G. Thompson Jr. passed away. As a child, my family would often visit Anacortes. I can remember thinking the train was the coolest thing ever as my brother and I would walk up to the local grocery store from the marina. Something about its size captured my attention and inspired my imagination. At the time we had a ho scale trail that dad had built us and this train in Anacortes brought a whole new world of possibilities to my imagination. I do have to wonder, now decades later, if that was one of the seeds that were planted that would eventually lead to my G-Gauge train in my backyard.
In 1999 after Tommy's death, the family made what was undoubtedly a very difficult and heartbreaking decision to retire and donate the train to a museum according to Tommy's wishes. The Georgetown Steam Plant Museum in Seattle, Washington was chosen by Tommy's widow Anne Thompson as the new home for the train. Years later when the family found out that the museum would not be able to make the dreams for the train to be on exhibit a reality, the family found themselves looking for a new home for the train. They found themselves again looking at Anacortes.
A deal was made with the City of Anacortes. The train would be donated to the city and in exchange, it would be taken care of. A museum would also be built to showcase it. This led to the train returning to Anacortes in 2012, thanks to the efforts of volunteers who rallied around the Thompsons and Tommy's legacy.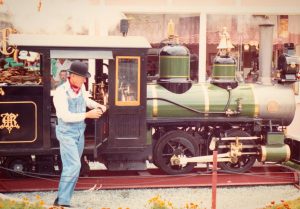 The hope was that a museum would be built to house the train. However, this hasn't happened. Since 2012 though, there hasn't been a lot happening with the train. Part of this was due to confusion about the original donation intent. Because of the confusion, the City has had a hard time following through with its end of the deal. Currently, there is no museum to house this train. It isn't being loved by the public as they get to discover the magic of railroading. Instead, different groups have attempted to make things happen and repeatedly failed. Each time something hasn't happened. I'm sure this has been devastating for the family who continues to care deeply about the train and Tommy's legacy.
In 2019, Bret Iwan, the voice of Mickey Mouse, became aware of the train's plight. In an effort to restore this train, he and his brother offered to purchase the train and give it the care it deserves. However, as this has not happened, Iwan has deferred to the family's wishes. Iwan has been known for his love of trains and also restoring antique vehicles. It comes as no surprise that he would want to restore Anacortes Railway. Much like me, Iwan also grew up spending a lot of time in and around Anacortes and has fond memories of the railway from his childhood.
With a continued lack of action, Tommy's widow Anne and the family determined that the best plan forward to be to bring the train back into the family's care. The Thompson family recently made this request with the hope that it could be returned to them so that they could see to the repairs, restoration, and preservation of the Tommy Thompson's train. The goal of this is to bring the train back to its former glory.
Unfortunately, as so often happens, there have been disagreements even about returning the Anacortes Railway home. Others wish to keep the train and hold on to the hope that things will change. However, after 9 years of nothing changing, this seems to be a bit far-fetched. The definition of insanity is doing the same thing over and over and expecting something to change. Things haven't changed yet and that is a tragedy. The longer things stay the same, the harder it will be to restore the train. While the best of intentions have clearly been made by the City and volunteers, they haven't materialized and the train still sits idle not getting the tender loving care it deserves. It becomes even more concerning when one stops by the location, as I did, and see how the area where the Anacortes Railway currently lives has fallen into disrepair.
As one can imagine, there is a lot of heartbreak happening as this situation continues to drag on. As I researched this post, I had the thought pop into mind that while many groups have tried to do things with the Anacortes Railway, only the Thompson family has successfully made anything happen. When they pushed forward with first the train, then moving it to where they hoped it would live, and then back to Anacortes where they hoped it would be taken care of again, people rallied around the family and the dream that continued to move them forward.
It seems very clear to me that this is because of the connection between the family and the train and what the train represents. If it is anything like my family and the boat, it's because Grandpa's heart and dreams continue to live on in the boat, or in their case, the train. The connection of the heart, that love, is really what makes a difference. It also is what can make something like this so difficult. Unless one has felt that connection, it is very difficult to understand.
Just like Puff, the Anacortes Railway now finds itself at a crossroads. It needs a home, it needs work, and it needs love. As I've been researching this story that connects with my childhood, I find myself getting sad as I mourn the loss of my Grandpa as I think about the similar loss that the Thompson's must be feeling. At this point, there doesn't seem to be a happy ending for this story. It appears that the cycle of the status quo that has been ongoing since 2012 will continue. That is heartbreaking.
I sit here writing about this train, I keep thinking of the parallels with the boat. The dreams for both were born at about the same time. They were realized within a few years of each other as well. Both Grandpa and Tommy Thompson attended the same school. They built their dream with their families. And then they loved sharing their dreams with people. I can think of Grandpa sharing about how he built the boat with people at different marinas in the San Juan Islands, in Canada, and even up the Inside Passage of Alaska (yes, we spent a summer taking Puff up there. It was definitely an adventure!). As I remember Grandpa sharing about Puff and answering questions, I can imagine Tommy doing the same thing with his train.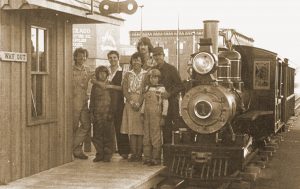 For both Puff and Tommy Thompson's Anacortes Railway, the future appears to lie with their families. For Puff, my uncle and I hope to get her back to her former glory. For the Anacortes Railway, the Thompson family has that same hope. I, for one, would love to see them have the opportunity to make that happen. I hope that there will be people like me who can recognize how much this matters and show compassion and support to the Thompson family as they strive to restore the Anacortes Railway to its former glory.  This won't just be good for the train and those who love it (and railroading in general), it will also be a kind thing to do for the family of Tommy Thompson.
If you would like to learn more about the Anacortes Railway or support it, there are a few things you can do:
DAPS MAGIC is always about showing kindness to those who need it. Normally, this might not be a story that we would cover. However, as I have been reading more and more about the Anacortes Railway and Anne Thompson, I find myself feeling that the family of Thomas G. Thompson Jr. needs some extra kindness, love, and support. I know that a lot of Disney fans like me also love trains and will be interested in this story. Please let me know what you think about the Anacortes Railway in the comments below and show some love and support for the family there as well!