One year ago today Magic Happens officially debuted at the Disneyland Resort. This energetic new parade at the Disneyland Resort featured a new theme song of the same name as the parade that was co-written by Todrick Hall. It also featured new costumes, floats, characters new and old, and some incredible choreography. It was an instant hit and guests lined the parade route daily waiting for the next performance. The parade was a blend of new and old as it included stories and characters found from many different decades at Disney as it showcased the magic happening in their various stories.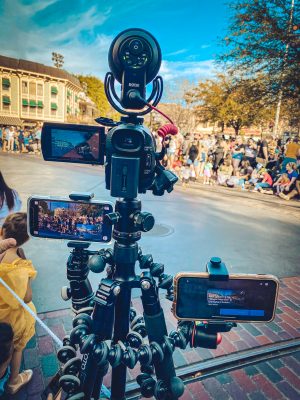 The DAPS MAGIC team was on hand to experience, stream, and record the event. The excitement in the air was palpable well before the music began. Once the beat got started, the excitement became electric. People cheered, danced, clapped, and revelled in the magic of the opening of a new parade at Disneyland. It was everyone that could have been hoped for. Most importantly, it was a lot of fun! It would also be a lot of fun to watch repeatedly in the coming days, months, and years as the parade ran its run.
Unfortunately, just weeks later the parade and the Disneyland Resort would close for what was thought to be a short closure due to COVID-19. Now, nearly a year later the parks are still closed at the Disneyland Resort and the return of big parades is nowhere on the horizon (in Walt Disney World cavalcades are being utilized instead). However, those few weeks that Magic Happens did run at the Disneyland Resort were full of magic, happiness, and memories were made for those who watched it and presumably those who performed in it.
The parade included five main units with the finale having some sub-units. It includes over 90 performers bringing these different stories to life.
A Swirl of Magic – Mickey Mouse
A Wave of Magic – Moana
A Bridge to Magic – Coco
A Magical Forest – Frozen II
A Magical Dream – Grand Finale

The Pumpkin – Cinderella
The Sword – The Sword in the Stone
The Kiss – The Princess and the Frog
The Once Upon a Dream – Sleeping Beauty
Today we take a moment to give remember this wonderful parade and the people who truly made it magical. The cast members who brought this parade to life, performed in it, and supported it should get a hearty thank you. While magic may have only happened for a few weeks, its impact continues on and there is hope for more magic in the future!
Here is the first official parade on the official opening day on February 27, 2020. We hope you enjoy the parade and the magic and memories that come with it!
Here is the video of Magic Happens first performance during the soft opening the day before:
What is your favorite part of Magic Happens? What is your favorite memory? Share in the comments below!