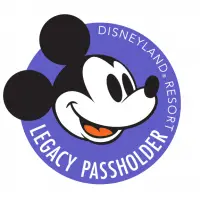 Today the Disneyland Resort unveiled a new Disneyland Resort Legacy Passholder program for guests who were Annual Passholders at the time of the Disneyland Resort's closing on March 14, 2020. With the ending of the traditional Disneyland Annual Passholder program, this new Legacy Passholder program will be available until the new membership program is announced. It includes exclusive merchandise, discounts for locations in Downtown Disney District and Buena Vista Street, along with other surprises that are yet to be announced. According to the Disneyland Resort, this is meant to celebrate Legacy Passholders.
The announcement was made on various social media with the Annual Passholder accounts being updated for this new branding. A new page can also be found on Disneyland.com devoted specifically to Legacy Passholders. Expect more announcements to be made in the future regarding the membership benefits for this program.
The following announcement was posted there:
Thank you for your loyalty and for having been a Disneyland Resort Annual Passholder during this unprecedented time of our Parks' closure. To show our appreciation until new membership offerings are announced, we thought a couple perks, and a new title was in order—Passholders who held active Passports as of March 14, 2020 are now Disneyland Resort Legacy Passholders.

Legacy Passholders can still enjoy some of those ever-so-magical extras that celebrate you. Like when you get the chance to scoop up some special merchandise or enjoy some food and beverage offerings. Or those special surprise and delight moments. And of course, there are those fantastic Passport discounts that have been extended for a limited time—from food and beverage offerings to shopping at select locations all around Downtown Disney District and Buena Vista Street.

It's the magic that makes being a Disneyland Resort Legacy Passholder such an unforgettable experience. And that's just for starters—we're working on adding more magic during this limited time!

So, get ready to be surprised…delighted…and, most of all, celebrated—because that's what being a Disneyland Resort Legacy Passholder is all about!

For a limited time, Annual Passholders save 30% on select merchandise at select Downtown Disney District and Buena Vista Street locations! This offer is valid Monday through Thursday, beginning January 18 through February 25, 2021. As a reminder, on days when the 30% savings offer is not available and after this special offer has ended, Annual Passholders who held active Passports as of March 14, 2020 will continue to receive applicable discounts, based on their Passport type, on merchandise and food and beverages at select Downtown Disney District and Buena Vista Street locations until new membership offerings are announced. View important offer details and restrictions.

Legacy Annual Passholders must present their eligible Annual Passport prior to purchases to receive any applicable benefits or discounts. Benefits and discounts at Disney owned and operated locations are determined solely by Disney, are subject to restrictions and exclusions and may be valid at only select locations. Check third-party locations for details about their offered benefits and discounts, if any. Disney is not responsible for benefits and discounts offered by any third parties. The Passports and their benefits are revocable, nontransferable, subject to exclusions, restrictions and change or cancellation without notice, and may not be combined with any other discount, offer or promotion. The Passports and benefits are for personal use only and may not be used for commercial purposes or for the benefit of others including, without limitation, the purchase of merchandise with the intent to resell such merchandise or the sharing of benefits with persons who are not the Passholder. Separate reservations or admission may be required for location entry.
What do you think of the Legacy Passholder program that is now being offered by the Disneyland Resort? What sort of benefits do you hope to see offered through it? Share your thoughts and ideas in the comments below!