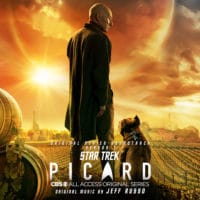 The full season one soundtrack for Star Trek: Picard has been released. This soundtrack includes 55 tracks from the first season of the Star Trek: Picard. The score was composed by Jeff Russo and includes a rendition of Blue Skies sung by Isa Briones. Elements from the original Star Trek theme are used occasionally as well and were written by Alexander Courage. The arrival of the full soundtrack comes after an earlier release for the show: Star Trek: Picard – Season 1, Chapter 1.
This new release includes 2 hours and 37 minutes of music and can be found on Apple Music, Spotify, Amazon Music, and more music streaming services.
Jeff Russo, who composed the music for Star Trek: Picard, has become a regular musical fixture in the Star Trek universe in recent years. He composes the soundtrack for Star Trek: Discovery. He also composed the main theme for the first season of Short Treks, which has continued to be used. He also scored the Short Trek, Children of Mars.
Full Star Trek: Picard Season 1 Soundtrack Listing:
Star Trek Picard Main Title (1:43)
Star Trek Picard End Title (1:44)
Walking With Number One (1:16)
Dahj Activates (1:10)
Dahj And Picard Speak (3:54)
Dahj's Last Fight (1:51)
Picard Decides (1:46)
The Painting (2:58)
Twins (4:15)
Picard Requests Help (2:15)
Romulan Collusion (2:21)
Trouble For Picard (1:18)
Rafi Decides To Join (1:51)
Rafi Turns Down Picard (2:06)
Sizing Up Rios (4:15)
Happier Times (3:25)
Leaving With Elnor (1:52)
Mystery Ship (3:10)
Picard Goes Back (2:08)
Picard Leaves Elnor (1:41)
Soji And Narek Waltz (4:42)
Home Movies (1:52)
Jurati And Maddox (1:55)
Leaving With Maddox (3:47)
Seven Needs Revenge (3:02)
What's Your Emergency (1:25)
Page (From Short Treks "Children Of Mars") (1:58)
Children Of Mars End Credits (From Short Treks "Children Of Mars") (1:43)
Jurati and Rios Get Close (2:37)
Raffi Calls Bosch (3:26)
Raffi Opens Up (1:34)
Borg Cube (4:28)
Looking For Picard (5:10)
Walking Around Nepenthe (2:25)
Picard and Riker Reunite (2:34)
I Was Human (3:04)
Elnor Fights Narissa (2:47)
Picard Bids Farewell (5:01)
Tal Shiar Admonisher (2:46)
Staying Close (2:59)
Rios Feels Lost (2:06)
Hologram Meeting (1:06)
Raffi and Rios Talk (4:40)
Rios and Picard (3:13)
Unexpected Visitor (2:32)
Leaving the La Sirena (2:51)
Sutra Arrives (4:23)
Narek Escapes (8:07)
Butterfly (1:41)
Romulans Arrive Pt.1 (2:12)
Romulans Arrive Pt.2 (4:35)
Talking To Data (6:32)
The Crew Leaves As One (1:24)
Blue Skies (2:46)
Star Trek Picard Episode 110 End Credits (Full Version) (2:10)
Star Trek: Picard continued the story of Jean-Luc Picard 18 years after the events of Star Trek: Nemesis.  A lot has happened to Picard since then, and not all for the better. However, when a young girl shows up on his doorstep asking for help everything changes for Admiral Jean-Luc Picard.