Happy St. Patrick's Day! It seems like a perfect time to look back at The Little Man of Disneyland. Originally this was a book that was released in 1955 in Disney's Little Golden Books series. It was published as A Mickey Mouse Club Book in this series. For me personally, this was a book I grew up having read to me by my grandma who had an original copy. This was before I even had a concept of what Disneyland was. As I think back about it now, it was probably the first time I had ever heard of Disneyland.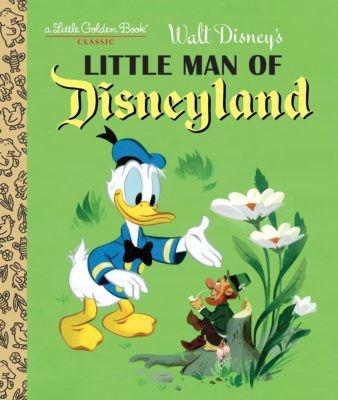 The Little Man of Disneyland is the story of a leprechaun who lives at Walt Disney's original Magic Kingdom, Disneyland. Named Patrick Begorra, his home can be found at the base of a tree in Adventureland, near the entrance of Indiana Jones Adventure.
In the story, Begorra lives in the middle of the Anaheim orange groves before Disneyland was there. One day Mickey, Donald, Goofy, and Pluto come walking through the orange groves. They have tools and construction plans for Disneyland. Begorra demands to know what its going on as he wants to live peacefully and quietly. This leads to him getting a helicopter ride to The Walt Disney Studios where he gets to see all that is planned for Disneyland. After seeing all of this, he asks to have a place that is he can live that is quiet and tucked away. Disneyland gets built and while it does, Begorra thinks about being the last leprechaun in the area after thee rest had moved away. He eventually ends up moving into his new home in the tree in Adventureland where he resides to today.
This hidden gem of a detail was originally created in Adventureland near the Jungle Cruise docks after the book became popular. However, as time went by, the house disappeared. Then in 2015 the book received a reprint. With the reprint of this book Patrick Begorra's home was restored in Adventureland at its current location.
Have you found Patrick Begorra's home at Disneyland in Adventureland? Did you read that book growing up or as a grown up? What did you think of it if you did? Share your memories and comments below!