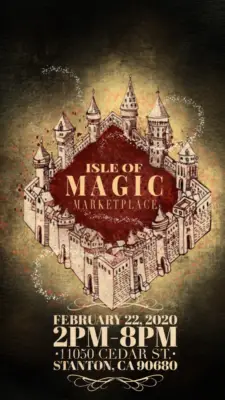 This Saturday will be the Isle of Magic Marketplace at the Boys and Girls Club in Stanton, CA.  This pop-up boutique will be full of various vendors with anything from art to towels all featuring themes of Disney and Harry Potter (and anything related to those).  Critterosity, who has helped us with CHOC Walk fundraisers, is presenting the event and has recruited several artists and crafters.  Among the vendors will be:
Eric Scales
Whimsical Forest
Annie Hobbs
The Philosopher's Stone
Legendary Loot Drop
Tiny Deer Studio
On a Small Scale
Red Inked Panda
Sweet Treats 2 Go
Critterosity herself
And many more!
There will be a cosplay contest and the first 20 who attend will get a goody bag!  There are many opportunities to take home some great art, crafts, household goods, and even food featuring favorite characters and themes!  Check out the event site below (which the event is free despite the site saying you can get a ticket).
Isle of Magic Marketplace Event Site