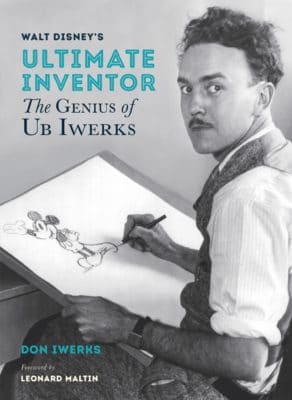 Most Disney fans have a working knowledge of who Ub Iwerks was. Known as the creative collaborator of Walt Disney back in the early days of Disney's career, Iwerks is known for his work on the early Disney shorts. However, there is so much more to this man than early animation advances. Walt Disney's Ultimate Inventor: The Genius of Ub Iwerks takes a look at the life and career of Ub Iwerks that goes way beyond the early days of Disney. Written by Don Iwerks, Ub Iwerks' son, this book is clearly written with reverence and love for a man who made a much greater impact on Disney than many Disney fans will realize.
Ub Iwerks was more than just an animator. He was an inventor (as the title implies) who impacted so much more than just animated shorts. Throughout the course of his career, he would help with the combination of live-action and animation technology and then later would go on to join Imagineering. There he helped develop technology for attractions in the Disney Parks. While his career wasn't always with Disney, it was always innovating and inventing new ideas and processes for how to better tell a story with whatever medium he was working with. The great part about this book, is many of these things have flown under the radar for decades. Now, thanks to Don Iwerks, the contributions of Ub Iwerks are being shared. I knew quite a few of his contributions but did not realize the full extent of what this man did. The scope of this work really was incredible!
Walt Disney's Ultimate Inventor: The Genius of Ub Iwerks looks at the life and the work of Ub Iwerks going back with a look at his humble origins. The book is a fun read and I could imagine my grandfather telling me about his father as I read it. Along with the wonderful stories and details about Iwerks' life, this book is full of pictures as well. Many of the photos I had never seen before. In a world where The Imagineering Story is taking Disney+ by storm, this is a wonderful book for Disney fans wanting to learn more about one of the men who really helped build the solid foundation on innovative storytelling that The Walt Disney Company was built on.
With this being the time of year for gift-giving, Walt Disney's Ultimate Inventor: The Genius of Ub Iwerks is a fantastic book to get the Disney fan/amateur Disney historian in your life. I enjoyed it very much and look forward to going back to re-reading and referencing it over and over again in the future!
Walt Disney's Ultimate Inventor: The Genius of Ub Iwerks on Amazon