In 2021, Star Wars fans will be able to board the Star Wars: Galactic Starcruiser for an experience that will take them to a galaxy far, far away. This immersive experience will offer guests the chance to live in the world of Star Wars during the course of their two-night cruise-style itinerary. Throughout this cruise, guests will become the hero of their own Star Wars adventure that will be literally surrounding them 24/7 throughout their journey.
Along with the details being released about the Galactic Starcruiser's arrival in 2021 new concept art was released for the experience. The first look at what guests will see as they arrive at the Galactic Starcruiser Terminal to begin their cruise through space.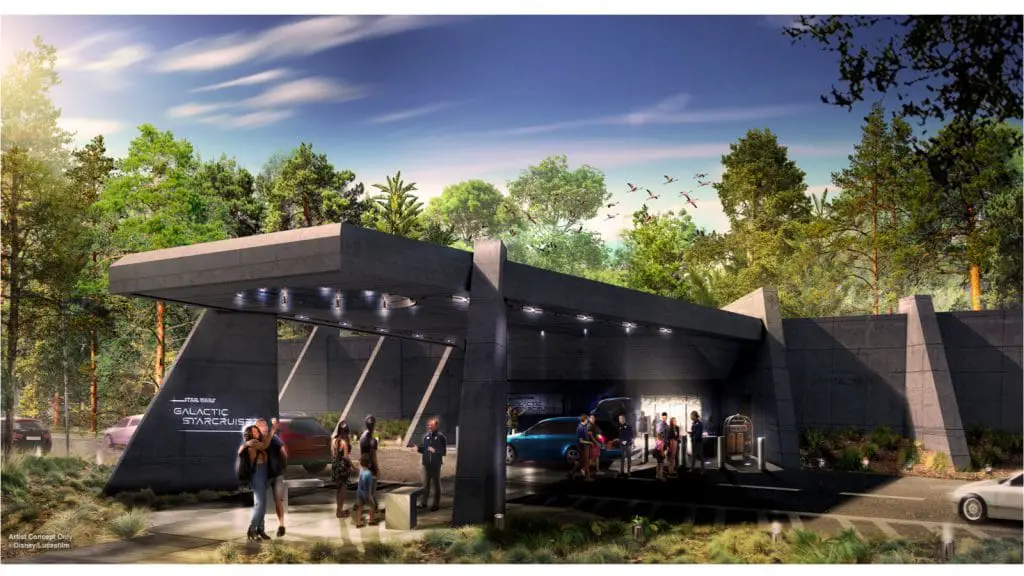 As guests arrive, either by their own personal vehicle or another way, they will be greeted at the curb and their experience will begin. They will soon find themselves making the jump to hyperspace and to adventure. Once checked in, guests will board a launch pod to make the journey up to the Halcyon. The pod's viewports will show the journey being taken to make it to the Starcruiser. It will also give a look at the outside of the Halcyon, a ship much too large to come down and land.
A "spaceport of call" during the trip will be the planet Batuu, specifically Black Spire Outpost (Star Wars: Galaxy's Edge). Transports will take guests down to the planet and the outpost.
Guests flying back and forth from the Halcyon and Batuu will board transports that will keep them in the story and "in story." Special transports have been designed for this purpose. The concept art was released for them earlier today. These transports will land at a special spaceport at Black Spire Outpost so that guests can explore Batuu.
On top of all of this, a new website was announced for guests to sign up and receive updates about this new experience. Visit starwarsgalacticstarcruiser.com to sign up and receive new updates.