Steakhouse 55 has a new culinary adventure to experience with the new Winemaker Dinner Series at the Disneyland Hotel. This new experience will be arriving in 2020.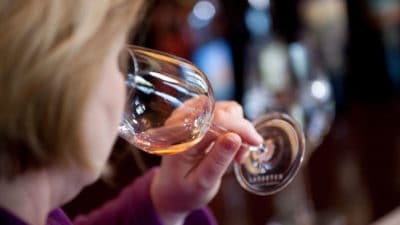 This signature fine dining restaurant at the Disneyland Hotel, Steakhouse 55 will offer one-of-a-kind, multi-course menus, expertly paired to selections from renowned wineries. These experiences will be offered on specific nights. For each event, a visiting vintner will guide guests through each wine from grape to glass. They will also explain the pairing process for the meal.
The first experience will be focusing on Wente Vineyards and be offered on January 15, 2020. Wente Vineyards is the country's longest, continuously operated, family-owned winery. It was founded in 1883. It blends innovation with classic winemaking practices. The Wente family draws from vineyards in the Livermore Valley and Arroyo Seco, Monterey appellations. Their portfolio of wines includes chardonnay, merlot, pinot noir, rosé, and more! Currently, the Wente Vineyards sends wine to over 75 countries around the globe! Aly Wente, senior brand manager, and fifth-generation winegrower will be sharing her family's passion and stories about each wine throughout the night.
Steakhouse 55 Chef de Cuisine Marcel St. Pierre created the following menu to complement the Wente Vineyards selections for the evening:
Amuse Bouche
Green Vegetable "Meatball"
Ossetra Caviar, Citrus Mango Gremolata, Olive Leaf Extraction
Murrieta's Well, "The Whip" White Wine Meritage, Livermore Valley 2019
1st Course
Lobster & Beetroot Salad
Artichoke Fritter, Blood Orange Vinaigrette, "Burnt" White Asparagus, Lemon Verbena
Murrieta's Well, "The Whip" White Wine Meritage, Livermore Valley 2019
2nd Course
Crispy Kurobuta Porchetta
Smoked Pork Jowl, Tonkotsu-style Polenta, Pickled Plum Croquette, Oyster Leaf
Wente Vineyards, Riva Ranch, Pinot Noir, Arroyo Seco / Monterey 2016
3rd Course
Aged Eye of Ribeye
Bone Marrow Whipped Potato, Golden Raisin Agrodolce, Blue Foot Mushroom, Brown Butter Ketchup
Murrieta's Well, "The Spur", Red Wine Blend, Livermore Valley Vineyard 2017
4th Course
Savile Row Stilton Blue
Dried Cherry-Peppercorn Chutney, Poached Walnut Tapenade, Drizzle Honeycomb
Wente Vineyards, Cabernet Sauvignon, Wetmore Vineyard 2016
5th Course
White Chocolate-Satsuma Gâteau
Dark Chocolate Streusel, Satsuma Orange Sorbet, Vanilla Cardamom Tullie, Muscat Reduction
Wente Vineyards, Orange Muscat, Livermore Valley, San Francisco Bay 2014
If you would like to attend this event, make your reservations* today. This is an event that will be enjoyed by people who have all levels of experience with wine and foodie experiences. More events and vintners will be announced throughout the coming year.
*All event elements including, but not limited to, prices, menus, services, date and time are subject to change or cancellation without notice.