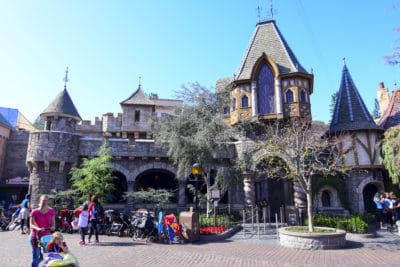 OC Register has reported a building permit has been filed to refurbish Snow White's Scary Adventures in Disneyland's Fantasyland.  The permit calls for a $445,000 amount for the refurbishment.  It will be scheduled for next year, 2020.  What is interesting are a few of the details about what will be done.  There will be work on structural beams, rockwork, and electrical upgrades.  And, in addition, show sets will be removed and "replaced" including props and scenes.  Platforms to allow for projectors will be built as well.
The attraction is one that has been there since the opening of Disneyland in 1955.  However, as part of the whole renovation of Fantasyland it was refurbished in 1983.  That was its first major refurbishment that brought in several new figures including the seven dwarves, Snow White, and different Evil Queens.  Though the article on OC Register speculates new projection effects, there were a few installed in 2010 for the Evil Queen/Old Hag transformation scene and the ending with the Dwarfs chasing the Queen.  Whether these platforms are to have better security for these scenes or for brand new effects will be known when the time comes.  What seems to be confirmed is new scene details to come in once the refurbishment is done.
Though it's had a major refurbishment, most of the attraction is still about as old as the park itself.  Having a more structural upgrade sounds like it is much needed.  What do you think of what is happening to the classic attraction?  Let us know in the comments below!