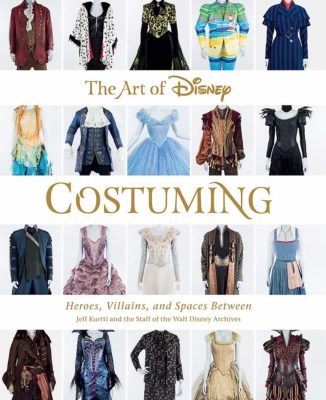 The Art of Disney Costuming: Heroes, Villains, and Spaces Between is a fascinating coffee table book that digs into many costumes from across The Walt Disney Company. These costumes come from movies, television, attractions, and more. They are a part of the history of The Walt Disney Company and have been a part of its story practically since the beginning. This book takes a different look at the history of The Walt Disney Company. This is a history of Disney as seen in the costumes that were created throughout the years. This book was sent to DAPS MAGIC to review.
First off, The Art of Disney Costuming: Heroes, Villains, and Spaces Between is not just a picture book. It really has a lot of content and things to learn on its pages. The book is divided into five sections of the book. The first, Dressing Disney, gives an overview of the various areas of the Disney that have been and are costumed. Royal Ball is a case study on Cinderella's ball gown in the different versions of this tale throughout the years. This goes into surprisingly deep detail for a coffee table book and is fascinating! Next, the book pivots to the villains and looks at costumes worn by villains in Dwelling in the Darkness. The book then turns and looks at some of other interesting Disney characters costumes in the Spaces Between. Finally, Living in the Light looks at costumes of the heroes and heroines of Disney properties.
The Art of Disney Costuming: Heroes, Villains, and Spaces Between is a substantial book. It is big. It has some incredible artwork and photos in it. It is detailed, and it isn't a book that you will just sit down and read in one sitting. There is just too much to it. This is a book that is great to sit down and spend some time looking through versus sitting down and reading for hours on end. I am personally not hugely into costuming but I did find myself really enjoying reading the history and thinking behind so many of these iconic costumes for characters. In fact, these costumes are really a part of what made these characters iconic. This is a great coffee table book that will be sitting on my coffee table for quite some time as I go back and read and re-read it to pick up more details. It is a good book for those who are interested in costuming and those who just enjoy Disney history and trivia.
Daps Magic received a sample product or experience for this review in exchange for an honest review. The views of the reviewer are wholly their own. Read full disclosure policy here.