Disney continues the trend of remaking animated classics into live-action movies. One of the more recent films to get this treatment is Aladdin. Originally released in 1992 as an animated feature film, in 2019 it returned to the big screen with Mena Massoud in the title role, Will Smith as the Genie, and Naomi Scott as Princess Jasmine. While the translation to live-action did change some things, the core story of Aladdin remains. It is a movie about being true to who you really are.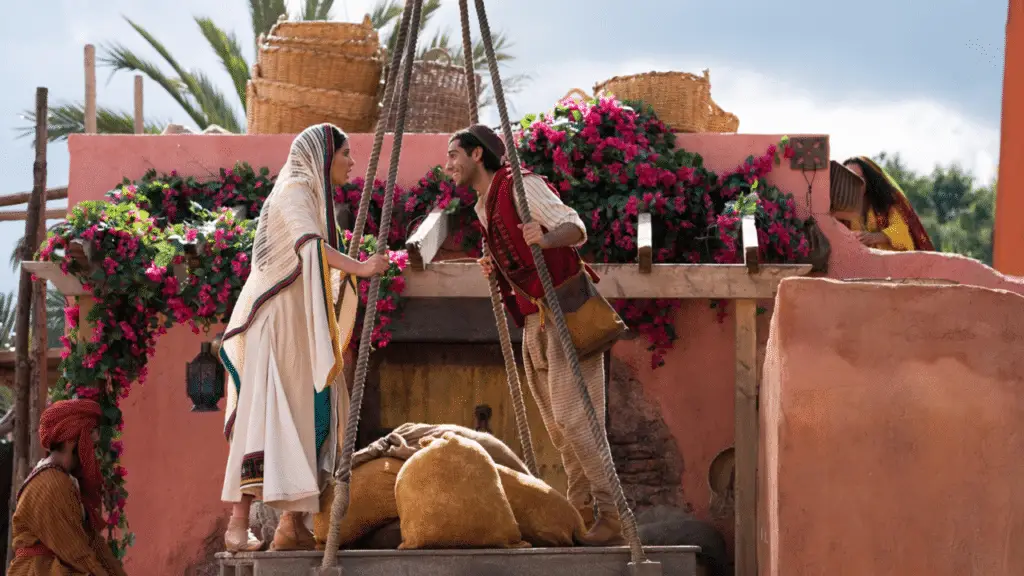 Quality
Disney's live-action version of Aladdin really does look good on the screen. There were some critiques made about some of the CGI on the large screen. Watching it on my 60″ television at home, they really weren't as much of an issue. In fact, I realized once the movie was over I didn't even notice any issues. The whole film felt like it came together in a cohesive look and feel that is this new take on Aladdin and Agrabah. The sound design that accompanied it played right into the story that was being told. I did catch a few fun sound effects I didn't notice when I first watched the film in theaters. Overall, I found the second time watching it in my own home theater even more enjoyable than the first in the big theater.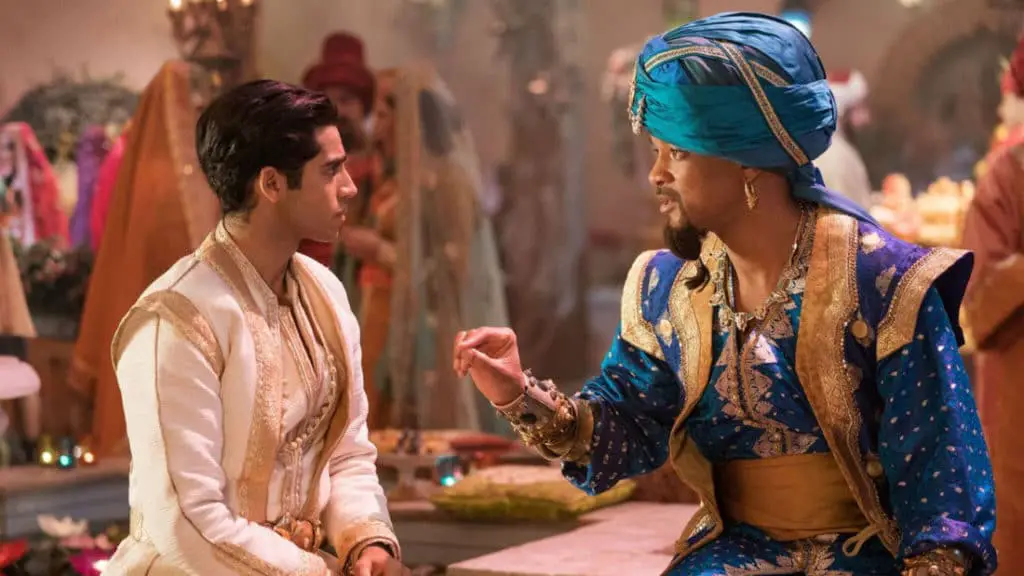 Extras
There were a few extras included with the home release of Disney's live-action Aladdin. The big takeaway I had with them is that my instincts about the film were correct. I remember seeing Aladdin in theaters and thinking about how much fun it looked like the whole cast and crew had when making this film. You could just sense it through the performances. The bonus features really confirmed this. Almost all the bonus features were enjoyable. However, my favorite was most likely GUY RITCHIE: A CINEMATIC GENIE along with ALADDIN'S VIDEO JOURNAL: A NEW FANTASTIC POINT OF VIEW. Both of these gave some really interesting looks at the making of this film. Right behind these two, I really enjoyed A FRIEND LIKE GENIE that gave a look at how Will Smith brought the Genie to life in his own way while still honoring Robin Williams' version of the character. Here is a look at the bonus features that were included:
DIGITAL PRESELL BONUS:
MAKE WAY FOR PRINCE ALI – Take a look at the gigantic design extravaganza that came together for this scene of Genie-sized proportions.
DIGITAL EXCLUSIVE BONUS:
"SPEECHLESS": CREATING A NEW SONG FOR JASMINE – Follow the story of Jasmine's inspirational song "Speechless," written by Alan Menken, Benj Pasek and Justin Paul especially for this version of "Aladdin."
BLU-RAY & DIGITAL BONUS:
ALADDIN'S VIDEO JOURNAL: A NEW FANTASTIC POINT OF VIEW – Watch behind-the-scenes moments captured by Mena Massoud (Aladdin) in this fun, fast-paced look at his personal journey.
DELETED SONG: "DESERT MOON" – Experience a moving duet performed by Jasmine and Aladdin, fully shot and edited, with an introduction by Alan Menken.
GUY RITCHIE: A CINEMATIC GENIE – Discover why director Guy Ritchie was the perfect filmmaker to tackle this exhilarating reimagining of a beloved classic.
A FRIEND LIKE GENIE – Discover how Will Smith brings talent, experience and his own personal magic to the iconic role of Genie.
DELETED SCENES

Falling Petals Into OJ
Jafar's Magic Orrery
Anders' Gift
Wrong Wishes
Silly Old Fool
Post Yam Jam Debrief

BLOOPERS – Laugh along with the cast and crew in this lighthearted collection of outtakes from the set.
MUSIC VIDEOS

"Speechless" – Music video performed by Naomi Scott
"A Whole New World" – Music video performed by ZAYN and Zhavia Ward
" A Whole New World" ("Un Mundo Ideal") – Music video performed by ZAYN and Becky G.
*Bonus features may vary by retailer

Final Thoughts
Disney's live-action version of Aladdin is an enjoyable film. It is quite similar to the original animated version but also is updated to become its own telling of the story. Yes, it has the original characters and many of the songs are the same. However, everything has been updated. The music feels a bit more authentic and also culturally relevant to today. The characters have more depth and purpose, particularly Princess Jasmine who really is a hero in the film. Will Smith's version of the Genie is not as funny as Robin Williams, but it is equally likable in its own way. The one weak link in this version of Aladdin would have to be Jafar. He has a great start but really, you just want more. It would be great to have more backstory and more depth for him as well. There is definitely some of this done but, I personally would like more! Overall though, this is a wonderfully enjoyable movie. It is full of Disney magic and fun for all ages! It is very easy to give this one a hat tip and suggest adding it to your Disney home entertainment library!