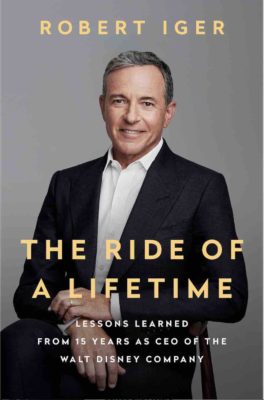 Robert A. Iger, Chief Executive Officer of The Walt Disney Company, is now an author.
Iger released his book today called 'The Ride of A Lifetime – Lessons Learned From 15 Years As CEO of The Walt Disney Company.' He stopped by 'Good Morning America' to talk to Robin Roberts about his career and his new book.
He started his career at ABC 45 years ago as a studio supervisor for shows like 'A.M. America,' which was a precursor to 'Good Morning America,' and ABC Sports. Iger calls his time at ABC/Disney as an 'out of body experience a bit.' He never thought he would be running 'one of the greatest companies in the world.' Iger is deeply appreciative, and tries to remain humble, which he says is not easy to do.
This all goes back to him growing up in New York. He never knew in which kind of mood his father would be in when he returned home from work. His father suffered from manic depression, saying it created resilience in him and gave him the perspective that the 'world was far from perfect and people were far from perfect, even loved ones.' A lesson Bob learned from his father was to be 'productive,' or to keep busy. That advice has definitely helped him throughout his life and career.
Iger has also been at the forefront of four major acquisitions – Pixar, Lucasfilm, Marvel, and 21st Century Fox. He says that in spite of the pressure of being a CEO and acquiring these powerhouses that he has been 'really lucky to not lose sleep or have anxiety' over the often billion-dollar decisions he makes.
Robin Roberts asked Iger what he was proud of, and he said that making 'Black Panther' was important. It's all about the diversity, especially having a black lead character, as well as a predominantly black cast. 'It was an artistic accomplishment that had a huge cultural impact,' Iger said, and that continued to the recent 'Captain Marvel' as well. 
Iger also told the New York Time that 'you have to look one level down because we've done a lot.' He also says it's a disappointment that those who report to him 'are lacking' in diversity and vows, 'I'll change that before I leave.'
In an era of big egos whether in Washington, Hollywood, or anywhere for that matter, in an interview with the New York Times, Iger says that talking about himself or even his new book 'feels to me a bit like a big ego trip.' However, Iger's book is a primer on how much you can achieve if you keep your ego in check. 'It serves you well when you're rising and then even when you have risen, there are going to be times when you just have to put that (ego) away,' he told the New York Times. 
When asked by Robin Roberts what he plans to do after retirement, Iger said he is still enjoying his work and has "no need to make any plans right now" about his next move. 'Maybe I'll just go to Disneyland. You know they say, 'What are you going to do next?,' go to Disneyland,' Iger said with a laugh, adding 'I'd have to wait in line though.'
And when asked by the New York Times about his retirement plans, Iger said that he has 'one outstanding offer that intrigues' him, though. 'I have relationships with weathermen throughout the company, so the promise they've all made me is they're going to give me a weekend at some point in my last year,' he said laughing.
'The Ride of A Lifetime – Lessons Learned From 15 Years As CEO of The Walt Disney Company' is available now.