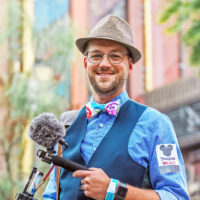 Today is the last day to sign up for CHOC Walk in the Park at the Disneyland Resort at the discounted minimum fundraising price of $85. If you sign up between now and 4:00 PM PT this fundraising minimum will be at this rate. However, after 4:00 the entry fundraising rate will then got o $95. This isn't necessarily a bad thing, however!
JOIN THE DAPS MAGIC CHOC WALK TEAM HERE TODAY! 
The CHOC Walk in the Park is all about raising money to support the Children's Hospital of Orange County! When you donate and/or raise funds for CHOC Walk, you are helping some pretty amazing kids! Having visited the hospital several times and also covered both previous CHOC Walks and the Minnie Walks, I can tell you… this is a way to make a real difference. This is a way to really change some lives for some kids and give them hope, happiness, and also some incredible healthcare.
DAPS MAGIC has had a team for CHOC Walk for years! We invite you to walk with us and make a difference while having a grand old time doing it! To do this, go right now to chocwalk.org/dapsmagic and join our team! Then show up bright and early on Sunday, August 11th with your favorite hat on for a walk through the park with the DAPS MAGIC team! We would be honored if you would take the step right now and help make a difference with us through the CHOC Walk!
It should be noted, it is ok to join our DAPS MAGIC team after today as well! Anytime you join is a good time, just make sure and do it sooner rather than later so we can really make a positive impact!