For over 800 years the bells of the Notre Dame cathedral have rung out for historical events. Many of these happy and many have been tragic. Today bells around the world are instead ringing out as Notre Dame's bells stand silent. For now, though, the fact that they are still in the towers of Notre Dame is a small victory on a tragic day for the cathedral in the world.
https://twitter.com/BitsieTulloch/status/1117904545797906432
Shortly after closing to guests for the day, a fire erupted in the Notre Dame. As the fire grew, the iconic spire soon fell. As darkness fell on Paris, the tragic glow of one of the world's most iconic locations could be seen as the fire ate through the centuries-old wood. As the fire grew, efforts were made to save some of the art and other treasures that were held within its walls. However, much of the cathedral has been lost.
As the night dragged on, a glimmer of hope began to be seen through the depths of what had been seen as a hopeless situation. Midway through the evening officials warned that the fire might not be able to be subdued. Later though, fire officials reported that they believed the two iconic towers of Notre Dame would most likely be saved. "We now believe that the two towers of Notre Dame have been saved," Paris fire chief Jean-Claude Gallet told reporters. "We now consider that the main structure of Notre Dame has been saved and preserved." However, this is still concerns that interior structures could collapse.
Construction began on Notre Dame in 1163 and was completed in 1345. It was considered the jewel of medieval Gothic architecture. It was damaged during the French Revolution in the 1790s. Victor Hugo's 1831 novel The Hunchback of Notre Dame immortalized the cathedral when it brought to light the cathedral's decrepit condition. The book helped lead to efforts from 1844 to 1864. During this time Jean-Baptiste-Antoine Lassus and Eugène-Emmanuel Viollet-le-Duc helped redo both the spires and also the flying buttresses.
Nearly 200 years later the cathedral once again found itself needing repairs. In fact, repairs had recently begun on the Notre Dame cathedral. Fire officials reported that the fire is "potentially linked" to those repairs. However, a specific cause of the fire is currently unknown.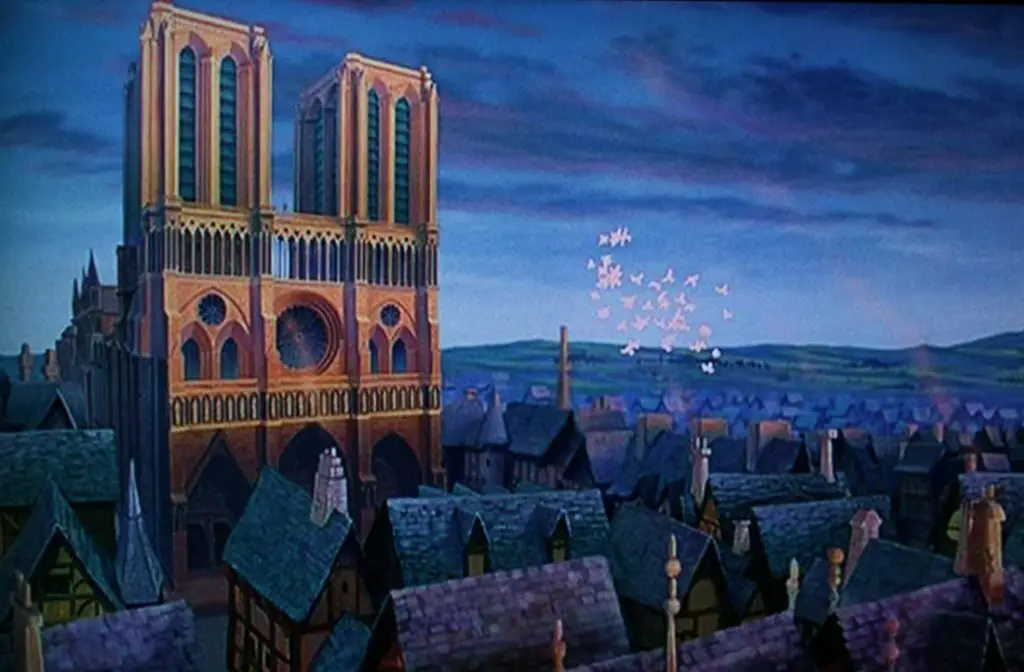 In 1996 Disney released The Hunchback of Notre Dame as an animated musical. The movie was based on Victor Hugo's book. It garnered nominations for both an Academy Award and Golden Globe Award for Alan Menken's score. Notre Dame is one of the most visited locations in Paris with over 13 million people visiting annual.
French President Emmanuel Macron announced that starting tomorrow a fundraising effort will begin for the Notre Dame cathedral. "We will rebuild this cathedral together," Macron said. An investigation behind the cause of this fire is already underway.