Last night, we had the opportunity to join CHOC families and friends to kick off the CHOC Walk Season! This years CHOC Walk will take place on Sunday, August 11th at the Disneyland Resort, and we are so excited to participate. The CHOC Walk is an annual tradition for many, and this will be its 29th year of the walk, and the 17th year held at the Disneyland Resort.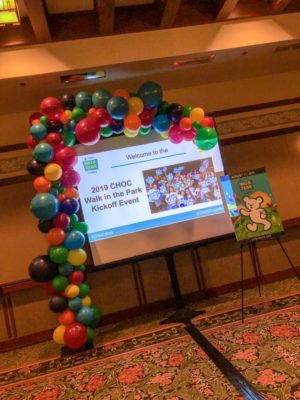 Our wonderful friend Zach Abrams kicked off the evening to get us excited and ready for this years walk. There are so many families that we see that are directly impacted by this walk, and this year, the goal of the walk is $3,000,000. Each year, more and more people get involved, and we can't wait to see how many participants walk this year! 
Disneyland History
2019-2020 Disneyland Ambassador Rafa Barron shared a little bit about CHOCs history with the Disneyland Resort. Disneyland has been a huge part of CHOC dating back to Walt Disney, as every Disneyland Resort President since Walt has served on the Board of Directors for the hospital. The CHOC Walk moved to the Resort in 2002, and continues to play a huge role in the community.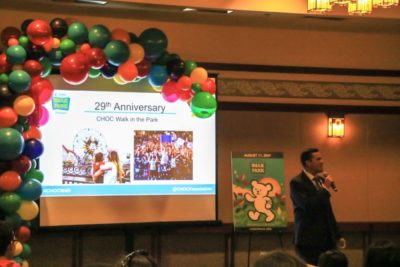 CHOC Walk Ambassador
Another major highlight of the evening was the announcement of this years CHOC Walk Ambassador, Ella Boyle. While Ella was unable to join the events last night, her mom shared about their cancer journey and what CHOC means to them. Stories like theirs is why we walk for CHOC. If you want to read more about their story, look for Team Brave Boyle on chocwalk.org.
It was a wonderful evening, full of great stories and reasons why this walk is so crucial to many. Even for those like myself that haven't been treated or personally know many treated at CHOC, it's impossible to not be affected by what these families share. It was a fun surprise to have Mr. DAPS "Why We Walk" video shared as well!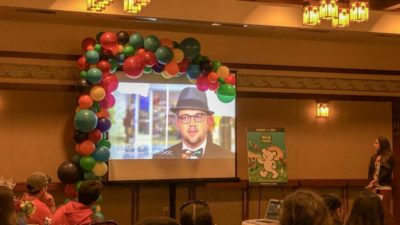 Before the evening was over, it was announced that there will be a contest to win a stay at the Disneyland Resort the weekend of the walk, as well as 4 hopper tickets! There will also be other raffle prizes. From now until Sunday, April 7th, any post with the hashtag #CHOCWalk will be entered to win!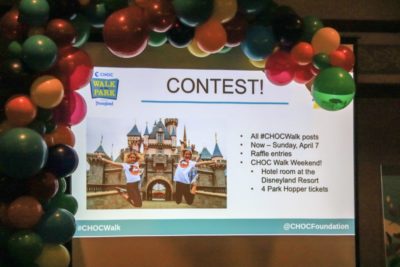 Here's how you can help get involved with the 2019 CHOC Walk in the Park:
Register to walk and join a team! If you're looking for a team, you can search DAPS MAGIC and join ours!
If you can't walk the day of, donate! Any bit helps and it all goes to an incredible cause!

 

Share! Whether it be on Instagram, Facebook, your own blog, or even a text message, spreading the word is so important! Don't forget to use the hashtag #CHOCWalk
Will you be walking this year? Why do you walk for CHOC?