As the world becomes more engrossed with Instagram influencers and Instagram marketing, creative photo spots continue to be a hot topic of conversation and an essential part to any Disney Parks visit. I last shared with you my Top 7 Yet-To-Be-Trending Photo Spots at Disney California Adventure Park, but now it's time we take a look at the place that started it all,  as we leave today and enter the world of yesterday, tomorrow, and fantasy at Disneyland Park. How do we know you visited a Disney Park? Usually, it's by including some park icon like a castle or mountain – something that is clearly identifiable as belonging in a Disney Park. Obviously, Disneyland is an extremely popular place to visit, which can make getting a photo with a park icon a real quest. So I set out on a quest of my own to find some more quintessentially Disney photos that are the undiscovered gems of Disneyland.
7. Entrance of Rancho del Zocalo
This location doesn't fit into the "true park icon" category, but it's so pretty that it earned a spot on the list anyways.  The entrance to Rancho del Zocalo is a beautiful mixture of colors and textures between the red tile floor, the growing green vines, and the decorative tile, it's the perfect setting for a romantic portrait with your sweetie or for a picture with your pals on Dapper Day. This location has a fairly steady guest flow throughout the day, so you may have to pair your portrait with a bit of patience for a clear view, but it will be worth it. If you wait until non-peak meal times, that will ease the congestion.
There are actually two vantage points from this location that I find particularly lovely. The first location is just to the right of the "wishing well" planter. If you position your subjects next to the planter at just the right angle, you can likely even get the menu out of view. Here you're able to see all the beautiful detail and textures and colors of Rancho del Zocalo. Additionally, I especially love the arched doors along the right wall, just before you actually enter the restaurant. There is something about an arched doorway that is just so lovely for a portrait. These two locations also have pretty lovely and even light, and we all know how important finding the right light is to getting a great picture.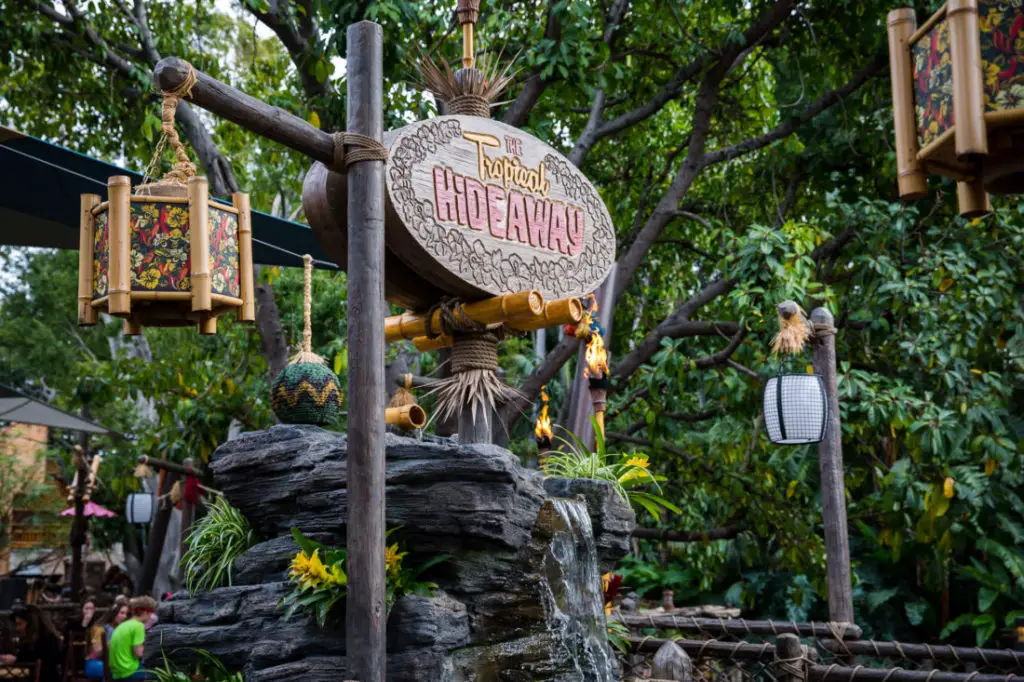 6. Tropical Hideaway Entrance Path
The Tiki Room is one of the most iconic Disneyland attractions because it was the first time that we ever got to see Audio-Animatronics in action. As technologies have evolved, the Tiki Room Birds still hold a special place in the hearts of Disney Fans around the world. Because of this, I wanted to find a location that would pay homage to that beloved Tiki Room vibe.  Thanks to the opening of The Tropical Hideaway, finding the perfect photo spot was a breeze. One of my favorite spots is right at the entrance where the waterfall and tiki torches split the entrance and exit pathways. This is a beautiful backdrop because you have the lush trees, the fire, the tropical flowers, the waterfall, and of course "The Tropical Hideaway" signage. If you stand in front of the post that holds up the sign, there is a good chance you'll be able to block enough of the patrons that you look like you've found your very own personal Tropical Hideaway.
5.

 

The Path Between the Fruit Cart in Critter Country and Harbour Galley

At first glance of this headline, your first thought might have been "Why did you pick there?", followed by a "wait, where even is the path by the fruit cart in Critter Country that connects to Harbour Galley?" and a concurrent "What is Harbour Galley?" For those of you who are still a touch confused, the Harbour Galley is the quaint quick service restaurant located across from the Haunted Mansion at the entrance to Critter Country that serves offerings in a bread bowl, tasty salads, and even a lobster roll and lobster mac and cheese! Definitely work checking out on a future trip to Disneyland Park. And bonus, they have mobile ordering! Ok, back to the reason you're reading this article, the photo spot. The almost hidden pathway turns out to be the perfect place for a Splash Mountain photo! So often, you'll see people stopping along that main path into Critter County to stop for a photo with Splash Mountain in the background. But that path is the only entrance into Critter Country, which means there are always people walking back and forth, making it difficult to get a clear photo of Splash Mountain. But this pathway is absolutely perfect for Splash Mountain photo! At this location, you're slightly higher up than you are on the main walkway, there is beautiful foliage to help frame the photo, and bonus – there were all of zero people on the pathway the entire time I was there taking the photo. A funny story about this undiscovered gem – I was actually facing the opposite direction to try and get Pirate's Lair on Tom Sawyer Island in the photo, but it wasn't anything spectacular. So I used my signature "180* turn" strategy to get a new perspective and sure enough, I found the perfect location.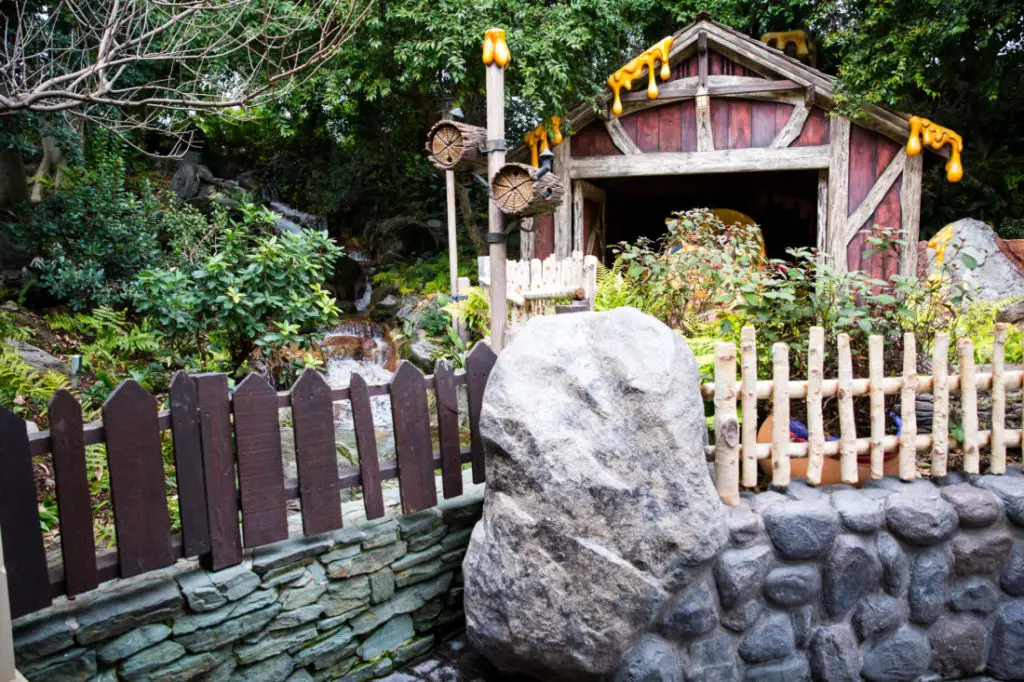 4. The Hundred Acre Wood
If you're a fan of Winnie the Pooh and his Critter Country Pals, then this location will be a favorite of yours. Tucked back between The Many Adventures of Winnie the Pooh and Pooh Corner is a quaint little spot that features the distinct honey-topped architecture of our favorite honey-loving bear as well as lush greenery and a lovely waterfall. This is a great spot for a photo, especially if you are Disneybounding as any of our favorite Hundred Acre Wood residents. Because it is tucked into a back corner in Critter Country, it isn't a huge guest flow area, which makes it pretty easy to capture an adorable photo with you and your critter crew. Bonus, it's right next to Pooh Corner – that means you can pick yourself up a tasty "Tigger Tail"! Marshmallows, chocolate, and caramel are always a winning combination if you ask me. Make your photo even cuter by getting your Tigger Tail before your photo and "toasting" them with your friends in the photo. It's a guaranteed good time and you get to enjoy a tasty treat. That's a win-win in my book!
3. Small World Mall
Small World Mall is the elevated platform area that is located between Matterhorn Bobsleds and "it's a small world". What's great about this location is that it is a great place to get two separate photos with two different Disneyland Park icons. The first icon is the Matterhorn, and the other is the "it's a small world" facade. To capture a photo with Harold's humble abode (he's the abominable snowman that lives inside the Matterhorn), you'll want to head to the end of Small World Mall closest to "it's a small world". Here you are far enough away from the Matterhorn that you will be able to get the entire mountain in your photo. Now to get a photo with the beautiful "it's a small world" facade, just employ my signature photo trick and yup, do a quick 180* turn and you're all set. Yes, both of these photos were taken with me standing in almost exactly the same place, just turned 180* around. Now that's a great way to kill two birds with one stone, or in this case, two icons with one photo spot. Now that "it's a small world" has its new queue structure, it's incredibly rare that Small World Mall is utilized as an overflow queue area which means other than during a parade, it's a relatively mellow place in the park.
2. Mad Tea Party Alcove
There is perhaps nothing more iconically Disneyland than Fantasyland, with the colorful Mad Tea Party a favorite capture among park guests. Specifically, people love taking a picture in the teacup photo spot near the entrance of the attraction. However, that location is almost always filled with park guests. I've found that one of the very best places to have a Mad Tea Party of your own, and to avoid the dense guest flow, is the round alcove that is on Matterhorn Way. Because this location is away from the entrance and exit of the attraction and is tucked off the walking path, it's usually pretty easy to grab your own real estate for a photo. If you're taking photos with a camera that has manual settings capabilities, you could actually get a really cool motion blur background by using a very slow shutter speed to take the photo. Now, this is tricky because it will require your subjects remain perfectly still while you take the photo for the effect to work, but it would still be fun to try!
1. Mark Twain Riverboat
How about a photo location on an attraction? Don't worry, I promise it's safe! One of my absolute favorite locations inside Disneyland Park is aboard the Mark Twain Riverboat. Not only is the paddle boat an authentic 19th-century inspired reproduction, it's named after Walt Disney's personal hero, Samuel Langhorne Clemens, aka, Mark Twain – who just so happened to be a riverboat pilot in his youth. Fun fact, it was actually Clemens' experience aboard the riverboats that inspired his pen name, "Mark Twain", a boating term that means a vessel is at a safe depth.
What I love about photos above the Mark Twain is that the light is typically lovely. Plus, with the three different decks, there are a plethora of places to stop on the riverboat while you are cruising the Rivers of America. I personally love the middle and top decks for photos because they not only offer a unique vantage point of Disneyland Park but because of how beautiful the light is. If it's midday and the sun is very harsh, I'd stay on the middle deck. But if it's either earlier or later, the top deck is lovely. The architecture of the Mark Twain is so beautiful that every archway will reveal a new perspective and a likely beautiful backdrop for your photos – meaning you would likely want to spend more than your 14-minute cruise finding the perfect angle. Have no fear, once you disembark you can hop right back in line and maybe even get on board on the very next voyage. I will say, this is an incredibly popular stop for photos during Dapper Day thanks to its old fashioned charm, but the rest of the year it's much more mellow.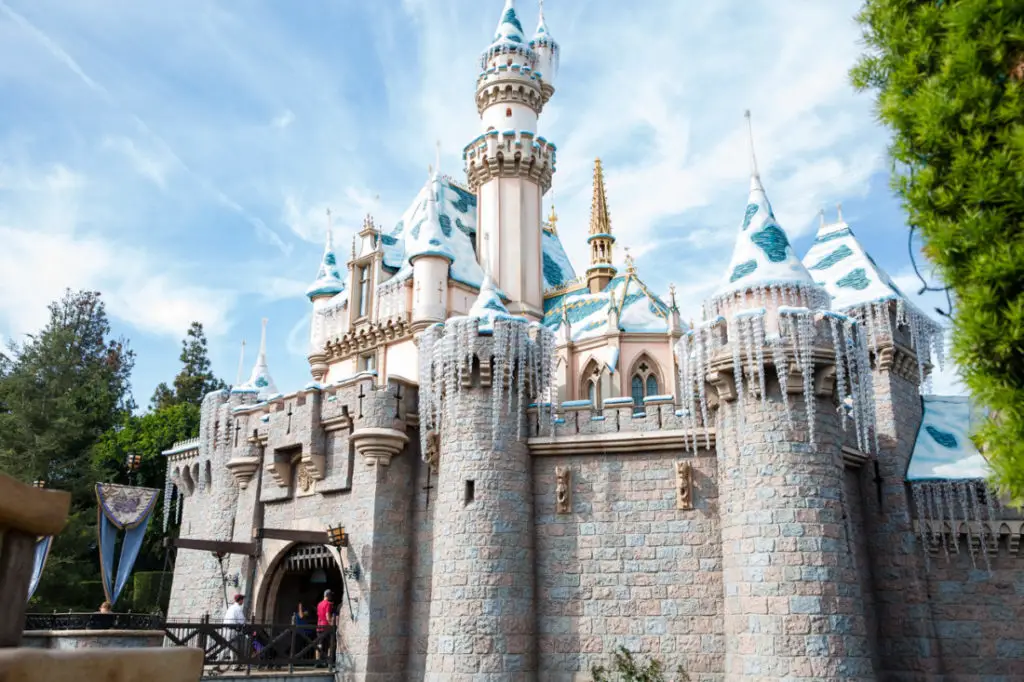 I'm sure you're thinking, "Krystyn, how do you write a Disneyland Park photo spot article that doesn't even mention THE MOST ICONIC thing in any Disney Park – the castle?!?!" If you've been to Disneyland lately, you've seen that Sleeping Beauty Castle is undergoing some major magical updates. And if you haven't been recently, well, sorry to be the one to tell you that Sleeping Beauty Castle is undergoing some major magical updates. This means that the scaffolding is covered up with scrims that cover every inch of the beautiful icon, so no ability to take a castle photo at the moment. But, I do have a bonus tip for when it does re-open all shiny and new. Everyone rushes to that center compass to get their Sleeping Beauty Castle photo, which means it's always a popular spot. That being said, if you take the pathway on either the right or left of the castle, there are some really lovely spots along the water's edge where you can see the whole castle and you have a bit more space and time to artfully craft your perfect photo.
The Disneyland Dedication speech that was given on July 17, 1955, says this: "To all who come to this happy place, welcome! Disneyland is your land. Here age relives fond memories of the past and here youth can savor the challenges and promise of the future. Disneyland is dedicated to the ideals, the dreams, and the hard facts that have created America, with the hope that it will be a source of joy and inspiration to all the world." I hope this article inspired you to try some new photo spots on your next trip and is a source of joy when creating that next perfect Instagram post with some beautiful Disneyland Park icons.
Krystyn Slack is a long time friend of Mr. DAPs and professional photography. She is the first woman to cover an entire season of professionally sanctioned motocross in the United States. She has a wide range of photography and subjects she has taken through the years. Visit her website at: krystynslackphotography.com
Thank you for your guest post, Krystyn! – Mr. DAPs