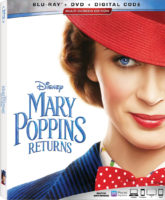 Mary Poppins Returns brings back the magic first experienced by audience 54 years ago when Mary Poppins appeared above the skies of London. Since then, generations of kids have grown up with a spoonful of sugar helping the medicine go down. Now, Rob Marshall takes guests back into the world of Mary Poppins in this new Disney live-action and animated musical. The result is a magical journey to the joys of childhood as Mary Poppins again reminds what is truly important.
Quality
Making a modern movie that connects seamlessly with a movie made in 1964 is no easy feat. Audiences of today are used to a certain look and feel. Fans of the original Mary Poppins are also used to a certain look and feel. Thankfully, as this film shows, these things don't have to be mutually exclusive. Mary Poppins Returns looks absolutely stunning. It utilizes modern filmmaking techniques and couples it with things like 2D animation that looks better than ever! The result is a movie that utilizes many different colors and moods that help set the tone of the story in multiple ways. It is simply a joy to watch the world of the Banks family and Mary Poppins come alive. The film looks great and recreates the world originally created in 1964 without feeling like a set was sitting around for over five decades.
The soundtrack, by Marc Shaiman, does the same thing. It utilizes modern musical techniques that pull from the past but doesn't feel dated. Instead, it is a modern Mary Poppins musical that is catchy and memorable. Both the visual and audio elements superbly balance old and new creating a very enjoyable movie-watching experience.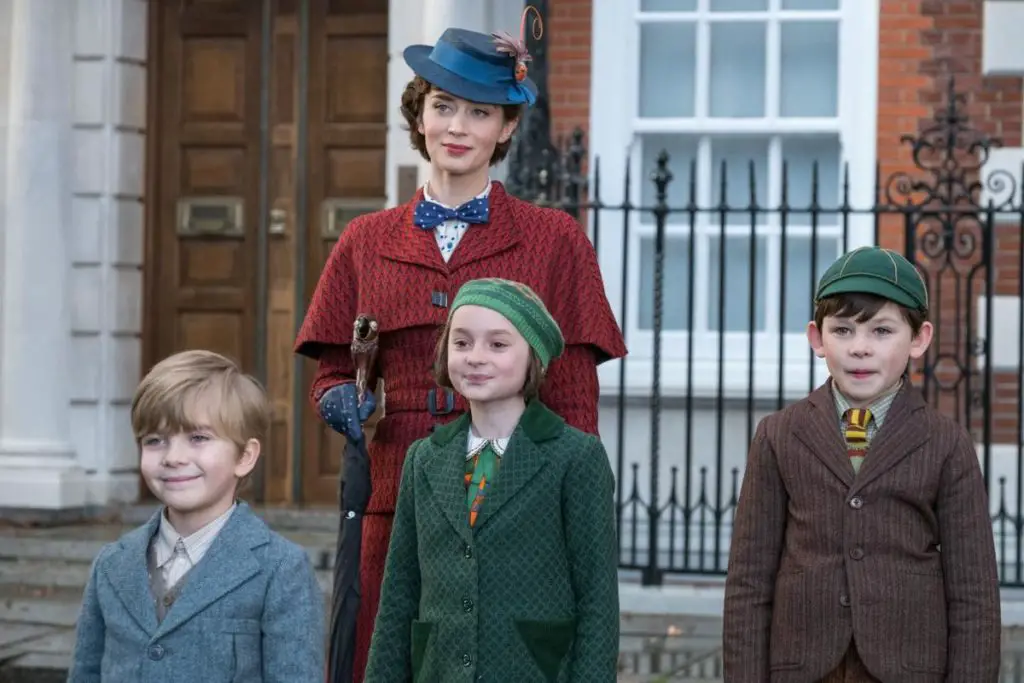 Extras
It is rare when I am more excited about the extras accompanying a movie over the movie itself. In this case, however, I find myself loving the extras as much or more than the movie itself. This movie is magical and so are the bonus features. The extras included with Mary Poppins Returns most definitely should be watched. They include the following:
BLU-RAY & 4K ULTRA HD™:
Deleted Song—"The Anthropomorphic Zoo" – In this early song sequence,

Mary

Poppins

and the children visit a very special zoo where the humans and animals trade places.
The Practically Perfect Making of "

Mary

Poppins

Returns

" – Join filmmakers and cast on an amazing journey to embrace the legacy of the original film while making a fresh modern sequel.

Introduction – Filmmakers and cast remember the first

Mary

Poppins

movie and share the thrill of working on "

Mary

Poppins

Returns

."
"(Underneath the) Lovely London Sky" – Discover how the team mined PL Travers' books for a fresh perspective on a much-loved character. Plus, meet the Banks children!
"Can You Imagine That?" – Be on location for

Mary

's iconic entrance from the sky, and explore the movie's original songs, inspired by the Sherman Brothers.
"Nowhere to Go but Up" – Experience being on set with the legendary Dick Van Dyke and Angela Lansbury, and celebrate the joy of choosing the right balloon!

Seeing Things From a Different Point of View": The Musical Numbers of "

Mary

Poppins

Returns

"– Go behind the scenes and experience the film's production numbers from a new angle.

"Trip a Little Light Fantastic" – Led by Lin-Manuel Miranda, the cast performs the film's biggest production number, with dancing lamplighters, bicyclists and more!
"The Royal Doulton Music Hall" / "A Cover Is Not the Book" – Find out what it takes to create two musical extravaganzas inside an animated world, highlighted by dancing animated penguins!
"Turning Turtle" –

Mary

's eccentric cousin, Topsy Turvy, played by Meryl Streep, has an unusual house that turns this musical number upside-down.
"Can You Imagine That?" – Dive under the bubbles with the cast and crew to see how this exuberant number was created.

Back to Cherry Tree Lane: Dick Van Dyke

Returns

– Dick Van Dyke, who played Bert and Mr. Dawes Sr. in the first film,

returns

after 54 years to Cherry Tree Lane as Mr. Dawes Jr.
Practically Perfect Bloopers – There's nowhere to go but up with the cast and crew in this lighthearted collection of flubs, goofs and prop fails!
Deleted Scenes

Leaving Topsy's – After their visit to Cousin Topsy,

Mary

, Jack and the children pause to take a look back.
"Trip a Little Light Fantastic" – The leeries light up the screen in this extended clip from the movie's biggest musical production.

Play Movie in Sing-Along Mode – Sing along with all your favorite songs as you watch the movie.
DIGITAL EXCLUSIVE:
Play Movie with Audio Commentary – Watch the film with commentary by director Rob Marshall and producer John DeLuca.
I really enjoyed all of the bonus features included with Mary Poppins Returns. There were definitely some highlights though. Both of the extras that included Dick Van Dyke easily top the list. They are a must watch for any Disney/Mary Poppins fan. The Practically Perfect Making of Mary Poppins Returns series of extras (which includes one of the Dick Van Dyke extras) was right up there as well. Seeing the behind-the-scenes look at the making of the music numbers was also fun. My least favorite, which wasn't bad, was the Practically Perfect Bloopers. I was amused by it but really didn't feel like it added anything to the movie viewing experience as the other extras did. That being said, this release is worth purchasing solely for the bonus features alone.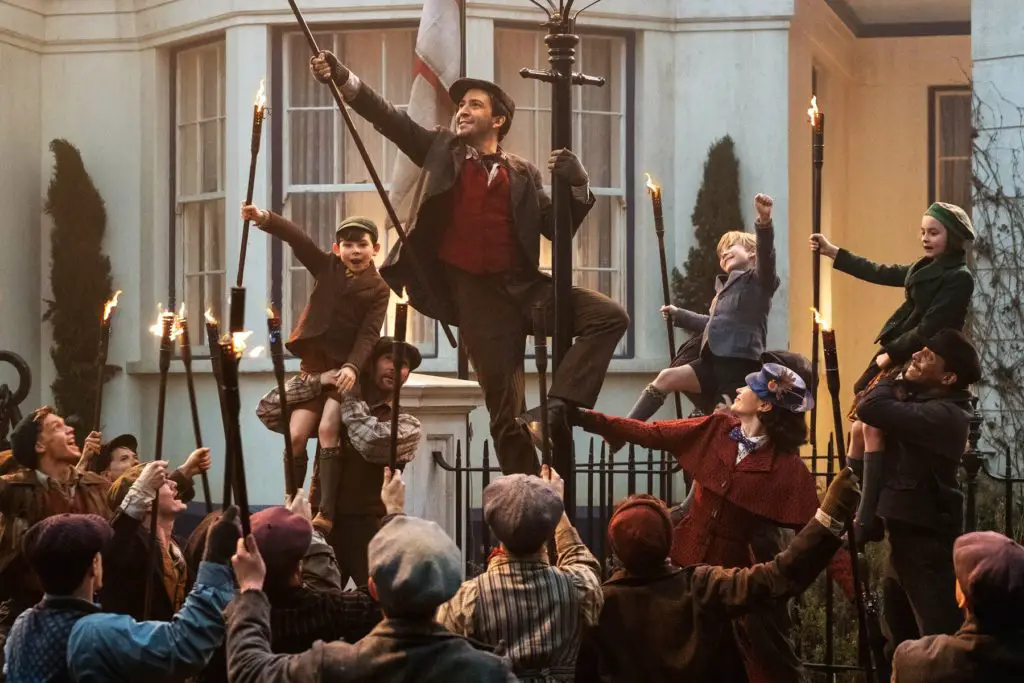 Final Thoughts
Mary Poppins Returns is an instant Disney classic in a modern age. Going to see it for the first time I definitely had concerns. Why mess with a movie that has stood the test of time so well? How well would Emily Blunt carry the title character after being initially made iconic by Julie Andrews? Could a movie musical still be made today that didn't feel old instantly? Thankfully, these fears were alleviated when seeing the movie in the theaters. Watching again in my entertainment room made it even more fun as I started seeing so many little magical details. My biggest critiques really come from the source material as I've dug in deeper. There is a certain cadence that appears to exist in the original books, some of which has carried into Mary Poppins Returns. This both connects this movie to the original, but also at times almost makes it feel too connected to some (but not me). I was surprised at how much I enjoyed this movie.
The bonus features included with Mary Poppins Returns were definitely a highlight for the reviewing experience as well. This was a solid set of extras that I will most likely go back and rewatch at some point. They are just well done and add to the magic of the movie. Sometimes extras feel just thrown in as an afterthought. In this case, they seem intentional and are worth watching. As I mentioned before, I would purchase this release solely for the extras!
Mary Poppins Returns is an enjoyable Disney film that the whole family will enjoy. It connects with all ages and is a movie that I presume will only get better with age. It also should be a movie that will be fun to pair with the original Mary Poppins and watch back to back. I know this is on my agenda. Mary Poppins Returns easily gets a hat tip from me! Go out and get this film and add an extra dose of Disney magic to your home movie library!
Daps Magic received a sample product or experience for this review in exchange for an honest review. The views of the reviewer are wholly their own. Read full disclosure policy here.