It's Boysenberry Festival time again!  And Knott's Berry Farm has really brought out some great food and entertainment for this year's festivities!
Boysenberry Atmosphere
First a bit about the decoration and atmosphere around the park.  With this being a Spring seasonal festival there have been some great flower beds throughout the park.  This year had some wonderful and beautiful flower displays at almost every corner!  It was abundant with great decoration sprinkled throughout.  It made it a wonderful time just to walk around.  But, it also created a colorful tapestry.
Boysenberry Craft
Another great feature about the Boysenberry Festival is the number of craft merchants that are available.  Some repeats came by again, but there were some new interesting merchants, such as a wood display shop that had some Peanuts character displayables, a honey merchant, and some other specialized food merchants.
Boysenberry Food
Of course, one of the highlights of the Festival is the food.  This year had an even bigger amount of food items to get from buying the tasting card.  The tasting card allows 8 out of 14 possible food items, but it is hard to choose.  The favorites among us were the flank steak skewers, the jambalaya, the cinnamon chips with ice cream, and the pot roast and boysenberry mashed potatoes.  In addition to tasting card items, there are some special Boysenberry food items located at the counter service restaurants.  Over at Coasters there is a Boysenberry BBQ Burger.  At Grizzly Lodge is a Boysenberry Butter Grilled Cheese.  Boardwalk BBQ has quite a bit with a Boysenberry Cornbread Muffin, Boysenberry BBQ Pulled Pork, and Boysenberry Meatball Sandwich.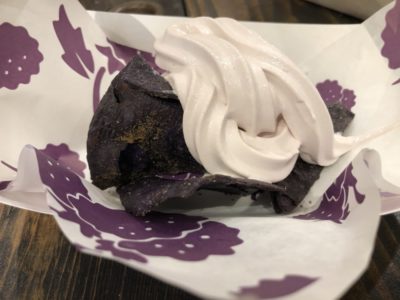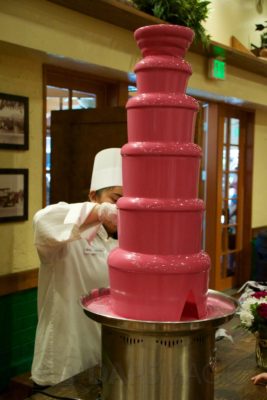 Boysenberry Entertainment
There are special shows just for the Boysenberry Festival.  One venue has participatory entertainment where mostly kids can partake of games in Calico Square.  However, there was a special pie eating contest with adults and kids on the Calico Stage as part of these games.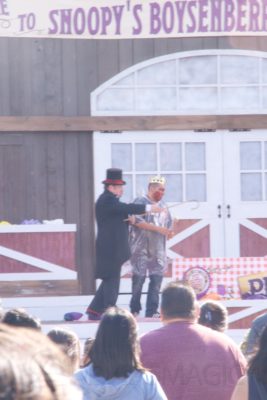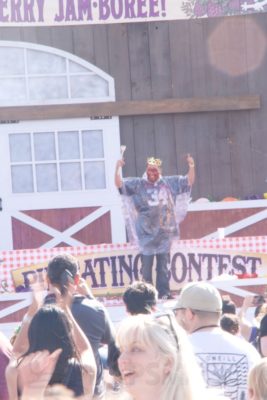 Over at the Bird Cage Theater is a great melodrama, the Boysenberry Bedlam.  It is cheesy to fit the old Vaudeville style but is a great show to stop in and take in.  The story utilizes boysenberries as an item of desire.  The show creates some great laughs from the audience with its hilarious style.
At night is Krazy Kirk and the Hillbillies, a comedic bluegrass band that has hands clapping and people laughing.  They are located at the Wagon Circle Theater, which has the stunt show during the daytime.  It feels like a concert especially when they perform rock songs with fiddly stylings.
A sort of entertainment venue is the Old MacDonald's Barn which has a chance to get up close and personal with some farmyard animals.
Besides these shows is Space Beagle at the Camp Snoopy stage and Boysenberry Jamboree at the Calico Stage.  Not to mention several music and dance venues at night.  All that to say, it is hard to take everything in with one day.  Our group had a discussion about how it takes two days just to get through all the food!  All the shows are worth watching.  The rides are fantastic.  When Knott's says the best way to experience this festival is with a season pass, they aren't just saying it!  It is hard to really get your fill in one trip and I recommend getting the pass to really get the full experience of the Boysenberry Festival.  It's my favorite season at Knott's of the year, and this one really did take it up a notch!
Daps Magic received a sample product or experience for this review in exchange for an honest review. The views of the reviewer are wholly their own. Read full disclosure policy here.