Today, Ron William Miller passed away at the age of 85. This is never good news, as it's always hard to say goodbye to prominent people in our life. We want to take a moment to celebrate the life and legacy he has left behind as well as the impact he had on the Walt Disney Company. This sad news comes from John Canemaker's Facebook earlier today.
When Miller was 21 years old and playing in college-level football at the University of Southern California, he was set up on a blind date with Diane Marie Disney. The two were then wed in May of 1954 before he served with the Army. After his life in the military, he played professional football with the LA Rams, where Walt Disney even attended some games!  In one of the games, Miller was knocked unconscious. Fearing for Miller's safety, and his future grandkids, Walt invited Ron to come work with Disney. The rest, as they say, is history.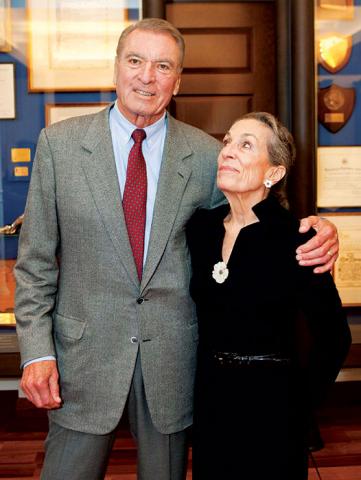 Ron W. Miller was originally an aspiring actor, even attending auditions for Warner Brothers. It
wasn't until Disney stepped in to tell him that they were looking to use him as a producer that he stepped away from his acting career. He went on to receive co-producing credits for co-producer credits appear on such Disney films as Son of Flubber, Summer Magic, and That Darn Cat!. His first movie with full producer credit was Never a Dull Moment(1968). He went on to act as producer for films including Tron, Pete's Dragon, Escape to Witch Mountain, and The Black Cauldron.
Miller became president of Walt Disney Productions in 1978 and CEO in 1983. Miller pushed the Company to expand and explore, creating the Touchstone label and the Disney Channel in 1983. Miller was an expert at experimenting in early computer animation with films such as Tron(1982); funding an upstart Tim Burton for stop-motion animation shorts Vincent (1982) and Frankenweenie (1984); and planting the seeds for future projects, including Who Framed Roger Rabbit (1988).
In 1984, Miller left The Walt Disney Company and entertainment and moved to Napa Valley. There, he lived with Diane as they enjoyed their seven children and a growing family with new grandkids on the way.  
In 2009, Diane Disney Miller opened the Walt Disney Family Museum in San Francisco. The museum celebrates the life and legacy that Walt Disney left on the world behind him. Ron Miller served as president of the board of directors for the museum until his death this year.
Ron Miller is survived by his children with Diane, Christopher (b. 1954), Joanna (b. 1956), Tamara (b. 1957), Jennifer (later Miller-Goff; b. 1960), Walter (b. 1961), Ronald (b. 1963), and Patrick (b. 1967).