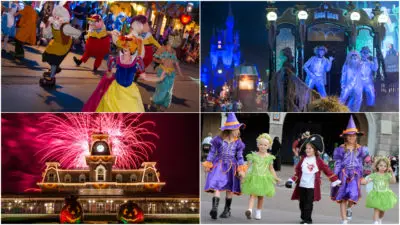 Fall is one of the most fun times to visit the Walt Disney World Resort. Guests can enjoy the Epcot Food and Wine Festival and Halloween Time, as they both span over a 2 month period. Walt Disney World starts their Halloween festivities a few weeks earlier than Disneyland, which means they have more nights to offer Halloween parties. Mickey's-Not-So-Scary Halloween party is an offering that many guests look forward to every year, and tickets went on sale yesterday! 
I had the pleasure of attending a party last September, and had an absolute blast! They have a little more entertainment and ambiance than offered during Mickey's Halloween Party at Disneyland. The Hocus Pocus show was one of our favorite parts of the night, and Mickey's Boo-To-You Parade was super fun! They even added characters at Pirates of the Caribbean, in the queue and the attraction. Haunted Mansion even had characters interacting with guests in line.
Meet and greet characters were all over, and some were pretty rare! Ariel and Eric met together, all of the 7 Dwarves were in one spot, and Winnie the Pooh and friends met in costumes! The trick-or-treating is pretty extensive there as well, you might want to bring your own bag! If you are visiting the Walt Disney World Resort between August 16th and November 1st, you should consider going to Mickey's Not-So-Scary Halloween Party!
They've added two additional parties, extending the festivities to November 1st! 
The 2019 Mickey's-Not-So-Scary Halloween Party dates are: 
August 16, 20, 23, 27, 30
September 2, 6, 8, 10, 13, 15, 17, 20, 22, 24, 27, 29
October 1, 3, 4, 6, 8, 10, 11, 14, 15, 17, 18, 20, 21, 24, 25, 27, 29, 31
November 1
Tickets start at $79, and are available on Disneyworld.com or by calling (407) 827-7350. 
It may seem a little early for Halloween party tickets, but with other promos for this Summer and early Fall, now is the perfect time to book your Walt Disney World vacation! It sounds like guests are waiting to book their vacations for once Star Wars: Galaxy's Edge opening date is announced. Guests can get discounted rooms and free dining plans during select dates in 2019 before September 30th. 
Are you planning a Walt Disney World vacation for this Fall?