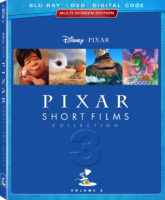 On November 13th the Pixar Short Films Collection: Volume 3 will be available for your home entertainment enjoyment. The third in the series of Pixar short films to be released, this one has some newer Pixar shorts that were instant classics. They include:
Bao
LOU
Piper
Lava
Sanjay's Super Team
Riley's First Date?
The Radiator Springs 500 1/2
Party Central
The Blue Umbrella
The Legend Of Mor'du
Partysaurus Rex
Bonus Mini-Movie: Marine Life Interviews
Bonus Mini-Movie: Miss Fritter's Racing Skoool
They are full of heart and humor and accompanied by incredible music. This is a collection that is a wonderful addition to any Pixar fan's library.
Quality
It is almost a waste of time to write about the quality of this release. As one would expect, this collection has a Pixar level of quality. It's absolutely stunning. The colors are vibrant. The picture is crisp. The sound is impeccable. It is a beautiful experience to watch these shorts on a nice TV with a solid surround system.
Extras
While there weren't a ton of bonus features offered with this release, what was offered was a lot of fun. My favorite extra had to have been Caricature: A Horrible Way of Saying "I Love You." In this feature, the artists of Pixar share about how they make caricatures of each other. It is charming and at times funny. This release also had Making Bao on it. If you haven't seen it before, definitely check it out. It adds even more to an already wonderful short film!
Final Thoughts
The Pixar Short Films Collection: Volume 3 is such a fun collection to watch. Pixar has done such a fantastic job of telling new stories in new ways. Because of this, a diverse collection of shorts can be enjoyed with this collection. Some of the shorts I had pretty much forgotten about and it was fun to revisit. I love the re-watchability of these shorts and look forward to revisiting them in the future. This is definitely a worthwhile collection for the home entertainment library. It easily gets a hat tip. Go and get it. Before you do though, let me know what your favorite Disney-Pixar short is in the comments below!
Daps Magic received a sample product or experience for this review in exchange for an honest review. The views of the reviewer are wholly their own. Read full disclosure policy <a href="https://dapsmagic.com/disclosurepolicy/">here.</a>