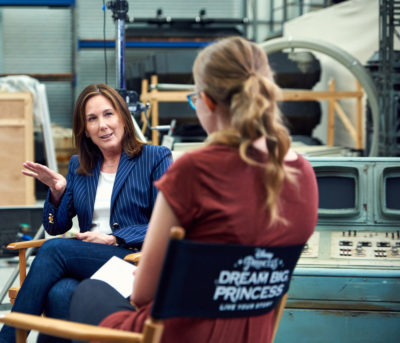 Today Disney launched the #DreamBigPrincess series which features trailblazing women across technology, entertainment, medicine, law, sports, arts, science, fashion, and politics. This includes Lucasfilm President Kathleen Kennedy and entrepreneur Jo Malone CBE to Good Morning America anchor Robin Roberts and Golden Globe® Award-winning actress Emily Blunt. There is also a Canadian member of Parliament, a Chilean astronomer, an award-winning chef and restaurateur from Brazil and the CEO of the leading IT services company in Latin America. The #DreamBigPrincess video series features 20 role models from 13 countries sharing their experiences with 21 aspiring young filmmakers.
"Dreaming big is one of the most important things any of us can do—to keep aiming higher," says Kathleen Kennedy, President of Lucasfilm, who was interviewed for the series by Maud Webster, age 16, from the UK. "The #DreamBigPrincess series is giving a voice to a group of talented young women, helping them tell stories that kids can learn from, whatever their ambition."
Beginning today, these videos will be shared on social media across multiple platforms. Each share will raise money for Girl Up, a global leadership development initiative founded by the United Nations Foundation in 2010 to provide leadership training for girls and give them tools to become gender equality advocates and activists. For each like or share of a video or photo posted publicly with #DreamBigPrincess on Facebook, Instagram, or Twitter, Disney Worldwide Services will donate US $1 to Girl Up to support girls' leadership and empowerment (up to $1 million). This will continue through November 20, 2018. Last year, the #DreamBigPrincess Global Photography series raised $1 million for Girl Up in under five days!
"Last year's donation from Disney has already had a huge impact, allowing us to extend our network of Girl Up clubs outside the U.S. by more than 50 percent, giving more girls the leadership skills they need to advocate for themselves and others," says Girl Up Co-Executive Director Melissa Kilby. "We're so proud of the series that our young Girl Up leaders have created and hope people around the world will play their part in supporting the rights of girls by liking and sharing them on social media."
Disney is also encouraging guests visiting Disney Parks on October 11th to Disney bound as their favorite female Disney character for the International Day of the Girl. Then on Saturday, October 13th, the Disney Stores will continue the celebration with in-store events.
Disney has released all of the videos for the #DreamBigPrincess series here. These videos have these young aspiring female filmmakers interviewing the following people:
Asmaa Boujibar: Research scientist and the first Moroccan woman in history to join NASA Johnson Space Center.
Ashima Narain: Photographer, filmmaker and former photo editor for National Geographic Traveler India.
Blanca Treviño: President and CEO of Softtek, the leading IT services company in Latin America, champion for entrepreneurialism, IT and the role of women in business.
Emily Blunt: Golden Globe Award-winning actress and star of upcoming Disney movies Mary Poppins Returns and Jungle Cruise.
Celina Caesar-Chavannes: Canadian member of Parliament who served as Parliamentary Secretary to Prime Minister of Canada.
Jennifer Lee: Chief creative officer at Walt Disney Animation Studios, writer and co-director of Disney's Frozen for which she won the Academy Award® for Best Animated Feature.
Jo Malone CBE: Founder and creative director of Jo Loves, responsible for creating some of the world's most-loved fragrances, awarded a CBE in the 2018 Queen's Birthday Honors List for her services to the British Economy and the GREAT Britain campaign.
Karen Jonz: Brazilian skateboarder, designer and musician who won the 2008 X Games women's vertical and the World Cup Skateboarding Championship four times, first Brazilian to win the title of World Champion.
Karen Walker: Designer with a global, multimillion-dollar eponymous fashion label, awarded the Companion of the New Zealand Order of Merit for her services to fashion design in 2014.
Kathleen Kennedy: Film producer and president of Lucasfilm, has produced more than 60 films, including three of the highest-grossing movies in motion picture history.
Leia Mi: Art director for Shanghai Disneyland who creates concept designs and provides art direction for Shanghai Disney Resort, was a creative designer at Walt Disney Imagineering.
Maria Teresa Ruiz: Chilean astronomer, the first woman to study astronomy at the University of Chile, the first female scientist to receive a PhD in astrophysics from Princeton University and the first woman to receive Chile's National Prize for Exact Sciences.
Martina Stoessel: Actress and singer who played the leading role on the internationally successful Disney Channel telenovela Violetta, first Argentine singer to reach one million views on YouTube in less than 24 hours for her single "Te Quiero Mas."
Monica Lopez Hidalgo: Accomplished professor and researcher of neuroscience, one of the winners of the L'Oréal Unesco Conacyt AMC 2017 Scholarships for Women in Science for her research on the deterioration of cognitive functions related to age.
Ndifanji Namacha: Medical doctor and assistant lecturer of public health, Malaria No More UK youth ambassador, delivered a keynote speech at the 2018 Malaria Summit in London.
Paola Carosella: Award-winning chef and restaurateur, opened her first restaurant in São Paulo, Brazil, in 2001, has appeared as a judge on MasterChef Brazil since 2014.
Robin Roberts: Award-winning broadcaster and co-anchor of ABC's Good Morning America.
Susan Prescott: Vice president of product marketing at Apple with more than 25 years of experience in the computing industry.
Virginie Delalande: Founder of Handicapower, first deaf person to become a lawyer in France.
Victoria Arlen: Accomplished motivational speaker, actress, model and swimmer, won three Silver medals and a Gold medal from the London 2012 Paralympic Games, joined ESPN as one of the company's youngest on-air talents.
"Having a big dream is the first step on the path to success, and positive role models are critical in helping you continue on that journey—whether that's a fictional entrepreneur like Tiana or a real-world success story like any of the women in this series," said  Zenia Mucha, Senior Executive Vice President, Communications, The Walt Disney Company.
"There's a line in Mary Poppins where she says anything is possible, even the impossible. I think that really symbolizes what dreaming big is all about, the idea if you want something big enough that the universe is going to conspire to give it to you," says Emily Blunt, who was interviewed by Marisa Torre, age 17.
What do you think of the #DreamBigPrincess video series? Will you be sharing these videos to help raise support for Girl Up? Let us know your thoughts in the comments below!