It's almost Fall and that means Knott's Scary Farm is returning for the Halloween season!  Every August there is a big presentation for what's coming to the annual extra ticket event.  This year they made a spectacular presentation.  But, more on that in a later post.  Here's what's coming up for the 2018 Knott's Scary Farm.
Returning Mazes
The big draw for Scary Farm are the mazes.  These are the haunted house style walkthroughs that have big surprises to scare guests at every corner.  Though there have been many favorites over the years, there is only room to have so many mazes.  There are a few returning favorites to Scary Farm:
Dark Ride

Over in Carnevil an abandoned carnival haunted house ride still has some ghoulish carnies looking for guests to keep within the bowels of the freakish ride.

 

It's a nightmare of being on a terrifying ride with no way out!

Trick or Treat: Lights Out

This somewhat interactive maze through the Green Witch's house will have guests get through with a faulty flashlight.

 

It will turn on and off randomly and reveal surprises as you try to get out of the maze.

Shadow Lands

This maze is inspired by Japanese samurai and has you go through several settings of samurai purgatory.

 

This is one of my personal favorites as it has a great opening and unique environments.

Pumpkin Eater

Over in the Camp Snoopy area is this maze with a theme slightly inspired by the nursery rhyme.

 

There's a 7-foot tall creature that will be lurking that you'll have to escape from, but he also is around The Hollow scare zone surrounding this maze…

Special Ops: Infected

The zombie shooting guided maze returns!

 

You'll be armed with special laser tag type guns that enable you to battle your way through the zombie-infected environment.

 

The finale is redone with a "boss fight" type end.

 

This is my absolute favorite and something that has enticed me to get the Scary Farm Season Pass to keep going through and improving my score!

 

With a boss fight at the end, it is sure to be another big hit!

PARANORMAL, INC.

Hayden Hill is a haunted hospital setting for the fictional ghost hunter tv show.

 

You'll join the team as they venture through the hospital, but creepy doctors are still looking for some victims.

Red Barn

A farmer that has a monstrous dark side will have guests screaming as they try to escape an inescapable barn.

 

A new entrance opening has been created for the maze this year.
Returning Scare Zones
The production team described this year's Scary Farm as making the whole park one big attraction.  New lighting, decoration, and immersive scare zones are all part of the action.  They said you will be immersed in everything once you set foot past the gates.
The Scare Zones are a big part of the immersiveness and this year there will be some returning favorites.  I already mentioned The Hollow which will surround the Pumpkin Eater maze.  Ghost Town Streets is the classic one that started the whole event.  Carnevil is back in the Boardwalk.  It will incorporate a special lighting effect with HangTime.
New Mazes and Scare Zone
Two new mazes, one new scare zone, and an overlay are making their way to Scary Farm this year.
The Depths
With some inspiration from HP Lovecraft stories, this maze will send you back to the 1940's to a coastal town with creepy caverns.  Inside these caverns are amphibious humanoids and watery monsters that want to keep you within the rock walls.  You are sent to see what happened to some miners that were exploring the depths of the caves.
Dark Entities
You'll be teleported from earth to a station that encountered a terrifying alien.  You'll have to find out what happened to the crew and try to escape this horrifying creature.  The production team mentioned a full, large costume was made for the alien entity, and special video effects with other new technology will be incorporated into the space-themed maze.
Forsaken Lake
The new Scare Zone for 2018 is Forsaken Lake.  At the lake under Silver Bullet, gothic creatures are going to be looking for guests to bring back down to the waters.  A show stop will be incorporated into the zone, which will happen periodically throughout the night.  Music has been created for the zone and is inspired by New Orleans funeral dirges.
Zombie Ghost Town VR
Ghost Town VR will get a digital overlay where you can shoot zombies in this interactive virtual reality game.  The game will cost an extra $5, but the regular game is already fun and immersive that this will be a good treat for the night!
Shows
There are 4 shows at Scary Farm this year.
The Hanging
The hugely favorite Hanging has the Lawman trying to find out the biggest offender of the year from various pop culture icons.
Awaken the Dead
A dance party in Fiesta Village will let you dance to a DJ and some ghoulish residents.
Conjure
In the Bird Cage Theater, some master magicians will show their various illusions.  Dana Daniels, Taylor Hughes, and Chipper Lowell will be appearing, as well as others from Fox's Masters of Illusion.
Hacks – Cutting Room Floor
An improvisational team will put together a B-horror movie.  Audiences will get in on the act as they help come up with ideas for the team.
Rides and Into the Fog
There will be a few rides that will be experienced in the dark.  Sierra Sidewinder, Silver Bullet, and GhostRider will be ridden in the dark!  Into the Fog is an art show at the Bizarre Bazaar located below Voyage to Iron Reef.  Artists have conjured up their talents to make Scary Farm inspired paintings, sculptures, and other pieces on display.  There are prints of the art available for purchase as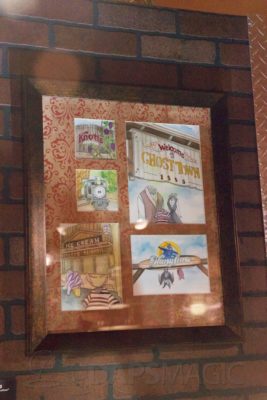 well.  The Bizarre Bazaar also has special Scary Farm merchandise for purchase.
How to Experience
Scary Farm tickets are already on sale online.  A Season Pass is available for repeat visits.  Tickets are $40 off online from the $82 gate price.  Passes are $90 for non-Knotts Season Passholders and $85 for Season Passholders.
Fright and Fast Lane passes are available for separate purchase for $85.  There is also a combo ticket with the Lane passes for $120.  The Fright Lane pass lets you bypass the line for mazes.  Fast Lane bypasses lines for rides.
Parking will be $22.
A Boo-fet is available for $31.99 online, and $36.99 day of.  It's a great way to get in early to the event and eat some delicious food!
I highly recommend the Season Pass if you are somewhat local.  Special Ops is a great repeatable attraction.  Hacks sounds like it will certainly be entertaining each time as it depends on the audience participation.  Conjure will have rotating magicians to return to see.  All of this alone is worth getting the pass, but it's great to repeat favorite mazes or take your time through each night.
With tickets and passes on sale now be sure to get your dates set to go to this amazing Halloween event!
Daps Magic received a sample product or experience for this review in exchange for an honest review. The views of the reviewer are wholly their own. Read full disclosure policy here.