A classic TaleSpin character is making his way to DuckTales. If you don't want to know any spoilers, don't read below the following DuckTales photo!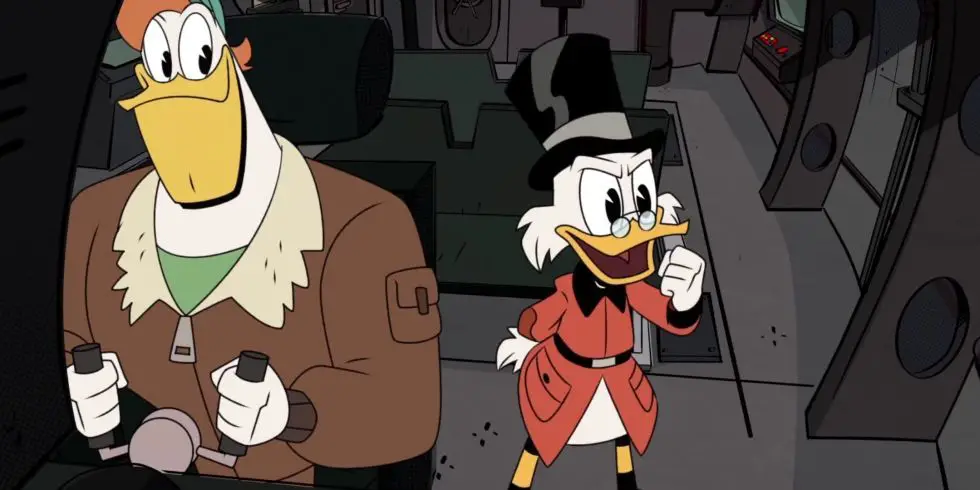 **SPOILERS**
There were many iconic characters found in TaleSpin when it was a part of the Disney Afternoon. One of these was the villain, Don Carnage! EW has given a "first look" at Don Carnage along with some details about what he will be doing on DuckTales.
In TaleSpin, Don Carnage and his gang of pirates were known for their vicious attacks via airplane in the skies outside of Cape Suzette. There will be a slightly different take on the character this time around. Executive producer Matt Youngberg told EW that "Our whole M.O. with DuckTales has been: take a convention you understand already and give it another layer." In this case, this infamous pirate will attack Scrooge McDuck and family with a choreographed musical number.
In DuckTales, Don Carnage will be voiced by Jane the Virgin's Jaime Camil. He says of Carnage, "Don Karnage is devastatingly good looking and very sure of himself." He continues saying, "He loves to sing, he loves to dance, he loves to be the center of attention." These attributes seem to consistently build off of the original attributes about Don Carnage that longtime fans know and love. The result will most likely be both humorous but also add to the character and story.
Don Carnage's musical personality will connect with an unlikely duck, Dewey. "Dewey is our middle child," says co-producer Francisco Angones, "always trying to figure out how to stand out in the most dramatic way possible." In this case, the panache of Carnage will lead to some interesting plot twists it is looking like.
Fans got the first hint that Don Carnage would be coming to DuckTales on a video released by the Disney Channel. Watch closely at about the 51-second mark (or look at the included picture) and see Dewey dueling with Don Carnage. Behind them appears to be the Sea Duck, also from TaleSpin. At this point, it isn't known if any other characters from this Disney Afternoon show will be crossing over as well. Darkwing Duck has already appeared on DuckTales so really, anything is possible!
What do you think of Don Carnage coming to DuckTales? What other Disney Afternoon characters would you like to see? Let us know in the comments below!