Before you read this post, I need to warn you that I am giving away a huge spoiler for Star Wars Rebels.  If you have not watched the most recent episodes, or if you've never watched the show and plan on watching it sometime in your life than don't read further.  It will ruin what the moving moment is.  Just know that Season 4 has an emotional moment in an episode.
Ok.  Are you ready to proceed?  Here we go…
The Last Season
Star Wars Rebels entered into season 4 knowing it would be the last.  The whole show is about the beginning of the rebellion.  It has given us the introductions of characters we've known since Episode 4.  Because of it being this introductory saga, it would have to come to an end.
The interesting thing about the show is that it centers on characters that had never appeared in Star Wars previously.  If we know what comes after this show, why have we never seen the characters before?  Those of us who have been watching the show since the beginning have always thought that the characters would not survive past the television saga.
But, with the new films that have come out – namely The Force Awakens and Rogue One – we've had indications that a couple of the Rebels characters do survive past the Last Jedi.  The two are Hera and Sabine.  Hera is mentioned in the background of Rogue One, which means that she survives until then.  But, Hera has also now appeared in the canonical Forces of Destiny, and it puts her at the end of the Battle of Endor.  A hinted confirmation that Sabine survives past that battle has appeared in the novel Aftermath.
Ezra, Kanan, Zeb, and Chopper have not been mentioned past Rebels.
With it being the last season, it means they don't survive past the show.
For One the End Came Fast
The moving moment I'm going to talk about is really a whole episode.  It is titled "Jedi Night" and it is the episode where Kanan Jarrus dies.  Kanan is a Jedi, one of the last to survive Order 66.  His journey has been that of a Jedi, and his end was just that too.
The plot was not just about him.  It was about a rescue of Hera.  It was about trying to succeed in a mission to stop the Empire from one of their crushing plans for the whole galaxy.  Yet, it ended up being a farewell to Kanan.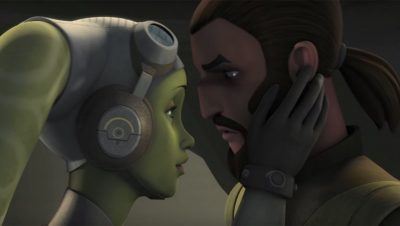 What made it such a moving, artful way of saying goodbye starts with what I said about the season.  We've known he would not last.  He's a Jedi.  Yet, Luke is said to be the last Jedi.  Kanan can't be around for Luke to be the last Jedi.  It just didn't seem like it would be this soon.  But the emotion didn't just come from this being known for some time.  The episode started off hinting at his demise.
Kanan sits in a meditation posture, calm and peaceful.  Around him are voices – his, Ezra, others.  It's easy to get a sense that they are memories, but also of what's to come.  It's chaotic and distressing.  It can't be good.  Ezra comes in at the end of his meditation and Kanan tells him to lead the mission.  But, it's not what he says, it's how he says it.  His voice makes it sound like this is one of his last acts.  The way he says it isn't just giving Ezra a mission, it's passing the torch.  (And a compliment to Freddie Prinze Jr. on his voice acting in this episode)
As the team is getting ready to rescue Hera, Kanan is cutting his hair and shaving.  Again, it's not what is being done it's how.  It's not just a haircut and a shave, it's how he's doing it that makes it look like a ritual.  It makes it look like there is great meaning to what is happening.
The team gets to where Hera is being held.  As Ezra and Sabine go to get a ride back, Kanan goes to rescue Hera.  His parting words are "May the force be with you."  Once again, it's the how not the what.  He has to stop them before they run off.  He pauses before he says the words.  You could tell he wanted to say "These are my last words to you."
Confessions
Kanan rescues Hera.  In the process, he also rescues a very precious item to her.  As they escape Hera realizes her full feelings for him and is trying to tell him.  Kanan keeps pointing out ways he knows her, and has always known her.  It shows the deep connection they share.  It shows a beautiful relationship they've had for some time.  These little admissions of Kanan remembering details of who Hera only deepens the feeling that this is the end for him.  He doesn't have to say the exact words "I love you" but is able to show it through all the little ways he paid attention to Hera throughout their time together.
A Jedi End
Kanan goes out protecting Hera, Ezra, and Sabine from a huge explosion.  It was easy to see as it was unfolding, but a beautiful way it unfolded.  He said nothing.  He showed his full power at stopping the explosion from reaching the ship, and being able to move Hera into the ship.  His last act was to force push the ship to safety.  Kanan had been blinded by Darth Maul at the end of the second season, but as he perished his eyes regained their color and strength.  It's been confirmed that he really did recover his sight in time to see Hera one last time.
It was probably his last wish to see her one last time.  There didn't need to be anything said about it.  The animation showed something like this.  For a cartoon, it is a deep message.  It's something that you would think would be followed by a flashback or voice over thought.  But, it happened artistically.  It made for an emotional end to a character that has become popular among Star Wars fans.
Even though I keep noting the episode kept hinting at this being Kanan's last, it became a eulogy instead of predictions.  It was a 20 minute way to say farewell to the character.  That's powerful for a cartoon.  It may have been trying to be a surprise, but I can see how it was more Kanan's last will and testament.  That was the emotion behind this Rebels episode.  I would dare say it was the most emotional farewell of any Star Wars character.
Hats off to Dave Filoni, Freddie Prinze Jr., and the rest of the crew that worked on this episode.  I had no idea a television cartoon could bring such emotional depth.  And farewell Kanan.  I'm glad you had the heroic Jedi end you deserved.