The Disneyland Resort is celebrating the Year of the Dog with this year's Lunar New Year Festival. Running from January 26th to February 18th, this celebration celebrates with traditions, entertainment, food, merchandise, and memories.
Entertainment
Mulan's Lunar New Year Procession
Mulan's Lunar New Year Procession returns this year. It is bigger than ever before with more performers and a new addition from the Disney family. Since it is the Year of the Dog, Goofy is joining Mulan, Mushu, dancers, and drummers in this show.
GuGu Drum Group
This group, from Shanghai, tells several different stories from China through the performance of drums. Their performance lasts a little over 20 minutes. On the opening day the performances and the stories they told changed throughout the day.
Hurry Home – Lunar New Year Celebration
Hurry Home – Lunar New Year Celebration is an addition to World of Color. Make sure and grab a Fastpass for World of Color when you arrive at the park in the morning for best viewing options.
Paradise Grill Stage
There are several other performers to be found at the Lunar New Year Festival at the Paradise Grill Stage. This is a great place to enjoy some really fun music while eating some of the special food offerings.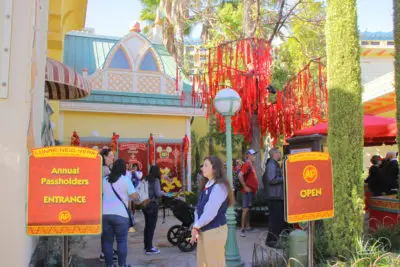 Annual Passholders
There is a special photo location for Disneyland Resort Annual Passholders as well. After showing annual passes, guests can enter this location for a special Lunar New Year Festival button and take a photo.
Food
There is a wonderful selection of foods for Lunar New Year at the Festival. There are three main food booths that offer Chinese, Korean and Vietnamese foods along the parade route. More food can be found at Paradise Grill, including a whole crispy tilapia! The DAPs Magic team tasted several of the offerings yesterday and all felt that the food was even better than last year. It is a wonderful culinary experience to add to the celebration!
Merchandise
There is a fun collection of merchandise for sale to remember the Lunar New Year Festival. There are Minnie ears, clothes, a Mickey Mouse plush, a decorative headband, a door decoration, a photo frame, a festival snow globe, and traditional red envelopes. The red envelopes appeared to be one of the more popular offerings and were seen being carried around by a lot of people.
Characters
It wouldn't be Disney without Disney characters! Throughout the day there were quite a few characters to be seen at the Festival. This included obviously Mulan and Mushu. Pluto, Mickey, Minnie, Chip, Dale, and Goofy were all seen throughout the day as well. Some of these were in the meet and greet location and others were walking around having fun with guests.
Final Thoughts
The Lunar New Year Festival at the Disneyland Resort continues to get better each year. This year's Festival feels quite a bit more substantial as it builds on what has been started with this celebration in recent years. On top of all that was mentioned already, guests can also be a part of the celebration by putting their wishes on the Lucky Wishing Wall. Free face painting was also available to those who were willing to wait in line.
Highlights for the DAPs Magic team this year has to be Mulan's Lunar New Year Procession, the food, and the Gugu Drum Group. This is a festival that as a team we hope will continue to grow each year!
What did you think of the Lunar New Year Festival at the Disneyland Resort? Let us know your thoughts in the comments below!