For once the top story is not a Star Wars story, but a Disney parks story.  D23 Expo had a huge parks presentation on the future of parks, cruises, and more around the world.
Before
A little before the announcements, rumors started circulating several places on construction at Walt Disney World.  The Star Wars land was taking shape at Disney's Hollywood Studios, but it was sounding like more was coming there.  Then more was said to be coming to other parks like Magic Kingdom and Epcot.
Outside of the parks, odd permits were filed for construction around some of the hotel resorts.  It wasn't at the hotels per se, but near them.
During
The rumors and speculations had people highly anticipating the parks panel.  Would Disney comment on any of this?  Would they hold back information on projects and focus on what is already known like Star Wars Land?  It was hard to say.
Bob Chapek, Chairman of Parks and Resorts, hosted most of the presentation, and it was a huge impact.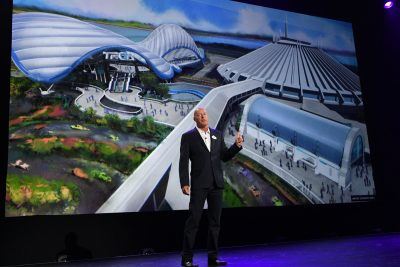 This presentation hit on both coasts, surprisingly.  Magic Kingdom, Epcot, Disney's Hollywood Studios, and Disney California Adventure all got announcements.
Rumored was Tron Lightcycle Run coming to Magic Kingdom.  It was confirmed at the presentation.  Hollywood Studios is getting a Mickey Mouse attraction.  Epcot is getting a huge makeover that will take a few years and will introduce several new attractions.  Disney California Adventure's Paradise Pier is getting a makeover into Pixar Pier.  That last one was a big surprise to many fans.
Even the construction around the hotels was addressed.  It's a new transportation system for Walt Disney World.
And around the world?  Disneyland Paris sort of gets a new hotel.  The cruise lines get their fleet doubled in the coming years.
After
This is the story that keeps going.  Disney Parks Blog keeps giving details to what is coming up for these parks and resorts.  Many of us fans keep discussing what to expect, though it's a little controversial in some areas.  Parties were held for last rides on attractions that are closing to make way for the new.  It's a huge change for many of the Disney parks.  It's the biggest story of the year for it being the most talked about before, during, and after the announcements at D23 Expo.  And we'll continue to see more next year!
Was this the big story for you?  Let us know in the comments below!  And here's some coverage we had on the announcements.
Line-Up of Experiences Coming to Disney Parks and Resorts Announced At D23 Expo
Lots of Movies, Disney Parks & Resorts, & Fantasmic! – D23 Expo Day Two