This week Disney-Pixar released Coco, a story about pursuing ones dreams and the importance of family. This is an absolutely gorgeous film with fun music and a fantastic message. It also is a film that is just dying to be made into an attraction. This is a movie with the right story, character, visuals, and music that could be combined to make a classic attraction!
Location
The obvious location for this attraction is in Epcot at the Walt Disney World Resort. In a perfect world it would be an addition to the Mexico pavilion and not have to replace the current offerings. The exact logistics of this could be a challenge but two attractions at the Mexico pavilion would be a lot of fun. If I were in charge, I'd expand it North of the current pavilion. Wherever it were to go, except by replacing the Gran Fiesta Tour Starring the Three Caballeros, there would be some changes in the building footprints.
Concept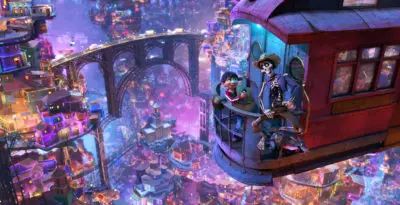 Guests would board a hanging trolley (as seen in the land of the dead) to go on a ride that would follow the main plots of the music. It'd start in Miguel's family home and then progress through and over the beautiful flower bridge into the land of the dead. As the attraction progressed through the story, characters would be a mix of audio-animatronic and projection technology. The same would be the same for the environment. The goal would be to create an immersive environment that would be tangible and as beautiful as the movie. The result would be a mix of the magic of flying found currently on Peter Pan's Flight with the immersive environment found on Pirates of the Caribbean, but taken to a whole new level! All of this would be accompanied by the beautiful music of Coco.
An attraction like this could be a nice counter balance to the current high speed Guardians of the Galaxy attraction that is being created in Epcot. An attraction that focuses on the importance of family should definitely be a ride that is accessible for all ages in the family.
More Ideas?
As I am writing this I am thinking of specific scenes that could be included in an attraction based on Disney-Pixar's Coco attraction. I might include those in a future article or just in the comments as an update. What are your ideas for an attraction based on Coco? Let me know in the comments below! This is such a beautiful story with such a gorgeous environment, I sure hope that Disney creates something with this sooner rather than later!