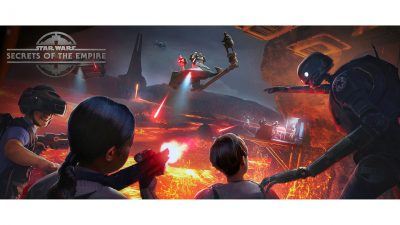 Star Wars: Secrets of the Empire is coming to Downtown Disney and Disney Springs, according to Disney Parks Blog.  This will be a new, unique VR experience with a collaboration between ILMxLabs, Lucasfilm, and The Void.
The attraction will be multi-sensory that will not only use VR headsets, but also smell and touch.  There will be haptic feedback to produce "real world" senses.  Haptic feedback is what's used on mobile phones – the vibration to make it feel like you're actually pressing a button on the screen.
The experience will have a social element, where friends and families can take part together.
The where and when this will open was not announced yet.  Recently it's been known that Build-A-Bear Workshop, RideMakerz, and Chapel Hats will close at Downtown Disney in Anaheim, but supposedly to make way for more food options.  Whether this will also be used for this experience is to be seen.
As far as looking forward to the experience, there is a similar extra pay attraction at Knott's Berry Farm called VR Showdown in Ghost Town.  It's a great game experience that makes you feel like you're in the environment.  Having a Star Wars themed VR interaction will be that much better!
Disney Parks Blog will have more information as it comes out.  The Void has a site that explains their company and some other attractions they have, including a Ghostbusters style VR attraction in several locations.  It looks like that game-like experience has guests even walking around the environment.  It sounds like the Star Wars: Secrets of the Empire will be sharing a similar feature because both statements say people will be untethered.  The VR Showdown in Ghost Town has guests in a confined space and room.
What do you think of Star Wars: Secrets of the Empire and even where it's going to be located?