Ron Howard is the new director of the Han Solo movie. After the dismissal of the Han Solo movie directors Phil Lord and Christopher Miller there was a lot of speculation over who would replace them. The time for speculation was short. According to the Hollywood Reporter, the official announcement should come out this morning.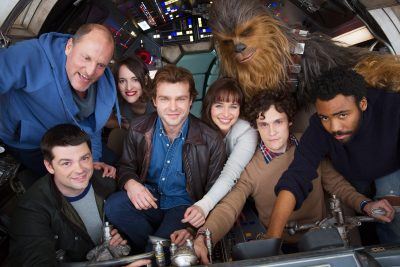 With filming beginning originally in February, Howard has a lot of work to do. Filming was already three quarters done. He will be meeting with the actors and calm some nerves from the set. He will also be pouring over the rough edit of the film to see what is there and what is needed. Currently the untitled Han Solo film is scheduled to have three and a half weeks more of filming. Five weeks of reshoots are already scheduled as well. This is common for movies of this stature in a franchise.
Lucasfilm and Ron Howard have worked together before. At one point, George Lucas approached him to direct Star Wars: The Phantom Menace.  In 1988 Lucasfilm and Howard collaborated on Willow, it received two Oscar nominations but financially was not a success. Howard has several hits as well that include Apollo 13, The Da Vinci Code, and A Beautiful Mind. His recent movies haven't garnered quite as much success however. Joining the Star Wars team could definitely be a needed boost.
At this time it isn't known how the directing change for this Han Solo movie will influence the budget or timeline of the film. The yet untitled Han Solo film stars Alden Ehrenreich as Han Solo and Donald Glover as Lando Calrissian. They are joined by Woody Harrelson, Emilia Clarke and Thandie Newton. Currently it is set to be released on May 25, 2018.
From StarWars.com:
Lucasfilm is pleased to announce that Academy Award-winning filmmaker Ron Howard has been named director of the untitled Han Solo film.
"At Lucasfilm, we believe the highest goal of each film is to delight, carrying forward the spirit of the saga that George Lucas began forty years ago," said Kathleen Kennedy, president of Lucasfilm. "With that in mind, we're thrilled to announce that Ron Howard will step in to direct the untitled Han Solo film. We have a wonderful script, an incredible cast and crew, and the absolute commitment to make a great movie. Filming will resume the 10th of July."
Howard has made some of the biggest hits and most critically-acclaimed movies of the modern era. Among his many films are Lucasfilm's Willow, Apollo 13, A Beautiful Mind (winner of four Academy Awards, including Best Picture and Best Director), The Da Vinci Code, Frost/Nixon, and Rush. He also narrated and produced the beloved comedy series Arrested Development, starred in George Lucas' American Graffiti, and remains a TV icon for his roles in The Andy Griffith Show and Happy Days.
The untitled Han Solo film is slated for a May 25, 2018, release.