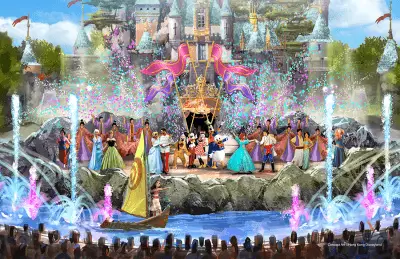 Disney Parks Blog has given more details about expansions of Hong Kong Disneyland.  The Legislative Council of the Hong Kong Special Administrative Region was the deciding factor for these plans, and have approved them.
A Frozen themed area fashioned after Arendelle is set to be built.  No details on the attractions that will be placed there, and the concept art is vague.  The art does show a beautiful village and ice castle that will immerse guests.
Their Sleeping Beauty Castle will be transformed to have some new stage and night shows.  Art for this idea shows fountains in a moat type area in front of the castle, where Moana sails by.  Currently the castle is similar to the original Disneyland one, with a drawbridge that lets guests travel through the center of it.  Though the picture shows a daytime environment, having fountains probably means those will be incorporated into night entertainment.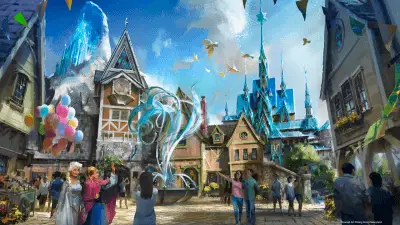 Moana will get an entertainment venue called Moana's Village Festival which will have a stage show.
Marvel characters will have a home in not just a new attraction, but a new themed area!  Right now the newest attraction is Marvel themed – The Iron Man Experience – but it's not divulged if this attraction will be part of the new land.  In the provided picture, Ant-Man is a prominent character in an attraction that looks like it will incorporate Buzz Lightyear style shooting.  Hong Kong Disneyland does have a Buzz Lightyear attraction that is a duplicate of the Disneyland version.  It does sit next to the Iron Man Experience, which makes it seem like a makeover will happen for the Buzz Lightyear attraction.  If that happens, both currently sit in Tomorrowland right now, so whether these will become separated or Tomorrowland will become a Marvel land is yet to be disclosed.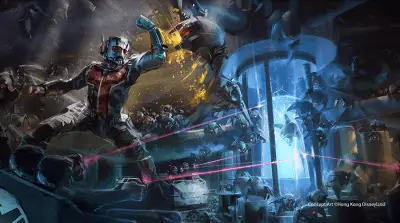 It's exciting to see the expansions for Hong Kong Disneyland.  It is a great park, but it's been a small duplicate of the Anaheim original for the most part.  These new attractions and lands will start to give it more of an identity, and especially that it's the closest to Shanghai Disneyland.
For the first announcement of this expansion, we have a post here.