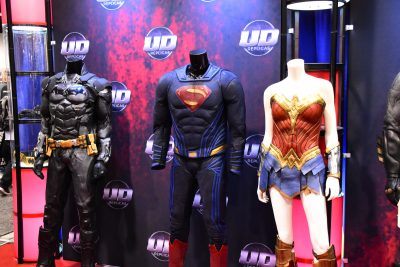 I have been to comic conventions before, but it has been a long time.  I went when comics were not that cool, and it was random college students putting them on so that they had a reason to read super hero magazines and maybe dress up like one.
Comic Con has changed things for comic book lovers.  And it's spawned several big events throughout the nation, one of them being their own Wondercon.
Wondercon is smaller in comparison to the big brother, San Diego Comic Con.  But, it still has the same heart, and some of the same formats.
This was my first experience at Wondercon…
Getting In
Much like Comic Con, badges are presold online.  To get multi day passes and/or the Saturday one day you'll want to get them sooner than later.  I know that now.  I grabbed it too late.  Though I can only go for the one day this time anyway, and that's fine.
Also, the pickup process takes a long time on the Friday first day, and probably even Saturday.  Pick up the badge on a Thursday.  Now I know that too.
Panels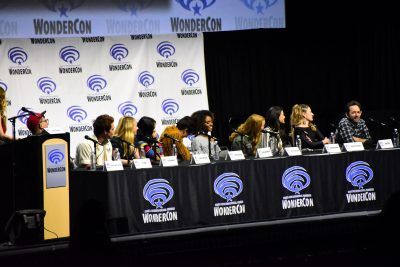 For it being the first day of the Con, Friday was not a busy day.  It was easy to get into panels.  Although it was the ones that I wanted to get into.  Granted, there weren't any really big panels to hit up.  The biggest were probably about Riverdale and the Teen Titans: The Judah's Contract screening.  Still, it was nice to get into ones I wanted to easily.
A fun first one I went to was about Star Trek.  It was called Star Trek: The Next 50 Years.  Mark Altman and Edward Gross were the main panelists.  They wrote a book called The Fifty-Year Mission which chronicled several interviews with stars and more from crew of the various television series.  They had great info on what had gone on behind the scenes of films.
I learned more to back up my opinions on the various motion pictures.  They went into speculation on where Star Trek: Discovery is going too.
I sat in on the Riverdale panel even though I still have not seen the show.  The reason I did was to wait for the premier screening of the Teen Titans movie.  I came away from the Riverdale panel more intrigued.
I wasn't intrigued before because the show takes a property that I really have admired over the years, Archie Comics, and is messing with it.  It's not the Archie I, or a lot, grew up with.  It's a very very modern spin on it.  BUT, hearing from the producers and cast I think they are treating it well, and I want to take a look at it now.
That, I think is what these panels can do.  I'm more inclined to check out some ones that I wouldn't normally next time.  I can learn some things about a comic or show that I wouldn't by seeing an advertisement.  It does that for a lot of people who attend these conventions.
Teen Titans: The Judas Contract
I was excited to learn that the day that I could go to Wondercon was when they would do an advance screening of the newest DC animated film.  I really like the Warner Bros./DC Comics animated films, and have always liked Teen Titans.  The Judas Contract story is one of my favorite DC stories, so to have a film version of it is terrific.
It did catch me a little off guard to see not all the original characters were being used.  The original story served as a bit of a segué to new versions of old favorites like Nightwing and Changeling.  It was also a very mature story for a kid comic.  So, I was used to having the more original Teen Titans, not recent ones like Damian Wayne as Robin.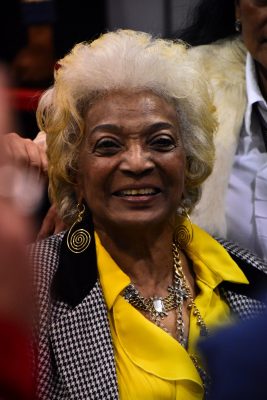 It brought in the Nightwing/Starfire relationship though.  And nice to have both a Nightwing and a Robin on the team.  The reason for this dynamic and the change in team roster is that it's a bit of a sequel to another film called Teen Titans vs. Justice League.  Having seen that movie it didn't take me long in Judas Contract to realize that it takes place after that film.
It was a more mature movie, with a few mature themes.  Not that it was getting an R rating, but I would put it at PG-13.  It was an interesting take on it all.  I enjoyed the movie greatly and would recommend it to fans that fall into any categories that fit.  For those that aren't familiar with the animated films or DC Comics in general, it may not be as fun of a movie.
Booths
I know you're supposed to have a strategy for booths, and I had a bit of one.  I was looking for shirts.  Yet, I wanted to see as many booths as I can.  If you copy me in that, be sure you have good walking shoes.  The amount of booths to get through can be overwhelming.
It is easy to get passed them all if you have that strategy.  As much as I like reading and collecting comics, I didn't want to grab any this time.  Toys are fun, especially display collectibles like Funko Pop.  But, that wasn't my aim either.  Still, finding booths with shirts took a lot of time.
One of the highlights that I found just by wandering around, though, is seeing Nichelle Nichols of Star Trek fame.  She is Lt. Uhura, and she looked as great as ever!  It was wonderful seeing this treasure.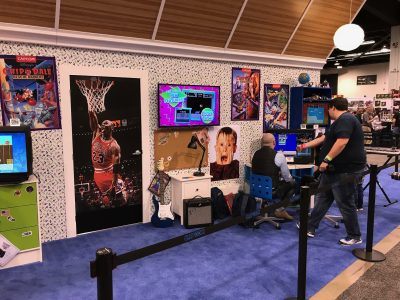 I ended up finding the shirt I wanted…and a jacket and a nutritional shake shaker cup.  All to the theme of Green Lantern.  Mission accomplished and then some.
The jacket I picked up was from Heroes Within – a DC Comics licensed clothing manufacturer.  They have subtle designs with hero emblems.  Perfect for everyday wear.  The shaker cup was from Perfect Shaker.  The shirt I purchased is a White Lantern shirt from Stylin Online.  I don't think I can explain White Lantern here.  I'll do it another time.  Just know it's greatly connected to Green Lantern.
Cosplay
You could spend a day just seeing all the cosplay people do.  There is so much in this realm!  A lot of people display them outside the convention center, which is nice for non badge holders.  But, just walking around and you'll encounter a lot of creative costumes.  My favorites were Master Chef (a take on Halo's Master Chief) and Stryfe of X-Men fame.
Worth It?
Wondercon was worth going to!  I would definitely go again, and probably will next year.  It's the less crowded version of Comic Con, though not as much is announced here as it is in San Diego.  There are still news that comes out of it, and great things to do and see.  I highly recommend it to any comic fan!