With it being a new year the typical thing to do is to make a resolution.  A typical resolution is to exercise more.  What better way to exercise then to participate in a runDisney race?
But, should you sign up for a half marathon when you've hardly run?  Perhaps.  Here's some things to consider when choosing a race.
First, I wouldn't consider myself a true expert.  I've had over 3 years of experience in running the Disney races, though.  And I hated running before those 3 years ago.  I used to think people were crazy to spend money just to run.  And then there's the training.  Well, now employees at a local running store know me and ask which Disney race I'm doing next whenever I go by.  Part of me still thinks I'm crazy.  I'll tell you my story as I go through some tips.
Why Disney Races?
The question I get asked most often is why I do so many Disney races.  For the past two years I've been doing at least two challenges (that's a 10k on one day and the Half on the next) per year.  What got me so hooked?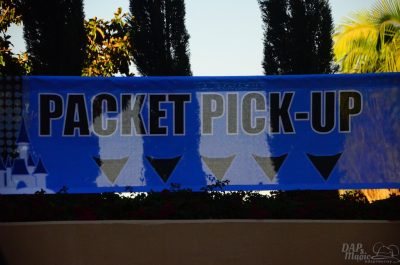 First, I'm a big Disney fan.  Surprise surprise!  I am writing on a Disney fan site.  That's what first sunk in with me.  But, I didn't jump at the chance at first.  I've volunteered at the races long before I ran in them.  Volunteering was great fun, but the atmosphere grabbed my attention as exciting.  The Expo had liveliness and showed a culture I never knew existed.  It was a clash between Disney and runners.  These were fans that actually enjoyed running too.  And there were all sorts of levels.
Hearing from people who truly competed in races outside of Disney to people who put on costumes and get out there just for the atmosphere (and bling) it was clear that Disney is one of the top groups to put on races.  I heard more and more about how the courses would be full of great entertainment…and great characters.  Parade floats were even part of the decoration for some of the courses.  I was intrigued.
Ever since then I've enjoyed every race.  There is a lot to see as you run.  There are some great photo opps with characters.  There are fun bands that play along the way.  There are people encouraging runners along the course as well.  It's an adrenaline rush that hits the fan in me, and now the runner in me.
Then there's the bling.  A metal medal is given at every race for adults now (sorry kids races).  And, it can be possible to get 4 medals for one race!  That happened to me at the Dark Side Half Marathon at Walt Disney World.  I got a medal for the Half, the Challenge, a Coast to Coast (which means I did a Disneyland Half and WDW Half in one calendar year), and a Kessel Run medal – the special one given to those who did the Light Side and Dark Side Halfs.
Many do the races for the bling.  The medals are nicely designed and look great displayed.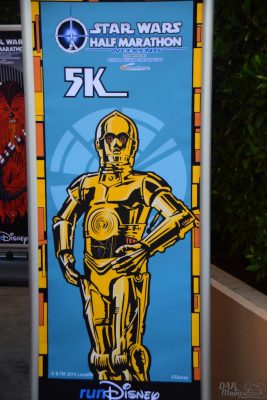 There are quite a few reasons to do a Disney race in particular, especially for Disney fans.
So, Where Do I Start?
Almost four years ago I decided to do a runDisney race.  At the time, the next one I could sign up for was during the Tinkerbell Half Marathon (it was when it was back in January instead of the now May timing).  I was too scared to jump into a Half Marathon.  Like I said, I thought runners were crazy and did not want to do it for exercise.  And I was not in the best shape I could be for a Half.  So, I signed up for a 5k.  I figured it'd be fun and give me a taste of running.
The 5k is 3.1 miles.  My goal was to run the whole thing.  I had planned out enough time to train from nothing to doing a 5k.
I made it!  And at the end of the race my first thought was "That was it?  I could keep on going!"  So the next race I signed up for was a 10k, which is 6.1 miles.  The same thing happened at the end of that one.  "Oh, I'm done!  I could keep going!"  You could imagine what I signed up for next.
But, it wasn't exactly the natural progression.  I realized that if I were truly training then doing a 10k before a Half would not be too daunting.  I signed up for a Challenge as part of my first Half Marathon experience.  At the end of the Half Marathon I had the thought of "That was fun and good."  I haven't signed up for a Marathon yet.
I tell my story to show that it's ok to start at a 5k.  Some will say to jump into a Half.  I say do it if you already feel a little ready.  It's going to take a lot of training for a Half.  A month's worth won't cut it.  It needs to be planned out.  So, start at a 5k if you don't feel too optimistic about your Half capabilities.  Enjoy that race!
If you have the same attitude as me at the end of the 5k, sign up for a 10k next time.  And so on and so forth.
If you do feel pretty confident in your Half skills then go straight to that.  Out of all the races, this has the most glamour and excitement.  Sorry 5k and 10k.
Here's some videos to give you an idea of what takes place on the races.
Great! How Do I Sign Up?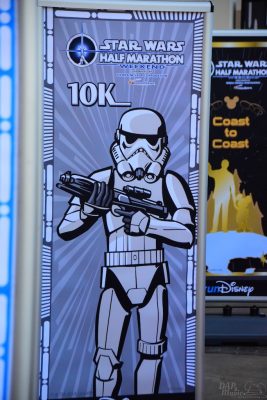 Have I convinced you?  Awesome!  Sign up for the next race!  Where?  Well, it depends on where you are wanting to participate.  As of writing this, the Star Wars Half Marathon – The Dark Side which is in April at Walt Disney World still has slots open for all but the 10k.  On the Disneyland side, the next race that has available slots for the Half Marathon is the Tinkerbell Half which is Mother's Day weekend.  After that, the Disneyland Half Marathon has all races open as of writing this.
If you're looking for a particular race at either Walt Disney World or Disneyland and registration isn't open yet know that it typically opens up anywhere from 6-8 months before the race itself.  The runDisney website (rundisney.com) will usually post a date that registration will start, so you can mark it on your calendar.  It opens for any race 9 am PST.  In the past you had to get online for it on the dot no matter which course you were doing.  Now, I'd recommend being online right at 9 am for the 5k and 10k.  The Half and Challenge doesn't seem to sell out as fast anymore.  But, it's still good to sign up within that week just in case.
The links to sign up are usually listed on the race's page of runDisney's site.  It'll take you to a company called Active.com.  I'd recommend setting up an account at least a day before signing up.  You'll have to make one as you sign up for the race and that takes time.  If you have the account already, you can login.
Have a Happy Race!
Now is a great time to get ready for a Disney race!  They are fun and can help motivate you to get fit and stay fit.  So, what are you waiting for?  Sign up for one!  And perhaps I'll see you on the course!