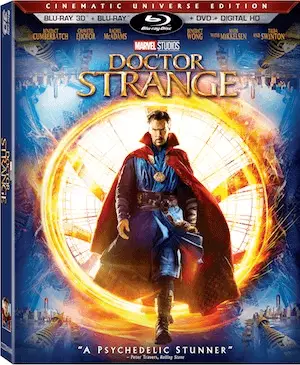 Marvel's Doctor Strange will soon be available to watch at home on Digital HD and Blu-Ray this coming February. Starring Benedict Cumberbatch in the title role, this is the origin story of the Master of Mystic Arts. After a horrific crash, Dr. Stephen Strange finds himself rethinking who he is and what he will be doing with his life. When he travels to Kamar-Taj to find a cure, he discovers so much more as his eyes and mind are opened to a whole new reality.
Doctor Strange will be available for Digital HD download on February 14 and on Blu-Ray on February 28th. Will you be getting this movie?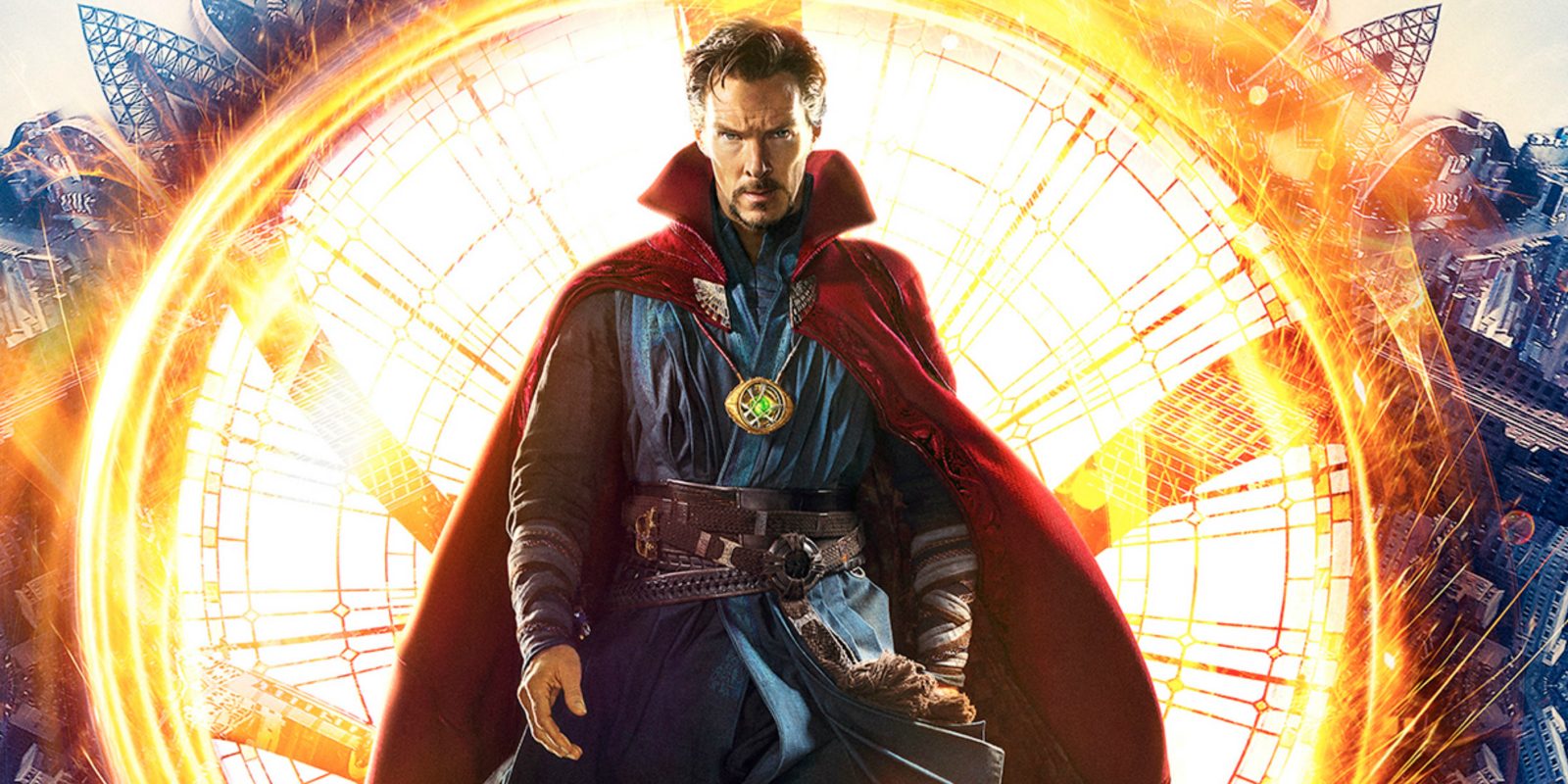 PRESS RELEASE:
BRING HOME THE MYSTIFYING, MIND-BENDING JOURNEY
MARVEL STUDIOS' "DOCTOR STRANGE"
on Digital HD Feb. 14 and Blu-ray™ Feb. 28
Own the critically acclaimed blockbuster with 80+ minutes of extras highlighting the award-winning cast!
BURBANK, Calif., January 6, 2017 — Marvel Studios' "Doctor Strange," the story of Dr. Stephen Strange, Master of the Mystic Arts, has mesmerized both audiences and critics, pulling in more than $658.3 million at the worldwide box office to date and earning a 90% critics consensus on Rotten Tomatoes. The biggest single-character introduction in the Marvel Cinematic Universe (MCU), it also carries on Marvel Studios' winning streak as the 14th consecutive MCU film to debut at #1 at the domestic box office.
On Feb. 14, "Doctor Strange" fans can bring home the critically acclaimed blockbuster early on Digital HD/3D and Disney Movies Anywhere, or on Blu-ray 3D™, Blu-ray, Digital SD, DVD and On-Demand on Feb. 28. The Blu-ray and Digital releases come packaged with over 80 minutes of fascinating, never-before-seen bonus materials, including five behind-the-scenes featurettes, five deleted scenes, hilarious outtakes, part two of the comical mockumentary "Team Thor," audio commentary, and an exclusive look at the future of the Marvel Cinematic Universe.
The film boasts an award-winning cast, including Benedict Cumberbatch ("The Imitation Game," "Black Mass") as Dr. Stephen Strange, Chiwetel Ejiofor ("12 Years a Slave," "Triple 9") as Mordo, Rachel McAdams ("Spotlight," "Southpaw") as Dr. Christine Palmer, Benedict Wong ("The Martian," "Prometheus") as Wong, Michael Stuhlbarg ("A Serious Man," "Steve Jobs") as Dr. Nicodemus West, Benjamin Bratt ("Traffic," "Piñero") as Jonathan Pangborn, and Scott Adkins ("El Gringo," "The Expendables 2") as Lucian/Strong Zealot, with Mads Mikkelsen ("The Hunt," "Casino Royale") as Kaecilius and Academy Award® winner Tilda Swinton (2007 Best Supporting Actress, "Michael Clayton"; "Julia") as The Ancient One.
Bonus Features (Bonus features may vary by retailer. The DVD does not include any bonus materials.):
DIGITAL HD & BLU-RAY:
Featurettes

A Strange Transformation – Open your eye to a new dimension of the Marvel Cinematic Universe, and see how the filmmakers brought one of comic books' greatest characters to life.

Strange Company – Find out what it's like for the cast to work on a Marvel film, and how Director Scott Derrickson engineered one of the most ambitious, imaginative films ever.

The Fabric of Reality – Take a closer look at the movie's extraordinary sets, meticulously crafted costumes and amazingly detailed production elements.

Across Time and Space – Explore the countless hours of dance and fight choreography the actors endured in preparation for their physically demanding roles.

The Score-cerer Supreme – Join Composer Michael Giacchino and a full orchestra during live recording sessions, and experience the movie's mind-bending music.

Marvel Studios Phase 3 Exclusive Look

– Get an early peek at Marvel's spectacular upcoming films, including Marvel Studios' Guardians of the Galaxy Vol. 2, Thor: Ragnarok, Black Panther and Avengers: Infinity War.

Team Thor: Part 2

– See more of the hilarious partnership between Thor and his roommate Darryl in this satirical short.

Deleted Scenes

Strange Meets Daniel Drumm

Kaecilius Searches for Answers

The Kamar-Taj Courtyard

Making Contact

Lost in Kathmandu

Gag Reel

Audio Commentary by Director Scott Derrickson
DIGITAL EXCLUSIVE:
Through the Keyhole: The Science of the MCU

– Discover how Marvel grounds all its films in real science, and explore the connection between science, magic and imagination.
From Marvel Studios comes Doctor Strange, the story of world-famous neurosurgeon Dr. Stephen Strange (Benedict Cumberbatch), whose life changes forever after a horrific car accident renders his hands useless. When traditional medicine fails him, he travels to the remote Kamar-Taj in search of a cure, but instead discovers the mystical arts and becomes a powerful sorcerer battling dark forces bent on destroying our reality.
Scott Derrickson ("Deliver Us from Evil," "Sinister") is directing with Kevin Feige, p.g.a., producing. Louis D'Esposito, Stephen Broussard, Victoria Alonso, Charles Newirth and Stan Lee serve as executive producers. The screenplay was written by Jon Spaihts ("The Darkest Hour," "Prometheus") and Scott Derrickson & C. Robert Cargill ("Sinister," "Sinister 2").
The talented team of filmmakers assembled for "Doctor Strange" includes Ben Davis (Marvel's "Avengers: Age of Ultron," "Guardians of the Galaxy"), cinematographer; Charles Wood (Marvel's "Avengers: Age of Ultron," "Guardians of the Galaxy"), production designer; Alexandra Byrne (Marvel's "Avengers: Age of Ultron," "Guardians of the Galaxy"), costume designer; Wyatt Smith ("Into the Woods," "Ricki and the Flash") and Sabrina Plisco ("Sky Captain and the World of Tomorrow," "Charlotte's Web"), editors; Stephane Ceretti (Marvel's "Guardians of the Galaxy," "Thor: The Dark World"), visual effects supervisor; and Paul Corbould (Marvel's "Avengers: Age of Ultron," "Guardians of the Galaxy"), special effects supervisor.
DISC SPECIFICATIONS (applies to film content only):
PRODUCT SKUs: Blu-ray 3D Combo Pack (Blu-ray 3D, Blu-ray, DVD, Digital Copy),
Blu-ray 2D Combo Pack (Blu-ray, DVD, Digital Copy),
DVD, Digital HD/3D/SD and On-Demand
RUN TIME:  Feature run time is approximately 115 minutes
RATED: PG-13 for sci-fi violence and action throughout, and an intense crash sequence
ASPECT RATIO:  Blu-ray 3D = 1080p High Definition Widescreen (2.39:1/1.90:1)
Blu-ray = 1080p High Definition Widescreen (2.39:1)
DVD = 2.39:1
AUDIO: Blu-ray = English 7.1 DTS-HDMA, English 2.0 Descriptive Audio,
Spanish and French 5.1 Dolby Digital Language Tracks
DVD = English, Spanish and French 5.1 Dolby Digital Language Tracks,
English 2.0 Descriptive Audio
SUBTITLES: English SDH, Spanish and French
SOCIAL MEDIA:
Facebook: Facebook.com/MarvelStudios
Website: Marvel.com/DoctorStrange
Twitter: Twitter.com/MarvelStudios
Instagram: Instagram.com/MarvelStudios
ABOUT MARVEL ENTERTAINMENT: 
Marvel Entertainment, LLC, a wholly owned subsidiary of The Walt Disney Company, is one of the world's most prominent character-based entertainment companies, built on a proven library of more than 8,000 characters featured in a variety of media over seventy years.  Marvel utilizes its character franchises in entertainment, licensing and publishing. For more information visit marvel.com. ©MARVEL
ABOUT DISNEY MOVIES ANYWHERE (DMA): 
Disney Movies Anywhere (DMA) is an engaging and family-friendly cloud-based digital movie service that makes it easy to buy Disney, Pixar, Marvel and Star Wars movies once and watch them anywhere. Viewers can enjoy their digital movies from the comfort of their living room and across multiple mobile platforms by simply adding the free DMA app or channel to their devices, such as iPhone, iPad, iPod Touch, Android mobile phones and tablets, Android TV, Amazon's Fire tablets, Fire TV and Fire TV Stick, Roku, and Xbox 360, and connecting to their DMA account with participating providers including iTunes, Amazon Video, VUDU, Google Play, Microsoft Movies & TV and Fios by Verizon. DMA users can explore Disney's library of over 450 digital movies, discover hours of new and exclusive short-form content, redeem Digital Movie codes found in eligible Disney, Pixar, Marvel, and Star Wars product, and earn Disney Movie Rewards points with every digital purchase.    
ABOUT THE WALT DISNEY STUDIOS:
For over 90 years, The Walt Disney Studios has been the foundation on which The Walt Disney Company was built. Today, the Studio brings quality movies, music and stage plays to consumers throughout the world. Feature films are released under the following banners: Disney, including Walt Disney Animation Studios and Pixar Animation Studios; Disneynature; Marvel Studios; Lucasfilm; and Touchstone Pictures. The Disney Music Group encompasses the Walt Disney Records and Hollywood Records labels, as well as Disney Music Publishing. The Disney Theatrical Group produces and licenses live events, including Disney on Broadway, Disney On Ice and Disney Live!.