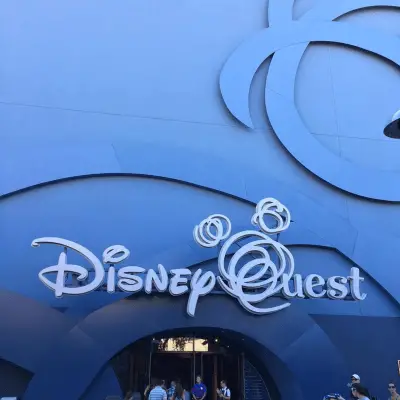 Disney Parks Blog announced today that DisneyQuest will close this summer to make way for the NBA Experience.  The resort had said it would close at some point to make way for the revamped Disney Springs.  It was slated to close earlier.  Guests will have until July 3rd in 2017 to enjoy the interactive experience.
DisneyQuest first opened as an interactive theme park where families could participate in attractions that utilized skill and even 3D headsets.  At one point a second location was open in Chicago to start to make a franchise across the country.  The Chicago location closed in 2001.
The building has housed quite a few attractions and arcade games.  Among those that have remained since the opening are the Virtual Jungle Cruise, Cyber Space Mountain, and Buzz Lightyear AstroBlaster – a bumper car attraction with a twist.  The indoor theme park has been open for nearly 20 years.
The NBA Experience will keep the interactive element alive by having hands on basketball experiences for guests.  Also in the building will be video productions, a restaurant, and store.  It will be one of the last additions to the West Side of Disney Springs.
DisneyQuest, in its heyday, was one of my favorite experiences at the Walt Disney World Resort.  It was unique and had cutting edge games and rides for people to enjoy.  Though it hadn't been updated in the last few years, it still had great experiences for family, and seemed like the catalyst for the 360 VR experiences that are reaching homes now.
My favorite attraction closed in 2007 and was called "Treasure of the Incas."  Explorers stood at a kiosk with video game-like driving controls and a screen which showed what miniature car cameras saw in a maze under the floor of the area.  The idea was to seek out as many treasures as possible within a time limit.
For those that are not able to make it before it closes, we have a 360 VR video tour and other video from the indoor theme park.
For those that have enjoyed it, will you miss it when it closes?  Let us know in comments below.