Hong Kong Disneyland is about to get some substantial upgrades. Disney Parks and Resorts Chairman Bob Chapek announced this week that Hong Kong Disneyland will be receiving $1.4 billion in upgrades.
The upgrades will include new Marvel experiences and a Frozen area. The castle will also be transformed to provide guests a new entry to the most magical land of them all, Fantasyland. The story of Moana will be prominently showcased in multiple ways in the updated Magic Kingdom in Hong Kong.
Read more details about the updates in the press release below.
PRESS RELEASE:
Some of The Walt Disney Company's most powerful franchises will come to life in a way guests can only experience at Hong Kong Disneyland
Characters and stories from "Frozen" to await guests in an exciting, completely new themed area, while fans will be in the middle of the action with their favorite Marvel Super Heroes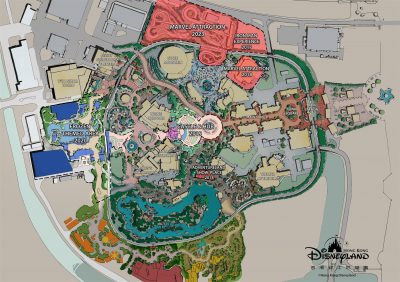 HONG KONG (Nov. 22, 2016) – Hong Kong Disneyland Resort (HKDL) announced a multi-year development plan to take the park to a new level of excitement, leveraging some of the most beloved and successful franchises of The Walt Disney Company. Plans include new themed areas, attractions and entertainment, launching almost every year from 2018 through 2023.
Guests will experience Marvel and "Frozen" like never before as HKDL leverages the best of Disney to bring both these world-renowned franchises to life in their own immersive areas. The centerpiece of the park and the gateway to Fantasyland – the castle – will also be transformed to create spectacular entertainment experiences for guests.
"We are more excited than ever about the future of Hong Kong Disneyland," said Bob Chapek, chairman of Walt Disney Parks and Resorts. "We are bringing the best of The Walt Disney Company to this wonderful tourist destination, giving guests from around the world an experience only Disney can deliver and an experience they can only have with us at Hong Kong Disneyland."
Some highlights of the new experiences that will delight Disney fans and guests from around the world include:
An epicenter of Marvel Super Heroes that will continue to unfold. From the launch of Iron Man Experience, the Marvel universe continues to grow at HKDL. Buzz Lightyear Astro Blasters will be reimagined into a brand new experience for guests to fight alongside the icons of the Marvel Universe. Further, another thrilling attraction dedicated to one of the most popular Marvel franchises will be added to expand the epicenter of Marvel Super Heroes as exciting events unfold in phases.
An exciting new "Frozen" themed area where characters and stories from the kingdom of Arendelle will come to life in ways guests have never experienced before at a Disney park. Guests will enjoy two new attractions and be immersed in Arendelle with uniquely themed dining, shopping, and entertainment.
A completely transformed Castle and Hub area to showcase brand new daytime and nighttime shows and entertainment offerings that will celebrate every prince and princess who ever wished upon a star and dared to follow a dream. An "Adventureland Show Place," which invites guests to "Moana's Village Festival" through a series of daytime entertainment offerings anchored around a lively stage show in a new interactive entertainment environment. In addition to experiencing live shows and immersive Disney storytelling, guests can meet Moana, heroine of the new Disney animated film that will be released globally starting November 2016.
The major development plans extend the excitement and amazing growth at HKDL, as the resort is set to open the eagerly anticipated Iron Man Experience officially on January 11, 2017 and the richly themed Disney Explorers Lodge resort hotel later in the first half of the year.
HKDL has continued to grow since its opening in 2005 and has broadened its appeal to families and young adults as well as diverse markets, including local, mainland China and overseas guests.
The three themed areas launched between 2011 and 2013, Toy Story Land, Grizzly Gulch and Mystic Point, have enhanced the park's attractions and entertainment offerings and boosted the park's attractiveness to different market segments. In 2013, Mystic Manor was awarded the prestigious Thea Award for Outstanding Achievement – Attraction, the equivalent of the Oscar in the theme park industry. In the following year, the nighttime parade "Disney Paint the Night" was launched and subsequently honored with a Thea Award.
In celebration of HKDL's 10th Anniversary in 2015, the new stage show "Mickey and the Wondrous Book" and a new walk-through experience "Fairy Tale Forest" were introduced. This past summer, "Star Wars: Tomorrowland Takeover" presented attractions and offerings themed after another classic Disney franchise.
"The all-new developments will further reinforce HKDL's position as a world-class tourist destination for everyone, including families and young adults, and help build lifelong memories across generations of families," said Samuel Lau, executive vice president and managing director of Hong Kong Disneyland.
HKDL's two shareholders – The Walt Disney Company and the Hong Kong Government – have agreed on the development plans, subject to funding approval by the Company's Board of Directors and Legislative Council for their respective share of investment.
******************
About Hong Kong Disneyland Resort
Hong Kong Disneyland Resort offers unforgettable, culturally distinctive Disney experiences for guests of all ages and nationalities. In the magical kingdom theme park — filled with your favorite Disney stories and characters — explore seven diverse lands that are home to award-winning, first-of-a-kind attractions and entertainment. Complete your adventure with stays at the resort's luxurious Disney hotels. The magic doesn't end at our doorstep; as a dedicated member of the local community that cares deeply about societal well-being, Hong Kong Disneyland spreads its magic through community services programs that help families in need, boost creativity among children and youth, encourage the protection of the environment and inspire healthier living.
For information on attractions and vacations at Hong Kong Disneyland Resort, visit hongkongdisneyland.com, download the new mobile app or call (852) 3550-3388.