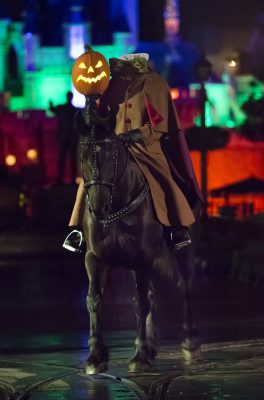 The Headless Horseman has arrived at the Disneyland Resort for Mickey's Halloween Party. For each of the 17 nights of the party he rides through the park carrying his Jack-O-Lantern in front of the Mickey's Halloween Party character cavalcade. Originally appearing in "The Adventures of Ichabod and Mr. Toad," this frightening character has been known to appear at Walt Disney World during this spooky season. His arrival at the Disneyland Resort has been highly anticipated by Disney fans on the West coast.
Another perennial favorite of Mickey's Halloween Party is Halloween Screams. Jack Skellington hosts this fireworks spectacular, best seen in front of Sleeping Beauty Castle or from Main Street, USA.
Throughout the park Disney characters can be found in their best Halloween costumes, or perhaps their worst as the villains also come out in force for this party. The Cadavar Dans can be found floating around the Rivers of America as well. On top of all of these offerings, make sure to do some trick or treating, blasting through haunted space in Ghost Galaxy, and check out this year's gingerbread house in Haunted Mansion Holiday!
Mickey's Halloween Party is held on 17 nights throughout September and October leading up to Halloween. For more details or to purchase tickets, click here. Remember, tickets do sell out so get them early!
Will you be going to Mickey's Halloween Party?
PRESS RELEASE:
Family Friendly Mickey's Halloween Party Held on 17 Nights, with Pre-Sale Starting July 21 and General Public Ticket Sales July 28 Disneyland Diamond Celebration Continues through Labor Day, Sept. 5

ANAHEIM, Calif. (July 13, 2016) – Halloween time, a season for fun-loving spirits of all ages, adds spooky excitement to the Disneyland Resort from Sept. 9 through Oct. 31. Special Halloween-themed attractions–Haunted Mansion Holiday and Space Mountain Ghost Galaxy–return to Disneyland Park, while the haunts who reside year-round at The Twilight Zone™ Tower of Terror invite guests to "drop in" at Disney California Adventure Park.

The separately ticketed Mickey's Halloween Party also arrives at Disneyland in September with a thrilling new surprise: The Headless Horseman of Sleepy Hollow rides through the park, bringing new chills to the family friendly party. The character is from Disney's animated feature, "The Adventures of Ichabod and Mr. Toad."

Currently at the Disneyland Resort, guests continue to enjoy the 60th Anniversary Diamond Celebration, with sparkling décor in Disneyland and Disney California Adventure, plus a dazzling array of after-dark shows, all of which are presented nightly through Labor Day, September 5.

As the summer season turns to fall, Mickey's Halloween Party will begin Friday, Sept. 23, for 17 select nights. The after-hours party treats guests to unforgettable entertainment including the sensational "Halloween Screams" fireworks spectacular, a guest favorite that is exclusive to Mickey's Halloween Party. Adults and children are encouraged to dress in costume for the party as they trick-or-treat throughout Disneyland for a scary good time. Guests may check www.Disneyland.com for Mickey's Halloween Party costume policy guidelines prior to their arrival.

Tickets for Mickey's Halloween Party* go on sale for Disneyland Resort Annual Passholders, Disney Vacation Club members and Disney Visa card holders on Thursday, July 21. General public ticket sales begin Thursday, July 28.

Highlights of Mickey's Halloween Party, a separate-ticket event, include:

New for Mickey's Halloween Party in 2016,

The Headless Horseman of Sleepy Hollow

rides his ghostly black steed and carries his flickering jack-o-lantern through the heart of Disneyland, heralding the arrival of Mickey's Halloween Party character cavalcade, presented on the 17 nights of this special party.

Entry to Disneyland Park before the party

is included with a Mickey's Halloween Party ticket. Guests have the opportunity to play in Disneyland park for three hours before the party starts, and then go trick or treating – for candy and healthy treats – in the ultimate Disney neighborhood.

The

"Halloween Screams" fireworks

spectacular, presented exclusively for guests of Mickey's Halloween Party, is hosted by "Master of Scare-omonies" Jack Skellington.

Party guests will rock out at Tomorrowland Terrace in a

family-friendly dance party

.

Guests can "Party Like a Villain" as

Disney villains

appear in select locations for photos and character greetings.

Mickey Mouse and his pals

will appear as well, dressed in their Halloween costumes.

Enhancing the eerie atmosphere along Main Street, U.S.A., animated Halloween images – ghosts, bats, pumpkins and skeletons – appear and disappear mysteriously on the facades of buildings throughout the evening.

The ghoulish

Cadaver Dans

quartet performs Halloween tunes aboard a drifting graveyard-themed raft, on the fog-filled Rivers of America in New Orleans Square and Frontierland.

Nearly all the favorite Disneyland rides and attractions, plus Haunted Mansion Holiday and Space Mountain Ghost Galaxy, will be open to party guests.

On select, non-Mickey's Halloween Party nights, guests visiting Disneyland will enjoy a special treat:  the "Fantasy in the Sky" fireworks spectacular. In addition, the dynamic "Mickey's Soundsational Parade" will march down Main Street, U.S.A., each day throughout Halloween Time at the Disneyland Resort.

Guests in search of Halloween chills may "drop in" to visit the ghostly full-time residents of The Twilight Zone™ Tower of Terror in Disney California Adventure. Here, in the remains of the Hollywood Tower Hotel, dwell the spirits of hotel guests who disappeared during a "supernatural" event on Halloween Night in 1939.

With the arrival of Halloween time, Jack Skellington makes his annual appearance in Disneyland to take over the Haunted Mansion and bring Haunted Mansion Holiday back to New Orleans Square. Haunted Mansion Holiday is inspired by the classic animated film "Tim Burton's Nightmare Before Christmas" and transforms the Mansion with a collision of Halloween spookiness and Christmas cheer. Oct. 3, 2016 marks the 15th anniversary of this special attraction's premiere in Disneyland.

Spooky Space Mountain Ghost Galaxy in Tomorrowland draws guests back again and again during the Halloween season. The unique Halloween-themed experience launches voyagers into a haunted section of the universe, where ghosts appear out of the starry darkness and swirling galaxies of Space Mountain, reaching out as if to grab guests as they speed through space. The exhilarating drops and curves are punctuated by piercing screams, creepy sound effects and haunting music.

In Frontierland, the traditional Dia de los Muertos is observed through Tuesday, Nov. 1, with a holiday skeleton display in the plaza near the entrance of Rancho del Zocalo.

Tickets for Mickey's Halloween Party* may be purchased online and on mobile devices at Disneyland.com/party, as well as at the Disneyland Resort main gate and by phone at 714-781-4400. Guests may check for availability for the 17 nights: Friday, Sept. 23; Monday, Sept. 26, Wednesday, Sept. 28; Friday, Sept. 30; Monday, Oct. 3; Wednesday, Oct. 5; Friday, Oct. 7; Monday, Oct. 10; Wednesday, Oct. 12; Friday, Oct. 14; Monday, Oct. 17; Wednesday, Oct. 19; Friday, Oct. 21; Monday, Oct. 24; Wednesday, Oct. 26; Saturday, Oct. 29; and Monday, Oct. 31, Halloween night. Online and mobile purchases are not available the day of the event. Parking is not included in the ticket price, and parking fees will apply.

Tickets purchased in advance are available at a discount on select nights. Tickets purchased on the day of the event are $89 each. All tickets to Mickey's Halloween Party on Saturday, Oct. 29, and Monday, Oct. 31, are $99 each. Mickey's Halloween Party is a non-smoking event. Smoking will be permitted only in the Esplanade outside the Disneyland main entrance.

For more information about Halloween Time at the Disneyland Resort, see http://www.Disneyland.com/Halloween. Entertainment and attractions are subject to change without notice. Guests may visit the site for additional details.

*Mickey's Halloween Party tickets are subject to availability and are valid only for specific event dates and hours. Space is limited. Limit eight (8) tickets per person, per event date. Tickets are nonrefundable and may not be resold. May not be combined with other discounts. Costumes subject to Disney guidelines and should not be obstructive or offensive. Ages 2 and under: no ticket required. Entertainment may be cancelled due to inclement weather or otherwise. Subject to restrictions and change without notice.

The Twilight Zone® is a registered trademark of CBS, Inc. and is used with permission pursuant to a license from CBS, Inc.

Haunted Mansion Holiday inspired by "Tim Burton's The Nightmare Before Christmas."

###

About the Disneyland Resort
The Disneyland Resort features two spectacular theme parks – Disneyland (the original Disney theme park) and Disney California Adventure Park – plus three hotels and the Downtown Disney District, comprising unique dining, entertainment and shopping experiences. The Resort's hotels are the luxurious, 948-room Disney's Grand Californian Hotel & Spa, which also features 50 two-bedroom equivalent Disney Vacation Club units; the magical, 973-room Disneyland Hotel – both AAA Four Diamond properties – and the 481-room Disney's Paradise Pier Hotel with its "day-at-the-beach" theme. For information on attractions and vacations at the Disneyland Resort, visit Disneyland.com, call (866) 43-DISNEY or contact local travel agents. Located in Anaheim, Calif., the Disneyland Resort opened July 17, 1955. Open daily, year-round.

– See more at: http://disneylandnews.com/2016/07/13/headless-horseman-haunts-mickeys-halloween-party-as-halloween-time-returns-to-the-disneyland-resort-sept-9-through-oct-31/#sthash.2ckbBnGm.dpuf