Disney California Adventure features not just California centric attractions, but also some great California eating.  But, with so many choices, where does one go to get that hunger fix?  Here's a few places to get some unique dining where crowds may even be small.
Paradise Garden Grill
One of the often overlooked unique places is the walk-up Paradise Garden Grill.  Most often in the year they have a mediterranean menu.  Before you think it's possibly spicy or with not that great a flavor, this eatery has meals that are appetizing and filling.  There's chicken and beef choices, and a variety of mediterranean sauces that are quite palatable.  The meal is complete with rice and vegetables that make.  There is rarely a line to order, and the seating is the same as Boardwalk Pizza and Pasta, where tables are outside and usually in earshot of live bands in the stage area.  It's a relaxing atmosphere with great food.  And, if it still doesn't look good to eat, there's always great pizza and pasta dishes next door!
Wine Country Trattoria
Wine Country is a pretty well established restaurant.  But, the one thing to point out is its easy way to get the dining package for World of Color when Carthay Circle or Ariel's Grotto is full.  Don't let that fool you with how the food is.  The menu is great.  Especially the pasta dishes.  It's still recommended to get a reservation, but it should be a bit easier than the other two.  And, if you time it right, you can get a view of the parade that travels by.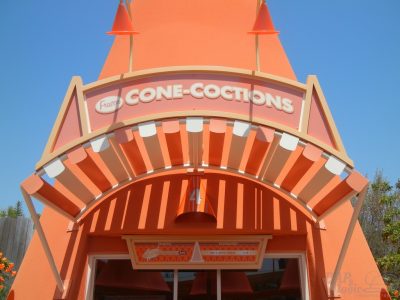 Cozy Cones
You have probably noticed this part of Cars Land, maybe even grabbed a snack.  But, there are some items that can make for great meals.  The one that serves bread cones with a variety of flavors in the middle make for a great small meal.  The original is Chili Cone Queso, which is a Fritos tainted chili.  There's also a chicken verde and sometimes a seasonal item.  These are light, but satisfying items for lunch.  If you're still looking for something not too filling, the pretzel bites or flavor of the day popcorn may be the way to go.
Smokejumpers Grill
Smokejumpers Grill is one of the major eating establishments at Disney California Adventure.  It may seem like a run of the mill burger joint amidst other burger places at the Resort, but there some highlights that are overlooked.  Here hamburgers can be topped with avocado.  That's a great feature compared to some of the other options at other places at the Resort.  One of the sides offered is onion rings.  That may not be everyone's choice, but it's a nice alternative to french fries.  Speaking of fries, my favorite entrée to get here are the chili fries.  It may seem like a side item, but the portion is enough for a meal.  It's
a good sized portion too.  Not too big, but not small like a side item.  There isn't really an equivalent of that at the two parks.  Besides the food, there is the pleasant atmosphere outside at tables next to the Soarin' outside queue.  Overall a great place to stop and get a bite.
Carthay Circle Lounge
If you're looking for the atmosphere of the theater restaurant, but forgot to make reservations, the bottom floor lounge could be your place.  The menu consists of appetizer type food, but it's still a good meal size.  There's a selection of drinks here as well.  It is sometimes filled, especially on busier days, but to have plates that are still designed by the Carthay Circle chef make this a place worth checking out.  It's also relaxing to sit around.  After all, it's called a lounge!
Those have been my picks for alternative eats at Disney California Adventure.  Perhaps they've been on your list, added to your list, or not going to be on your list at all.  No matter what choice, we'd love to hear what you think if you've experienced any of these places!