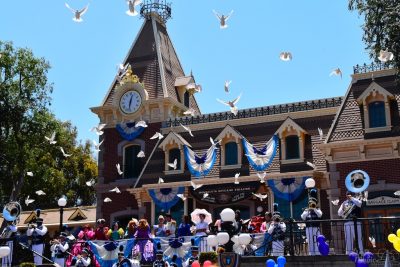 This July 17, 2016, marked Disneyland's 61st anniversary of park opening.  Though the resort has still been celebrating the 60th, this day was still a special one to mark.  And in a special celebration the park did so.
At the Main Street Train Station was where the ceremony took place.  The Disneyland Band marched down Main Street, accompanied by the Dapper Dans, several Cast Members, and Mickey, Minnie, Donald, Goofy, and Pluto.  When they reached the station they encouraged everyone to join in the festivities.  But, before they did, 61 characters appeared around the steps and top of the station to help celebrate.  As music filled the air again, the festivities began.  Jessica Bernard, one of the Disneyland Ambassadors, came to share about how special the occasion was.  She introduced Walt Disney's original dedication speech, which was played for all to hear.  Then she had everyone join in singing Happy Birthday to Disneyland, with a flock of doves to highlight the end of the song.  It was the Dapper Dans turn to bring a sing-along together, and concluded the time with a rain of confetti.
Though a small celebration, it was still a delightful one.  Guests gathered at the opening of the park to watch the show.  Many enjoyed the rare characters making their appearance to wish a happy birthday to the park.  It was a grand time of celebration.  Throughout both Disneyland and Disney California Adventure there were opportunities to take a picture with a sign commemorating the anniversary.  It was a nice touch amidst the still ongoing 60th celebration.  It all goes to show that this is still a remarkable theme park that is just beginning.  It still holds memories for people, and continues to create more each visit people have.