Do you know how to speak whale? Well Dory from Finding Dory certainly does! What is even more exciting is that Pixar Animation, the Walt Disney Studios and Disney Parks have declared June 11 as "Speak Like a Whale Day."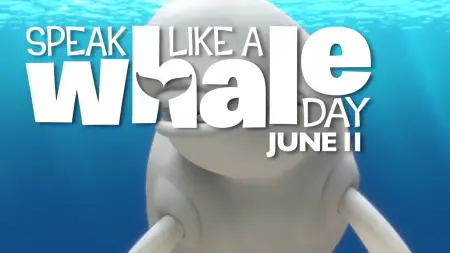 What exactly does the day include? All things whale of course!
Fans are encouraged to take part in Speak Like a Whale Day by speaking whale wherever they go, uploading videos of themselves and tagging #SpeakLikeAWhaleDay.
• Guests of the theme parks at Disneyland Resort in California, Walt Disney World Resort in Florida and Disney Cruise Line ships will receive a complimentary button to celebrate the day, while supplies last.
• At the Downtown Disney District at Disneyland Resort and Disney Springs at Walt Disney World Resort, families can dive into undersea themed activities, including a live DJ, games and giveaways. Also throughout the day, young guests can attend "Whale Speak University" and give speaking the language a try.
• At The Seas with Nemo & Friends in Epcot at Walt Disney World Resort, Guests can learn about the real-life counterparts of the characters from the film and see them in the massive 5.7-million-gallon saltwater aquarium home. Experts from Disney's Animals, Science and Environment Team will be on hand throughout the day to help Guests find Dory and her friends and get a closer look at their world.
• Dory and some of her new friends from Disney•Pixar's "Finding Dory" have joined Crush at the Turtle Talk with Crush attraction at Epcot and Disney California Adventure park. Guests can now meet Destiny, Bailey and Hank.
• Select theater chains will give away buttons during Speak Like a Whale Day, while supplies last. Participating chains include Goodrich Quality Theatres, Marcus Theatres, Megaplex Theatres and National Amusements.
Finding Dory swims to theaters on June 17. How will you celebrate "Speak Like a Whale Day?"