When Mr. DAPs asked me to attend the Knott's Berry Farm Boysenberry Festival, I was excited. When he then asked me to provide the culinary review for our day, I was ECSTATIC. I knew I'd be spending the day stuffing my face with as much boysenberry-y goodness as possible, so it was a delight to know that I now had an excuse. After a quick tongue work out to ensure my tastebuds were ready to go, I embarked on a day that would live in berry infamy.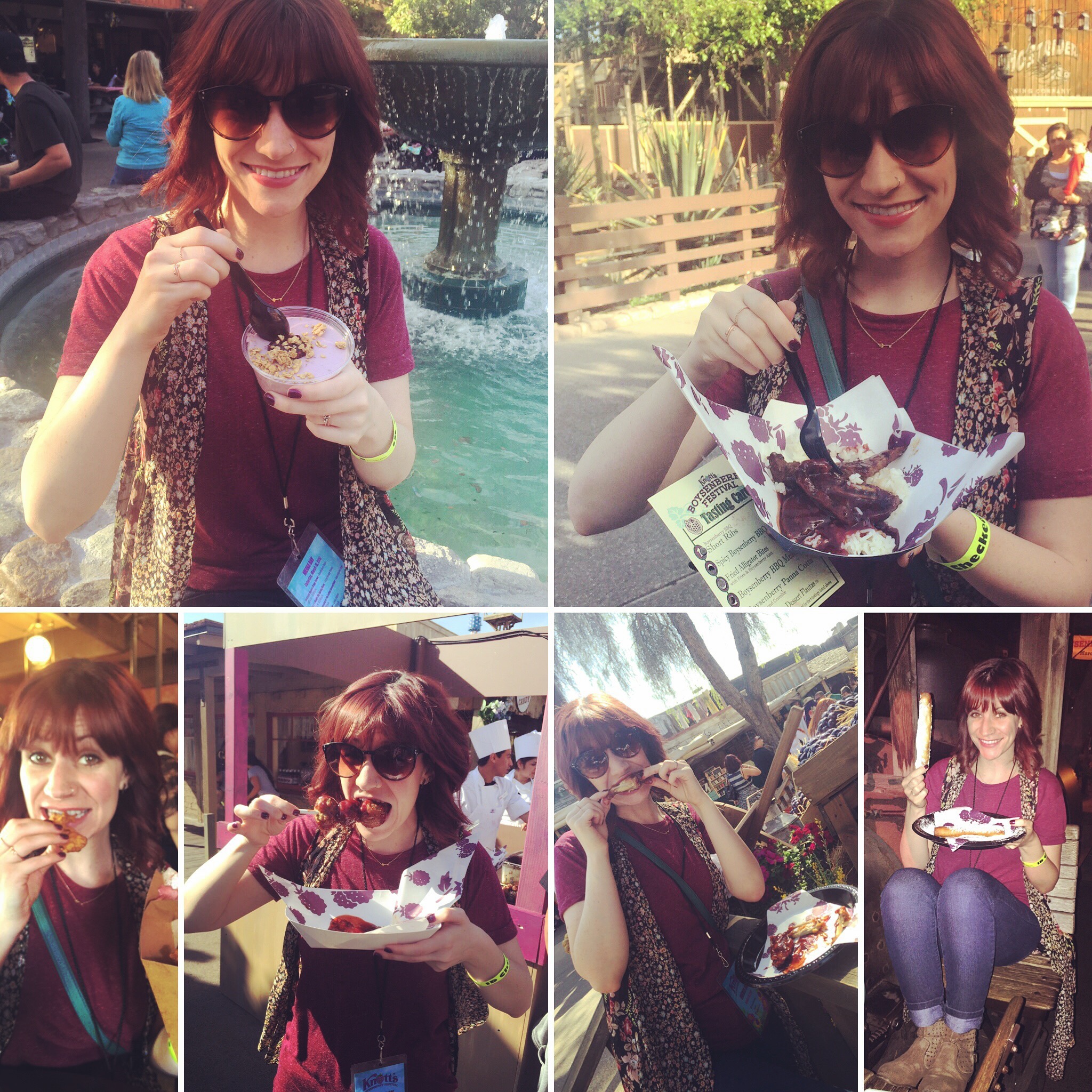 One of the most beautiful opportunities one has during the Knott's Berry Farm Boysenberry Festival is the Tasting Card. For only $25, a holder of the Tasting Card receives SIX full-size servings of SIX different boysenberry delights. Because I'm a giver, I took one for the team and sampled/devoured each of these items and have ranked them below. Though all six items were berry delicious (#berryhumor), some ranked above others.
In order from "yummy" to "I'll have 70 more of these," here is my review of the Knott's Berry Farm Boysenberry Festival Tasting Card dishes:
Boysenberry Panna Cotta. Light and sweet, this treat will please any sweet tooth or lover of things creamy and delicious.
Fried Alligator Bites with Fries & Boysenberry Aioli. We thought it couldn't be done, but it has. Knott's has mixed Cajun sass with berry sweet to create a bold mix that only Knott's could attempt. Oh, and you get to try alligator. ALLIGATOR. A far cry from amusement park food, this one is a unique experience and worth the wait.
Boysenberry BBQ Short Ribs. Meat covered in sauce and served atop jasmine rice? Yes, please! The boysenberry sauce was surprisingly not too sweet and served as a flavorful compliment to the perfectly sticky rice. Ask for extra sauce – you'll be glad you did!
Boysenberry BBQ Meatballs. Yum. Yum. YUM. These well-cooked orbs of meat are served three to a skewer and I scarfed down all three in a matter of seconds. Lady-like eating goes out the window when I'm served meatballs – especially when they're drenched in boysenberry goodness.
Spicy Boysenberry BBQ Wings. I am admittedly a chicken wings snob. As I began to take my first bite, Mr. DAPs stared at me and eagerly awaited my thoughts. It was love at first bite, friends. I will admit, I wouldn't complain if the spicy volume was turned up a bit (a common complaint for me about all food), but these little wings of heaven flew me to a place of culinary perfection. I want some right now…
Boysenberry Dessert Flautas. I should preface this with sharing that I do not typically have a sweet tooth. I'm the girl who has buffalo wings for dessert when everyone else is eating cookies. These flautas opened my eyes, though. I would eat these for breakfast, lunch, dinner, dessert or as a midnight snack. Deliciously crispy tortillas filled with real boysenberry compote and dusted in powdered sugar, these flautas are everything right with the world.
Whether you love savory or sweet, I promise you there is more than one something you'll love at the Knott's Boysenberry Festival. If you're a lover of liquids, you'll be delighted to also partake in the Wine & Craft Brew Tasting (I can neither confirm nor deny that I tasted four wines and two beers), where you can experience boysenberry wine and boysenberry beer. Anyone else as thrilled as I am to live in a world where boysenberry beer exists? What a joy.
Have you been the Knott's Berry Farm Boysenberry Festival yet? Do you agree with my ranking of food items? Tell us in the comments section below or online using #DAPsMagic and #BoysenberryFestival.
Vogel out.