Breaking waves on Friday morning, Disney's Hollywood Studios Park of the Walt World Disney Resort will get an all new Star Wars themed "nighttime spectacular." A brand new stage show, firework display and more will debut.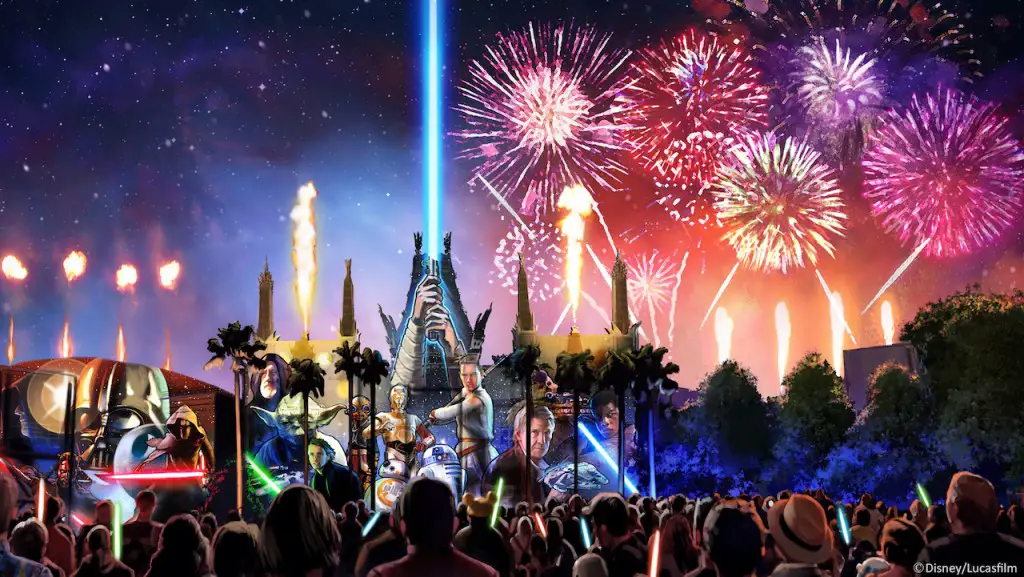 Disney Parks Blog shared the new history making entertainment lineup. Here is a look at what guests can expect in the coming months:
"Star Wars: A Galaxy Far, Far Away"
This offer is none other than a fantastic stage show, taking place in front of the Chinese Theater at the Center Stage. Not much is mentioned of the plot but, watch out as Kylo Ren, Chewbacca, Darth Vader and Darth Maul are set to make an appearance. The show begins on April 4.
First Order Stormtroopers March
Lead by Captain Phasma, stormstroopers will trek from the Star Wars Launch Bay to Center Stage, multiple times throughout the day. With all these guys walking around, you may just feel like you are on Starkiller Base. This offering will also begin on April 4.
"Star Wars: A Galactic Spectacular"
Fireworks! What better way to end your day at Disney's Hollywood Studios than with fireworks? A combination of "fireworks, pyrotechnics, special effects and video projections" will transform the film franchise into a magical evening. Various buildings, including the Chinese Theater, will display the sites from the films and more. "This new show will be the most elaborate fireworks display to take place in the history of Disney's Hollywood Studios," according to Disney Parks Blog. A set date for the show has yet to be announced. Stay tuned!
These new offerings will join other Star Wars entertainment already in the park such as Star Tours – The Adventures Continue, Star Wars Launch Bay and Jedi Training: Trials of the Temple. Star Wars is ready to take full force!
What do you think of the new entertainment offerings?