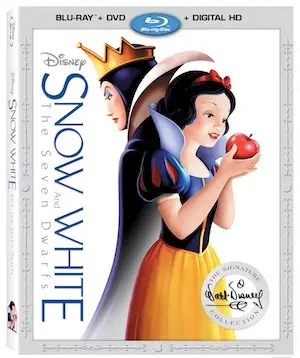 Snow White And The Seven Dwarfs is the original Disney animated feature. Not only was this Disney's first animated feature, it was the world's first full length animated feature. The story tells of a young princess who is hated by her stepmother because of how fair she is. Her stepmother is so jealous that she connives to kill Snow White. Snow White And The Seven Dwarfs is a movie of heart, love, hope, and of course magic. This movie is iconic and truly a masterpiece.
Quality
It is funny to be reviewing the quality of a movie that is nearly 8 decades old. It is even funnier to realize that it looks and sounds really good. The picture was crystal clear and the audio matched the quality of the picture. All this to say, Disney has done a fantastic job preserving this classic animated treasure.
Extras
In Walt's Words: Snow White And The Seven Dwarfs – Walt Disney talks about the first full length animated feature. This is a fairly quick extra but it is wonderful getting to hear Walt Disney share about this movie.
Iconography – Although Snow White And The Seven Dwarfs is nearing 80 years old, it still is iconic. This feature touches on how it remains relevant in pop culture. This was interesting and if you are a fan of Disney Bounding, you'll definitely want to watch this.

@DisneyAnimation: Designing Disney's First Princess

– Disney artists of today talk about the design of yesterday in this continuation of the @DisneyAnimation series. There is some discussion about the design and also the history in this. This is quickly becoming a favorite series for me and I would encourage people to watch this feature.
The Fairest Facts of Them All: 7 Thing You May Not Know About Snow White And The Seven Dwarfs – Sofia Carson shares seven facts about Snow White. If you are a Disney historian, you probably already know these seven facts. However, if you aren't a huge Disney geek you might learn a thing or two from this brief video.
Snow White in Seventy Seconds – This is a musical telling of the story of Snow White And The Seven Dwarfs. I'm sure kids will enjoy this. I found it to be creative but not really my style.

Alternate Sequence: The Prince Meets Snow White

– This is an alternative version of Snow White meeting the prince. In this feature, there clearly was a lot more for the prince. This was actually quite interesting to watch but as so often is true with alternate sequences, it is clear that the right choice was made.  Listening to the thoughts behind the process though really is a lot of fun though.
This release also included previously released extras from the Diamond Edition. Overall, this creates a good value for those who enjoy extras. They are enjoyable to watch and worth the extra time.
Final Thoughts
Snow White And The Seven Dwarfs isn't only the first Disney animated feature, it also is perhaps the greatest. At the time of reviewing this film, I really can't think of any other movies that are nearly 80 years old and still beloved by millions around the world. This isn't a movie that is great considering how old it is. It is just great. With this one film it set the trajectory for future Disney animated films and really the Disney legacy. This release is very easy to give a hat tip to. If it isn't in your film library yet, go out and get it.
Snow White And The Seven Dwarfs The Walt Disney Signature Collection is available on January 19, 2015 for Digital Download and on Blu-Ray on February 2, 2015.
<i>Daps Magic received a sample product or experience for this review in exchange for an honest review. The views of the reviewer are wholly their own. Read full disclosure policy at dapsmagic.com/disclosurepolicy.</i>