Star Wars: The Force Awakens has achieved another milestone. According to The Hollywood Reporter, the latest film of the franchise is to be the "highest-grossing film of all time in North America." Though the flux of inflation was not taken into account in the article, the film will have passed the current record holder, Avatar, as of Wednesday.
In a mere 20 days, the film broke various records. As for global standings, the film has since then reached $1.56 billion, according to Deadline. Force Awakens will be released this week in China on January 9. Global numbers are to drastically increase.
With the film's premiere in China a few days away, its global standing is currently short of the $2.78 billion brought in by Avatar. Some predict the film will hit a mark between $2.2 billion to $2.4 billion in worldwide sales.
·Fastest film to reach $100M (21 hours), $200M (3 days), $300M (5 days), $400M (8 days), $500M (10 days), $600M (12 days), and $700M (16 days)

·Biggest all-time debut and biggest December debut ($247.966M), propelling the industry to the biggest overall moviegoing weekend of all time ($313.3M for all films, Dec. 18-20)

·Biggest second weekend of all time ($149.2M), propelling the industry to the biggest overall Christmas weekend of all time ($296.4M for all films, Dec. 25-27)

·Biggest third weekend of all time ($90.2M)

·Biggest Thursday preview gross ($57M)

·Biggest Friday, opening, and single day ($119.1M)

·Biggest Sunday ($60.55M), Monday ($40.1M), and Tuesday ($37.3M)

·Biggest Christmas Day ($49.3M) and New Year's Day ($34.39M)

·Highest per-theater average for a wide debut ($59,982)

·Biggest opening week ($390.85M)

·Biggest IMAX debut ($30.1M)
Here's a look at the latest numbers from Box Office Mojo as of January 6, 2016.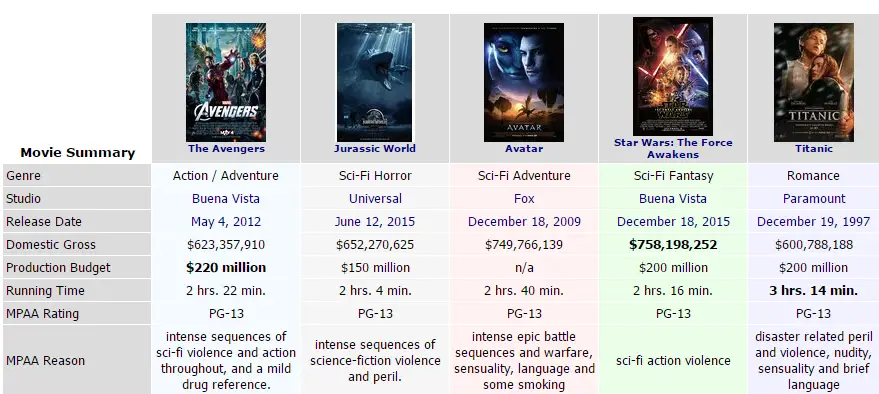 Do you think the film will surpass Avatar in global sales? Only time will tell.