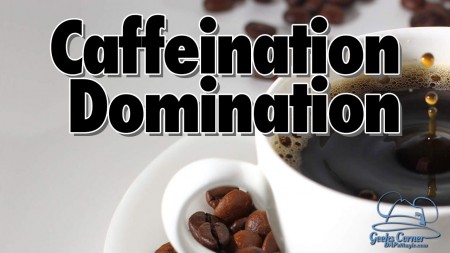 Welcome to Geeks Corner's Caffeination Domination! This week is all about Star Wars: The Force Awakens trailer, coffee, and more! It was truly a geeky night in the corner as before the episode began the geeks were trading comic books and Star Wars movies for reading and viewing enjoyment.
The episode begins with talk about the new Star Wars: The Force Awakens trailer that is now available. The geeks give their opinions on the trailer along with making some predictions on what may or may not happen in this movie. Murray also shares about his experience watching the trailer at the Disneyland Resort's Downtown Disney District.
The second thing covered on Geeks Corner is a favorite of some: Coffee. Local barista and Geeks Corner regular fan Caitie comes to share the correct way to taste coffee. Murray has his own slant on how to drink coffee and it makes things… interesting to say the least.
Finally Cameron shares a teaser into his new segment Geekanomics. The first segment in this series discusses the price increases that have recently been imposed on Annual Passes at the Disneyland Resort. Stay tuned as Cameron continues this series. You will enjoy it.
Here are some of the articles referenced this week's Geeks Corner episode:
We hope you enjoyed this week's episode of Geeks Corner! Stay tuned next week as we celebrate Halloween in a unique and fun episode… that will hopefully also be unexpected!
Let's go to the corner!
Listen to this week's episode here: [sc_embed_player fileurl="http://traffic.libsyn.com/geekscorner/Caffeination_Domination_-_Geeks_Corner_-_Episode_503.aac"]