Knott's Berry Farm has an exciting lineup for the summer season since the Voyage to the Iron Reef opening.  Blockbuster Beagle has been entertaining guests with a Hollywood tale of Snoopy and the gang on ice.  Over at the Calico Square stage is Vertical Impact, a very unique acrobatic stunt show.  Krazy Kirk and the Hillbillies, a fan favorite, have been performing a bit more often over the summer too.
Blockbuster Beagle is a show in tradition of Charles M. Schulz theater's long line of ice skating shows.  This one features the Peanuts gang a bit more grandly as they venture to Hollywood in conjunction with the upcoming Peanuts movie (set to debut this winter season).  Charlie Brown, Lucy, Linus, and Sally join Snoopy along with other skaters for a big skating production.  The sets were simple, but provided great backdrops and settings for all to glide around.  The dances had some amazing feats and thrills!  I've seen quite a few of the shows in the theater, and this was one of the best!  Having the Peanuts characters featured made this a great family show too.  But, I heard the audience wow more at the performers' stunts.  Some were breathtaking.  It was certainly worth the viewing.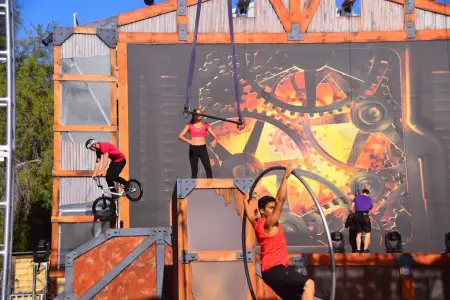 Over in Ghost Town, even more thrills abounded in Vertical Impact.  Acrobats and BMX stunt riders entertained in one of the most unique shows I've ever seen.  Trampolines lined some of the main stage and enabled performers to reach great heights and amazing flips.  BMX riders had ramps to perform high in the air jumps and flips.  Hoops, trapezes, and ropes enabled the acrobats to show off high in the sky skills that took some breath away.  The performance was full of excitement and amazing moves that aren't done just anywhere else.
Krazy Kirk and the Hillbillies has been entertaining at Knott's for a little while now, and continues to keep audiences coming with the fun bluegrass performance they're known for.  It's always a hilarious and musical act to catch.  It's certainly great to know they're entertaining a little more than just the weekends this summer.
There is still a few weeks left to catch all the summer festivities at Knott's Berry Farm, and it's worth it!  The shows are top notch and a great entertainment for the whole family.  I'm glad I caught them and hope to catch it all again before time runs out!