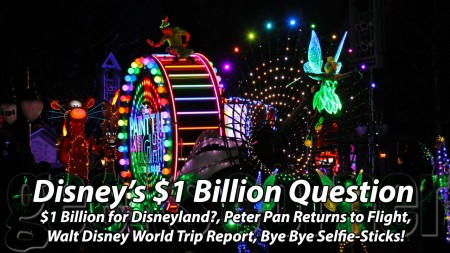 It seems that each week there is more and more going on around the Walt Disney Company. This week it was announced that Disney and Anaheim are considering a deal where Disney would invest $1 Billion into the Disneyland Resort and parking areas in exchange for the avoidance of a gate tax (https://www.dapsmagic.com/2015/06/26/disney-wants-to-invest-1-billion-into-disneyland). The big question this brings up: What would that billion dollar investment be put towards? It is discussed on this week's episode.
Disneyland also has re-opened Peter Pan's Flight in Fantasyland with new added enhancements (https://www.dapsmagic.com/2015/06/29/peter-pan-takes-flight-again-at-disneyland). The geeks chat about this most recent refurbishment of a Fantasyland at Disneyland.
Finally, Murray went to Florida for a little over a week and he gives a quick report on that trip. This includes some Wizarding World of Harry Potter highlights, Walt Disney World highlights, and also some food highlights. You can read all of his posts here: https://www.dapsmagic.com/author/murray-the-bellhop/
It's a very discussion heavy episode of Geeks Corner this week. We hope you enjoy it! If you'd like to see more episodes they are all archived here: https://www.dapsmagic.com/gc/
Let's go to the corner!