Cars Land, a great place with atmosphere, fun and yummy food. When you are not busy racing or tractor tippin', hunger might just come your way. Whether it is breakfast, lunch or dinner, Flo's V8 Cafe in Cars Land has you covered. With a variety of hearty American cuisine options, it is anything but flat.
Flo's V8 Cafe will have you feeling like you are truly on Route 66. Decorated in that American diner feel, stop on by and try a dish. Today I would like to share two vegetarian dishes that the location offers. These two options will leave you full and charged up for a fun day in the parks.
First off is the American Breakfast. This meal provides a nice portion of eggs and potatoes. According to the menu itself, it does come with bacon. Vegetarian-wise, all you have to do is order with no bacon, and "dad-gum," a great breakfast ready to enjoy.
The American Breakfast features scrambled eggs, breakfast potatoes and a warm biscuit. Take that with a milk or an orange juice and you'll be ready to hit the road in no time. This meal is only available during breakfast hours. It will not be available during lunch or dinner hours. Please note that times are subject to change depending on park hours of operation.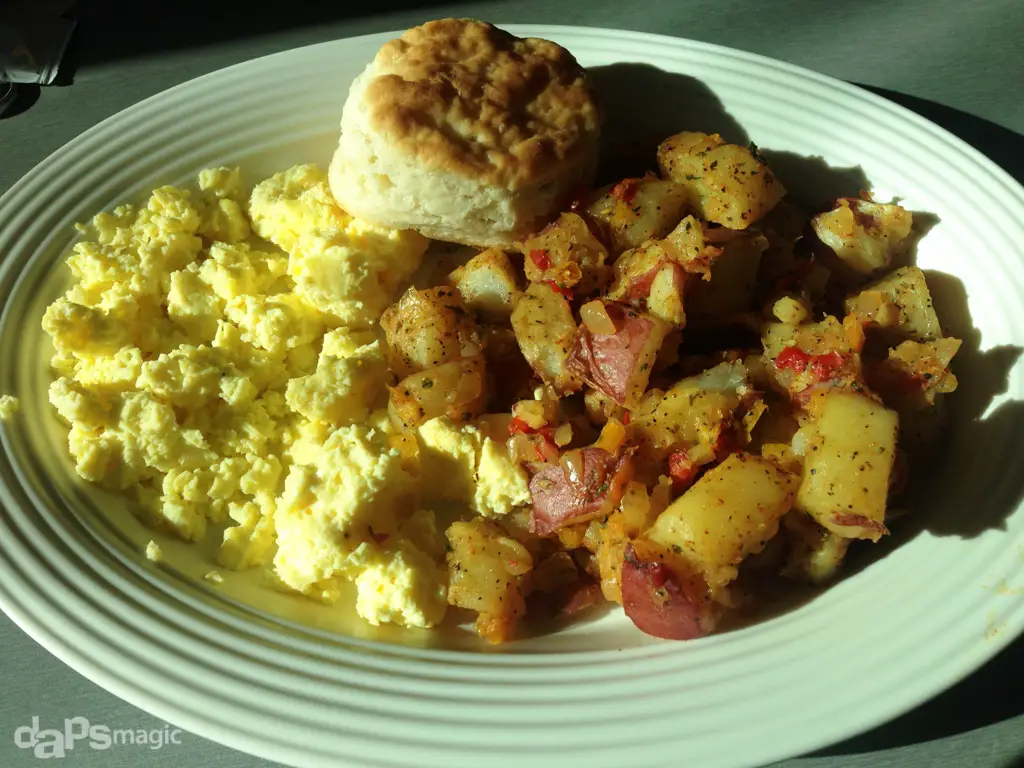 The American Breakfast is $8.49 and Disneyland Annual Pass discounts do apply at this location.
As for lunch or dinner, get ready for a treat. Flo's V8 Cafe also serves up a special vegetarian option that is close to my heart. And by that I mean this meal option is yummy and a top favorite of mine. I present the Veggie Tater Bake.
The Veggie Tater Bake tastes like a homemade meal and to top it off, it's vegetarian! Served in its own little pan, the presentation itself will make you feel like it was specifically crafted just for you. The bake is served with bulgur wheat, roasted vegetables and mashed potatoes, covered with cheddar cheese. All that plus a side of fresh fruit.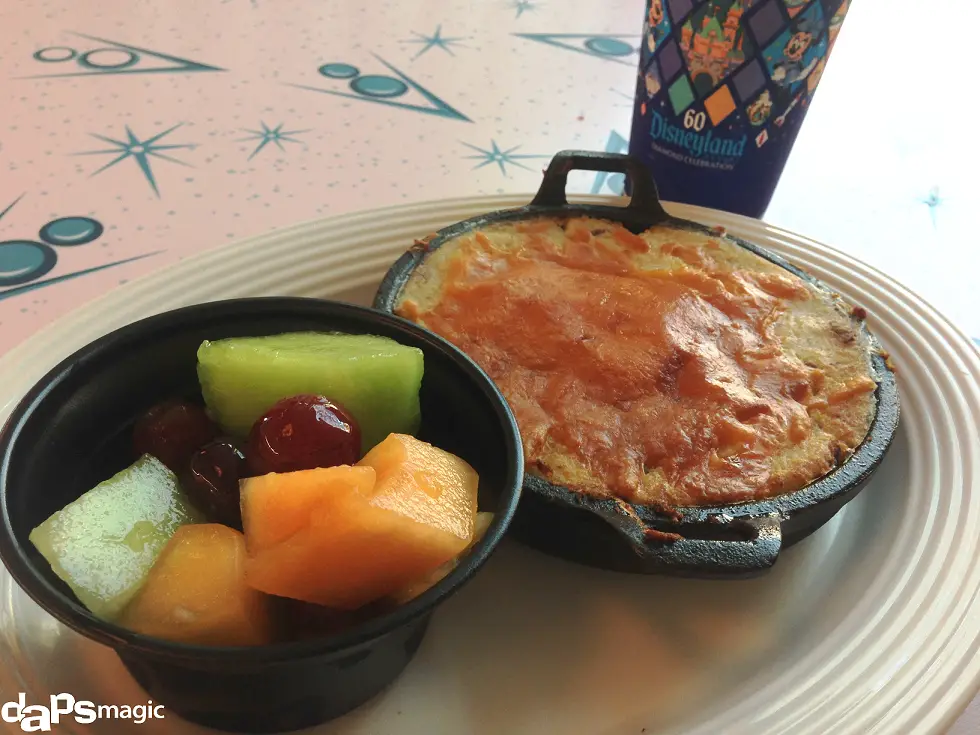 The Veggie Tater Bake is $10.99.
Flo's V8 Cafe is not only themed perfectly and offers great food but, it's also a lovely spot to enjoy the view of Ornament Valley.
If have any questions about specific dietary needs when dining at the Disneyland Resort, please call Disney Dining at (714) 781-DINE or (714) 781-3463. Also, if you would like to view the menu of this location, please click here.
Be sure to stay tuned to DAPs Magic as I venture through the Disneyland Resort tasting other delicious vegetarian options. You never know what may appear on my plate next.
Hope you enjoyed this meal recap. If you have any suggestions, please let me know.