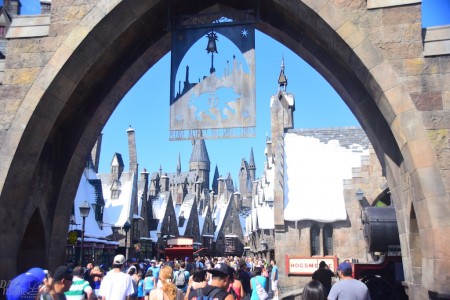 It's the last of the series of posts of a journey around the Islands of Adventure park, and here's the best!  It's time for Hogsmeade!  And, keep reading at the end for some tips I picked up at my time in Islands of Adventure.
Wizarding World of Harry Potter – Hogsmeade
Hogsmeade is definitely the star island of Islands of Adventure.  The first of the two Wizarding Worlds to be built, and even grabbed some land and items from the neighboring Lost Continent.  Just like its sister site in Universal Studios Florida, this is a highly immersive, highly detailed "land." 
Within here are several things to do and see.  The signature attraction is Harry Potter and the Forbidden Journey.  It's a highly unique attraction, though others are being built in other Universal parks.  Flight of the Hippogriff was formerly Flying Unicorn, and is a coaster also at a couple of other Universal Studios locations.  Dragon Challenge is the other Lost Continent take over, formerly being called Dueling Dragons when it was part of that island.  The island is rounded out with the Hogwarts Express to Diagon Alley in Universal Studios, and several performances from various groups such as the Frog Choir.  Ollivanders is found here, and the popularity of it sparked two shops to be built in Diagon Alley.  Also like the Diagon Alley area in Studios, there are several opportunities to "cast spells" with a wand from Ollivanders.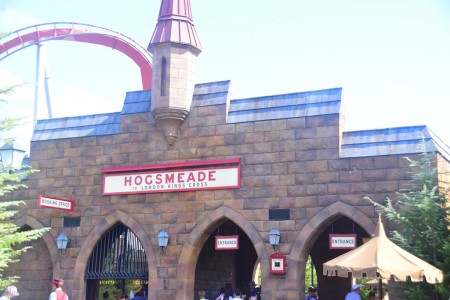 Hogwarts Express is a different ride depending on the direction you are heading.  From Hogsmeade to Diagon Alley shows more with the hallway within the car than on the window.  The train vehicle is the exact same as the King's Cross vehicle.  It is transportation that goes back and forth between the parks.  A "Park to Park" ticket is required for access to this ride.
Dragon Challenge was a fun roller coaster to go on.  As Dueling Dragons it has two tracks to provide narrow escapes between the two cars as they traveled.  But, because of some safety concerns, the tracks now run independent.  Still, it's a fun roller coaster with a few close calls between the environment and the car.  The queue had great features that provided much detail for Potter fans that enjoy the idea of being on a Dragon Challenge.
Flight of the Hippogriff uses a track previously occupied by Flying Unicorn.  The story with the ride is that Hagrid has a fake Hippogriff to teach flying.  His hut is seen along the line.  After boarding and beginning, there are instructions to bow to the Hippogriff as you go past it.  A Hippogriff animated figure is there right before the lift hill, and I found myself actually bowing to it in the car I was in.  The roller coaster is not a long one, and serves as a more family friendly option to Dragon Challenge.  It was still a very fun ride, one that I'm actually glad will be in Hollywood in 2016.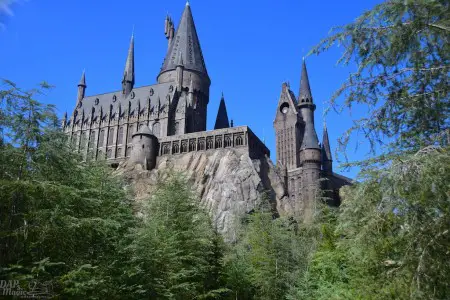 And now we come to Forbidden Journey.  First, the Hogwarts castle that serves as the entrance is immense and looks so real!  I know there are some forced perspective tricks with it, but it is some of the best I have ever seen.  It really seems like you could go through so many places of it.  And, in a way, we do.  The queue takes place within the walls of the castle, although not a lot of it.  Parts of the story is explained throughout the line, including Harry, Ron and Hermione explaining how they will sneak everyone away to a Quidditch match.  Towards the loading is the Sorting Hat that gives the safety spiel for riders before they board.
The ride vehicle is what's known as a KUKA technology, and allows the vehicle to move in many directions, and I do mean many.  Projection screens start off the ride, but soon there are real sets that guests encounter.  I couldn't believe how close the vehicles got!  At one point I thought I was going to kick a dragon!
There are some great scenes of flying Dementors and that close encounter with the dragon I was talking about.  I was glad to see the real sets with the projections.  All of it was quite mesmerizing as the way everything traveled I couldn't tell if we were really moving at times or not.  I'm eagerly anticipating this attraction to open at Universal Hollywood!
The rest of Hogsmeade was a great delight to walk around at, especially having a wand.  Little interactions were placed amidst the village town that made the island come alive.  In all, it really felt like I was at Hogwarts about to attend wizarding school.
One of the places I enjoyed a lot was Three Broomsticks, the main eatery of the island.  I had Shepherd's Pie, and, of course, Butterbeer.  Though I picked both hot and cold butterbeer, not being able to quite choose between the two.  The meal was fantastic!  It was some of the best I've had in any theme park.  I loved the atmosphere, and it really added to everything else about the island.
This was an area that was easy to get lost in, and I mean in an enjoying, immersive state.  It was one of the best placemaking atmospheres ever done.  Though I really enjoyed it, I think Diagon Alley took the prize between the two.  There was something more immersive about that area of Universal Studios Florida.
Conclusion and Tips
Islands of Adventure is one of the best theme parks I've ever been to.  There were so many areas that made me feel like I was really in the island it represented.  The only park I know that has done that, and I think better, is Tokyo DisneySea.  Yes, this park does rival Disney parks in terms of detail.  But, for an overall enjoyment of a park, especially in terms of re-ridability of attractions?  Disney parks have the better overall feel.  I don't think I'm being biased either.  As much as I enjoyed Islands, there were not a lot of attractions I would go out of my way to go on again and again.  Stepping away from it for some days there are some key rides I miss, but not a lot.  Spider-Man, Forbidden Journey, and Ripsaw Falls stand out to me.  What I will miss is the exploration.  I know I didn't see everything there is to see, and that's what makes me want to go back.
Some tips and strategies I picked up while there are to take advantage of single rider lines.  I had Universal Express for both parks, but it wasn't too needed for me.  If you don't mind your group being separated most of the time, there are tons of single rider lines.  Forbidden Journey also didn't have a long line all the time.  The most I saw it have is 30 minutes, and it was quite busy with this being the signature attraction of the park.
For rides that don't have single rider, like in Seuss Landing, park opening is a good time for those.  You're not hitting the "big items" but those are great to hit later in the day.  It seems that everyone goes to the big tickets first and then go to the smaller rides later.  Hit it the opposite way and the time is better spent.  Although on hot days, Ripsaw Falls has a bit of a consistently long wait.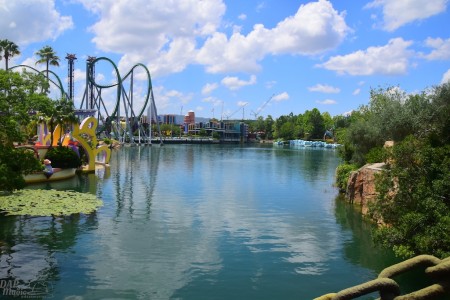 As far as the water rides go, know that you will get wet.  There are warnings, but it may still seem like there are safe seats on the rides.  There aren't.  Wear stuff to get wet in.
I found that going at odd times to eat was the best.  And, Thunder Falls Terrace was a great pick to go to.  Not a lot go to it, and it has some fun views of Jurassic Park.
Make time to just check out details of the islands.  There are little spaces and gags and visually stunning parts of the park that are worth exploring.
I can't emphasize enough the amount of detail that is in this park.  There is so much to see here.  It's something that I would consider taking a day just to look at it all.  It's a great park that has great features, great rides, and great food.  If questioning whether to ever visit it?  I say yes!  And between Islands and Studios if you can only go one day, I'd pick Islands.  Studios has some great features to it, but there's much more to enjoy at Islands.  Still, they are both worth venturing to.  It is truly a great experience to go to the Universal Orlando Resort.